What is HDMI over IP with PoE technology?
High-Definition Multimedia Interface (HDMI) is a transmission interface technology used for video and digital audio data sent from HDMI-compliant devices. This high-quality image transmission makes this a perfect medium for digital signage.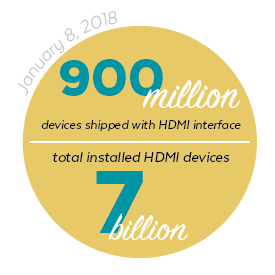 HDMI over IP removes complexity, interconnecting all the pieces needed to achieve high-quality digital capabilities through the use of HDMI transmitters and receivers. PoE takes this convenience a step further by allowing installers the ease of a single cable for data and power.
The use of high-quality video displays has reached epic levels in the business and public sectors.
As of January 8, 2018, the number of interface devices shipped reached over 900 million, with a total of installed approaching over 7 billion HDMI devices sold. Why has this technology gained so much popularity?
Video, whether in the form of a digital sign or video on a website, gives a business or organization greater creativity when communicating its brand message. And, the video format is growing more popular in all categories of marketing. In fact, society has reached the point where video is nearing 90% of online traffic.
What is Digital Signage exactly?
Digital signage is an enhanced version of electronic signage. It is used in public spaces like airports, hotels, museums, stadiums, department stores, restaurants and office buildings, and allows organizations the capability of delivering highly-specific messaging including advertising in real-time.
Famous examples appear in Times Square in New York City and Tokyo to advertise technology products, and events like Broadway shows to tourists on the fly. However, these babies also show up in humbler venues like menu boards at McDonald's, a street sign at a local car wash or a display screen in a busy Department of Motor Vehicle waiting room.
How is HDMI over IP for PoE Digital Signage used?
HDMI extender transmitters and receivers are used to connect distances over a Cat5e or Cat6 cable. These devices convert signals from and back into HDMI over 100m in between the display controller and the remote display, in our case the digital sign.

These signs appear in a wide variety of applications including the sides of buildings, and professional and college sporting events to give spectators opportunity to see close-ups and replays.
Signal data conversion does not harm the video quality. In fact, the extenders actually boost the signal for transmission over longer distances.
The IP portion allows signal data to traverse the network or internet to a remote location not unlike with CCTV cameras.
Why use Ethernet cables? Why not use HDMI cabling? The simple answer about Ethernet cable is PoE technology can be utilized over the cable so no local power source is needed. But there is a little more to it.
What is standard HDMI cable?
Standard HDMI cable consists of four shielded twisted pairs, the problem is that HDMI cables have distance limitations for lengths beyond 13m. These require additional devices like transmitters and receivers to help boost signals and extend their reach.
Here's a list of the types of HDMI cable types broken into capabilities.
Standard HDMI Cable – up to 1080i and 720p

Standard HDMI Cable with Ethernet

Standard Automotive HDMI Cable

High-Speed HDMI Cable –  1080p, 4K 30 Hz, 3D, and deep color

High-Speed HDMI Cable with Ethernet
Digital signals decrease delivery range as image resolution levels increase.
Video-In Resolution

1080 pixels

720 pixels

480 pixels

Video-Out Resolution

1080 pixels

720 pixels

480 pixels
Ethernet Cable
Installers are not limited to using HDMI cabling for these installations by any means. Ethernet is a viable alternative when used with extenders. When using Ethernet cabling between transmitter and receiver, opt Cat5, Cat5e or Cat6.
NOTE: There is another option, which we will discuss in our next article called PoHD. PLANET does offer a device with this technology. For the purposes of this article, we will continue with the TP discussion.
If you're in a situation where you have to integrate existing Cat5e Ethernet, and you're having a hard time getting an image on screen, you can try decreasing the resolution by a factor-of-one over longer cable pulls. In other words, if you can't get an image for 1080, try 720. (This happens only if the cable run is at the limit of the Ethernet difference of 100m.)
The problem with that is if the display is 4K, you're going to want to stay at the higher resolution. So you should include money in the budget for higher-quality cable purchases when putting together a bid.
Avoid interference from wireless signals
Another consideration for getting the absolute best results is the close proximity to wireless signals. The HDMI 2.0 certification takes does minimize the effect of interference, but it's good to be cognizant of things like microwaves and wireless access points when doing a display screen or digital signage installation. Interference, as always, has the potential for being stronger at endpoints where connectors link to cables.
Final Thoughts
When it comes to purchasing HDMI cables, do your research, and do it according to distance. There are plenty of good cables out there but performance levels may vary even on cables by the same manufacturer. Forums for movie buffs and audiophiles may be great places to check out tips on which cables are performing.
As some of you already know, these folks take their ultra-high definition video very seriously.
NOTE: HDMI experts agree when buying cable be sure to look for FEATURES and not HDMI versions. Look for things like "3D" or "4K" on the label.
If that's outside of your time constraints, then go with Ethernet when possible. 
Doing HDMI installations? Let us know what you're seeing in the comments below.