Power over Ethernet (PoE) is a versatile solution that simplifies how you implement lighting, security systems and a wide range of low power technologies. In this post, PLANET explains different aspects of PoE, as well as Industrial and Regular Ethernet to make this clear.
What is regular PoE?
Regular or commercial-grade Ethernet is an IT networking technology allowing end-users to send both data and power over a single Cat5e, Cat6 or Cat6A Ethernet cable. Also known as IEEE 802.3 technology, PoE has achieved standardization through the Institute of Electrical and Electronics Engineers.
PoE delivers up to 90W per power per port. This latest increase is known as Type 4 or 802.3bt standard. Regular PoE is an increasingly popular solution used to power LANs, wireless networks and smart home and business applications, including LED lighting platforms and PTZ security camera systems. The 4 types of Ethernet 802.3af, at, and bt and these designations hinge on the amount of per-port power a device receives.
What is industrial PoE?
Industrial Ethernet technology is an IT networking technology similar to regular PoE and offers end users the same capability to send data and power over a single Ethernet cable. One of the primary differences with industrial PoE is the addition of hardened casing on the device, sealing out potential dust and moisture that can erode internal parts and degrade functionality.
Also known as ingress protection (IP), this external shell allows PoE device implementation in harsh environments. Currently, industrial PoE solutions include a host of emerging applications, including industrial access control, 5G small cell radio units, PTZ cameras, high-performance wireless access points, display screens in transit stations, and outdoor or factory LED lighting systems.
The environments where many industrial technologies operate can often fluctuate in temperature, noise, and static discharge and are significantly different from that of in-building deployments.
Despite the harshness of these surroundings, industrial Ethernet Power Sourcing Equipment (PSE) functions much the same as regular Ethernet, transferring power and data between low power devices.
Commercial grade versus industrial grade
What happens to equipment when exposed to temperature extremes? When not hardened to withstand the environment, switches and hubs begin to degrade in their efficiency and eventually fail. Heat, cold, water, and dust can impact sensitive electronics, causing expansion and contraction, coating and gumming up connection points, weakening internal parts.
When you put a regular Ethernet switch (not industrial-grade) in an industrial area of any kind, it will likely physically damage the device, resulting in data loss and downtime.
IP rating or code
IP or Ingress Protection code, also known as IEC standard 60529, rates the degree of protection that mechanical casings and electrical enclosures give PoE PSEs against intrusion, dust, accidental contact, and water. It also classifies the degrees of protection against both solids and liquids in electrical enclosures.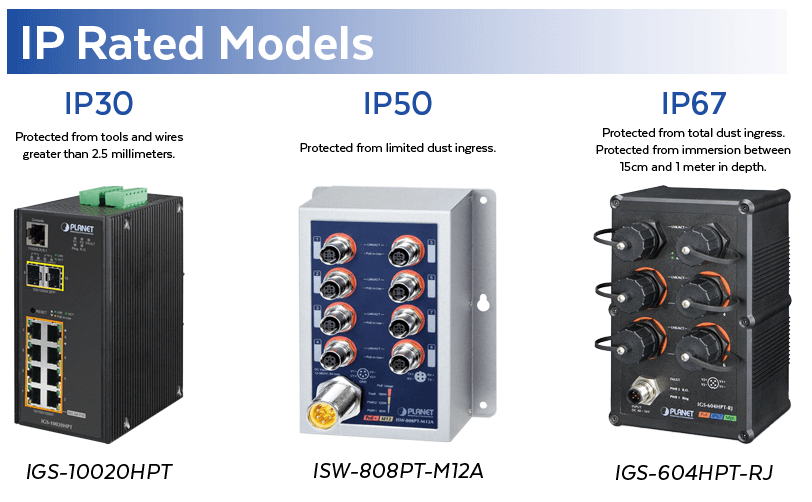 Applications for industrial PoE
Industrial PoE is common in manufacturing. Automated networks with high heat and lots of static discharge require insulated casings. These systems eliminate manual tasks, allowing operations end-to-end visibility of production lines.
Industrial-grade Ethernet is also used in transit systems to support sensors, display screens, and security camera systems to help monitor commuters and keep daily travelers safe.
Hospitality is another setting for industrial PoE. Events professional and convention centers leverage hardened Ethernet equipment to meet the demands of vast numbers of people. They offer charging stations for smartphones and PDAs, wireless connectivity for participants throughout the venue and provide things like outdoor audio and video systems to maintain security in areas around facilities such as parking lots.
PLANET offers a full range of industrial Ethernet network components with up to IP-67 rated casings for durable, high-performance networks. Feel free to reach out for help.