Planet Technology USA has just launched a new limited lifetime warranty protection program called PlanetechPRO® offered for select industrial products. To take advantage of this protection, customers will want to understand the eligibility rules which is the purpose of this article.
To start, here are answers to some frequently asked questions:
Where you can purchase PlanetechPRO® products and some necessary stipulations
What products are PlanetechPRO® products
How to ensure the warranty is in effect for your purchase. Your PlanetechPRO® product MUST be registered.
Planet Technology USA is a leading provider for PLANET Technology (Taiwan) of networking products and is PLANET's authorized North American Distributor. PLANET Technology is a formative leader in innovative last-mile technology.
Planet Technology USA provides cost-effective and user-friendly modern network solutions for the average user deployments. These include:
Small businesses

Business or academic campuses

Full-scale enterprise deployments

Hardened industrial environments
Our products are high-performance state-of-the-art solutions that revolutionize technology.
1. Where to purchase products covered by the PlanetechPRO® Limited Lifetime Warranty
All PlanetechPRO® products have been designed and built to a higher standard and are eligible for the limited lifetime warranty. Purchasers want to ensure they are meeting basic program requirements as they move along the purchasing process. Knowing these things ahead of time makes the return process a lot easier should a return become necessary.
Purchase from Planet Technology USA, an authorized reseller for PLANET Technology
To be sure your device is eligible for the lifetime warranty, you must purchase it from Planet Technology USA as we are the only company offering this warranty. This step ensures that only genuine PlanetechPRO® products make it into the hands of our customers.
NOTE: See product page to confirm the exact details of the warranty for each product. Warranties vary for some products.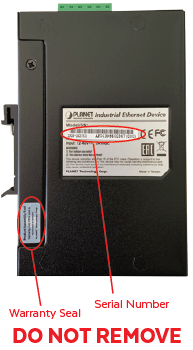 The serial number must remain intact
Your device must also display the original factory serial number. The serial number may not be defaced or altered. Any device where the serial number has been tampered with is not eligible for the limited lifetime warranty program.
Parties that qualify for the limited lifetime warranty
The limited lifetime warranty covers the original purchaser of the PlanetechPRO® product. All Planet Technology USA limited warranties, including lifetime warranties, are not transferable.
Exceptions
This warranty does not apply if the Planet Technology USA product fails due to damage from shipment, handling, storage, accident, abuse or misuse, or if it has been used or maintained in a manner not conforming to product manual instructions, has been modified in any way, or has had any serial number removed or defaced.
Battery type can negate eligibility for the warranty
For Planet Technology USA products that can use replaceable batteries, use of only high-quality, non-counterfeit, and non-rechargeable batteries is recommended. The use of rechargeable batteries or inferior-quality batteries that cause damage to your Planet Technology USA product will void this warranty.
DIY repair negates the warranty
Repair or modification of the product by anyone other than Planet Technology USA or a Planet Technology USA approved agent will void this warranty.
2. The products covered by the PlanetechPRO® warranty
A list of PlanetechPRO® products
All Planet Technology USA Industrial products are eligible for the PlanetechPRO® Lifetime Warranty (EXCLUDING Industrial Power Supplies and SFP Modules).
View the product page to see the specific warranty a device is covered under
There are some components of current Planet Technology USA products, such as hard drives, batteries, and power supplies that will have warranty lengths that differ from the underlying Planet Technology USA product. That information is on each specific product page.
Products that are not part of the PlanetechPRO® line will continue with their existing warranties.
3. How to register your eligible product for PlanetechPRO® Lifetime Warranty
To obtain warranty service under this  PlanetechPRO® warranty, during the Planet Technology USA product's warranted period, as set forth above, you must first register that product.
Click here to find the registration form.
You have 35 days from the ship date to register the PlanetechPRO® product. Once approved, the warranty begins and lasts as long as the original buyer owns the PlanetechPRO® product. If the PlanetechPRO®product is NOT registered, the standard 5 year warranty will apply to the industrial product.
Further, Planet Technology USA warrants its products contained in their original packaging against defects in material and workmanship when the products are used for their intended purposes.
Please see the product detail pages on planetechusa.com to determine the warranted period for your specific Planet Technology USA product. Not all products on our site are PlanetechPRO® eligible.
4. Things to remember if you ever have a claim
To submit a valid claim to Planet Technology USA begin your process by:
obtaining an RMA number by filling out the RMA form here;

returning (at your shipping cost) the failed product to the address provided by Planet Technology USA technical support; and

provide Planet Technology USA with a valid product serial number.
After completing the above three steps, the customer can return the product to Planet Technology USA at their cost. Replacement products will be returned to the customer.
Final thoughts on the PlanetechPRO® Lifetime Warranty program
PlanetechPRO® helps support you and your customers and provides peace of mind and protection over the reasonable life of the IT networking devices you purchase. Providing the best equipment you can afford for your installation ensures you will have the infrastructure you need to respond to the technology innovations that lie ahead.
It is always our pleasure to help you. If you would like a custom quote or would like to improve a network and would like help getting started, feel free to reach out.