Power over Ethernet (PoE), a technology that allows electrical current and data to pass through an ethernet cable, has been improving by the day. It provides up to 100 watts of power, excellent network security, and significant data transfer rates. Recently, Planet Technology USA released the TSN-6325-8T4S4X, an advanced industrial PoE switch to bring the best out of PoE. The switch gives incredible speeds, traffic filtering, energy savings, and network security.
PlanetUSA, a leading distributor of PoE hardware, has scrutinized the TSN-6325-8T4S4X switch to help you gauge if it is a worthy upgrade for your PoE network.
Planet's Innovative TSN Ethernet Switch Delivers Time-Sensitive Data
This PoE switch has 10 Gbps interfaces which transmit data at a rate of 10 billion bits per second, with extremely low latency. These great data transfer rates make this switch an excellent asset for companies that deal with time-sensitive data regularly.
What's more? TSN-6325-8T4S4X maintains high data transfer rates even when used in settings whose temperatures are as low as -40 degrees Celsius or as high as 75 degrees Celsius. It is an ideal switch for the most demanding industrial applications.
The industrial switch's rugged IP30-rated metal case can withstand damage from exposure to elements larger than 2.5mm. The case endures normal wear and tear for a reasonable period.
A Simple Way to a TSN-Compatible Infrastructure
Planet Technology's TSN-6325-8T4S4X supports the TSN IEEE standards, which offer instantaneous communication. This industrial PoE switch helps employees communicate seamlessly through video and audio, enhancing collaboration.
Some of the TSN IEEE standards supported by this enterprise-grade PoE switch include:
IEEE 802.1AS-REV for time synchronization

IEEE 802.1Qbu for frame preemption

IEEE 802.1CB, which eliminates redundancy

IEEE 802.1Qbv for enhancing scheduled traffic

IEEE 802.1Qci for per-stream filtering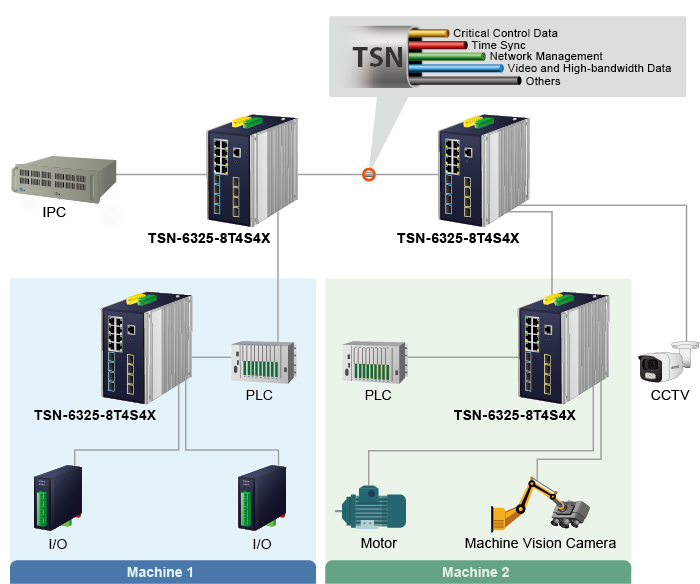 Industrial PoE Switch – TSN-6325-8T4S4X Features
The Planet Technology TSN-6325-8T4S4X switch is designed around supporting seamless data transfer, network security, and seamless communication. To live up to  its marketing promise, this industrial PoE switch comes packed with multiple features, which include:
The switch features 1588v2 PTP, a protocol that enhances precise time distribution across various computing networks. This protocol offers precise time synchronization of networks, supports MEF service deliveries, and supports end-to-end transparent clock modes.
Diversified Bandwidth Applications
This industrial Power over Ethernet switch supports data transfer speeds of up to 10 billion bits per second, streamlining data handling in large enterprises. In addition, the switch's 10GBASE-X SFP+ interface supports three transmission speeds — 2500 BASEX, 10GBASE-SR/LR, and 1000BASE SX-LX, helping network administrators choose the right transmission speed for the task at hand.
Redundant Ring and Fast Recovery
This enterprise-grade switch from Planet Technology uses redundant ring technology to recover quickly after an abrupt network disruption. With the redundant ring technology, the switch recovers within ten milliseconds, making it ideal for industrial settings where system reliability is a top priority.
TSN-6325-8T4S4X is a Layer 3 PoE switch. Through it, network administrators can boost their network by manually configuring IPV4/6 and automatically configuring the Open Shortest Path First and Routing Information Protocol settings. The switch improves network efficiency, especially for facilities with multiple VLANs and subnets.
Apart from Layer 3, Planet Technology's industrial PoE switch can be programmed for layer 2 management functions. For instance, network administrators can program the industrial PoE switch for Multiple Spanning Tree Protocols, bandwidth control, dynamic port link aggregation, and Q-in-Q VLAN.
With cybersecurity becoming a significant threat for various enterprises, Planet designed this switch to give networks an extra layer of security. For instance, the switch supports SSHv2, a protocol that uses several levels of security architecture to offer protection against advanced security threats. This advanced security makes the switch a valuable upgrade for ethernet networks used in mission-critical operations.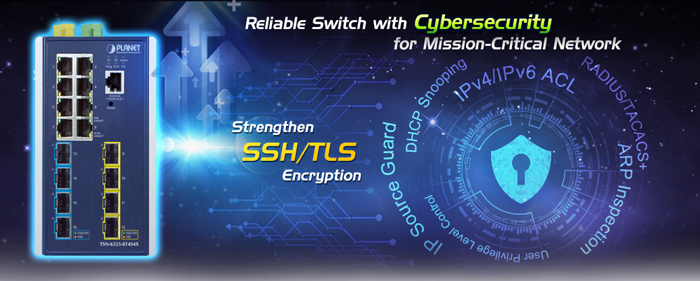 Featuring the Modbus TCP protocol, the TN-6325-8T4S4X ethernet switch integrates seamlessly with HMI, SCADA, and other conventional data acquisition systems used on factory floors. Furthermore, the switch's Modbus TCP helps network administrators monitor essential network parameters like communication, operating information, and DO statuses remotely.
This modern PoE switch from Planet Technology features an SMTP/SNMP event alert, a function that sends an unrequested message about potential issues in PoE circuitry. For instance, the alerts can notify you when a component is overheating. The alerts help network managers identify and fix unforeseen issues that would compromise a company's IT environment.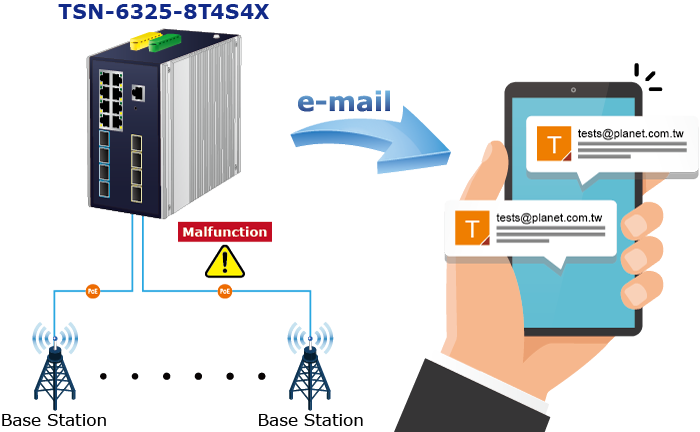 Like the event alert, this Power over Ethernet switch comes fitted with a fault alarm, which notifies administrators of a malfunctioning component. Such notifications simplify troubleshooting, saving enterprises the valuable time they could have wasted finding an issue with their faulty switch.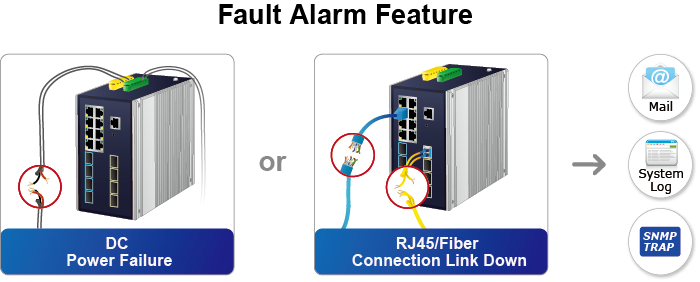 Digital Input and Digital Output
The TSN-6325-8T4S4X features digital input and output for external alarms like door intrusion systems. The output and inputs come in handy when setting up external alarms alert system administrators of potential issues like power failure, link up, or link down.
This industrial  PoE switch from Planet Technology supports IPv4 and IPv6 protocols. The switch, therefore, gives users, especially campuses, telecoms, and data centers, a chance to use both protocols to their advantage.
Managing the TSN-6325-8T4S4X is easy-peasy.  Administrators can remotely control the switch through a standard-based monitor or web-based management interface. Furthermore, administrators can do it through a text-based interface accessible through Telnet and the console port.
The new Power over Ethernet switch leverages the power of Layer 2 and 4 access control lists to enhance network security. With the two layers of network security, administrators can block some IPs from accessing the network or even authenticating devices before giving access.
Advanced IP Network Protection
This Planet Technology switch uses various advanced technologies to protect IP networks from hackers trying to snoop on a network. It uses Dynamic ARP, DHCP snooping, and IP Source Guard to prevent ARP packets with unauthorized MAC addresses and prevent attacks.
Excellent Traffic Control
 The Planet Technology TSN-6325-8T4S4X features a robust Quality of Services (QoS), a technology that controls network traffic. Some of the QoS used by this industrial PoE switch include Layer 4 traffic classifiers, bandwidth limit, and multi-tenant units.
Intelligent SFP Diagnosis Mechanism
This enterprise-grade switch has a digital diagnostic monitor, which helps system administrators monitor SFP transceivers' performance in real-time. As an example, from the monitor, the administrators track temperature, optical output power, and supply voltage.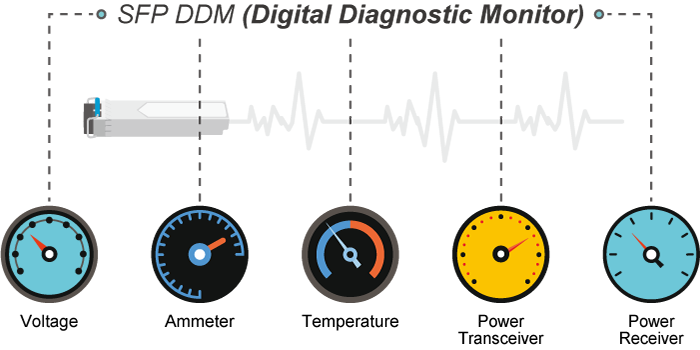 Learn More About the TSN-6325-8T4S4X Industrial PoE Switch
As is evident, Planet's TSN-6325-8T4S4X is an excellent upgrade to your existing industrial network. It gives incredible data transfer speeds, network security, and bandwidth while reducing energy and installation costs.
If you want to buy this advanced industrial PoE switch, contact Planet Technology USA to discuss your PoE project with our experienced staff.