L3 Managed PoE Switch
Amazing 802.3bt PoE++ Managed Switches with Layer 3 Switching and Security
PLANET GS-5220-24UPL4X(R) Cost-optimized, 1U, Gigabit PoE Managed Switch Series features PLANET intelligent PoE functions to improve the availability of critical business applications. They provide IPv6/IPv4 dual stack management and built-in Layer 3 OSPF/static routing Gigabit switching along with 24 10/100/1000BASE-T ports featuring 60 to 95 watt 802.3bt PoE++ and 4 additional 10Gigabit SFP+ ports. With a total power budget of up to 400/600 watts for different kinds of PoE applications, the GS-5220-24UP(L)4X(R) PoE Series provides a quick, safe and cost-effective PoE network solution for small businesses and enterprises.
802.3bt PoE++ – 60~95-watt Power over 4-pair UTP Solution
As the GS-5220 PoE++ Series adopts the IEEE 802.bt PoE++ standard and PoH technology, it is capable of sourcing up to 95 watts of power by using all the four pairs of standard Cat5e/6 Ethernet cabling to deliver power and full-speed data to each remote PoE compliant powered device (PD). It possesses triple amount of power capability than the conventional 802.3at PoE+ and is an ideal solution to satisfy the growing demand for higher power consuming network PDs, such as:
PoE PTZ speed dome cameras
Network devices
Thin clients
AIO (all-in-one) touch PCs, point of sale (POS) and information kiosks
Remote digital signage displays
PoE lightings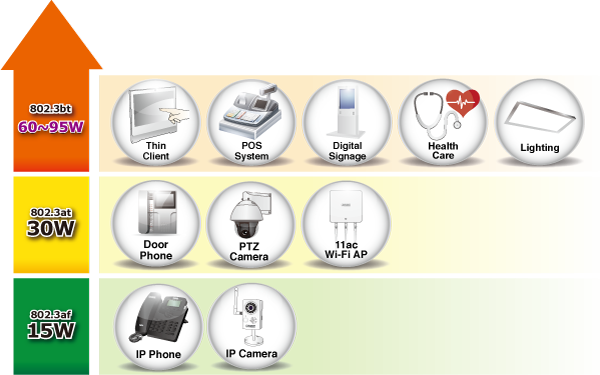 802.3bt PoE++ and Advanced PoE Power Output Mode Management
To meet the demand of various powered devices consuming stable PoE power, the GS-5220 PoE++ Switch series provides six different PoE power output modes for selection.
95W UPoE/PoH Power Output Mode
90W 802.3bt PoE++ Power Output Mode
60W 802.3bt PoE++ Power Output Mode
60W Force Power Output Mode
30W End-span PoE Power Output Mode
30W Mid-span PoE Power Output Mode
Convenient and Smart ONVIF Devices with Detection Feature
PLANET has newly developed an awesome feature — ONVIF Support — which is specifically designed for co-operating with Video IP Surveillances. From the GS-5220 PoE++ Series GUI, clients just need one click to search and show all of the ONVIF devices via network application. In addition, clients can upload floor images to the switch series, making the deployments of surveillance and other devices easy for planning and inspection purposes. Moreover, clients can get real-time surveillance's information and online/offline status. They allow PoE reboot control from the GUI.
Built-in Unique PoE Functions for Powered Devices Management
Being the managed PoE switches for surveillance, wireless and VoIP networks, the GS-5220 PoE++ Series features the following special PoE management functions:
PD alive check
Scheduled power recycling
PoE schedule
PoE usage monitoring
Intelligent Powered Device Alive Check
The GS-5220 PoE++ Series can be configured to monitor connected PD status in real time via ping action. Once the PD stops working and responding, the GS-5220 PoE++ Series will resume the PoE port power and bring the PD back to work. They will greatly enhance the network reliability through the PoE port resetting the PD's power source and reducing administrator management burden.
Scheduled Power Recycling
The GS-5220 PoE++ Series allows each of the connected PoE IP cameras or PoE wireless access points to reboot at a specified time each week. Therefore, they will reduce the chance of IP camera or AP crash resulting from buffer overflow.
PoE Schedule for Energy Saving
Under the trend of energy saving worldwide and contributing to environmental protection, the GS-5220 PoE++ Series can effectively control the power supply besides their capability of giving high watts power. The "PoE schedule" function helps you to enable or disable PoE power feeding for each PoE port during specified time intervals and it is a powerful function to help SMBs or enterprises save power and money. It also increases security by powering off PDs that should not be in use during non-business hours.

PoE Usage Monitoring
Via the power usage chart in the web management interface, the GS-5220 PoE++ Series enables the administrator to monitor the status of the power usage of the connected PDs in real time. Thus, they greatly enhance the management efficiency of the facilities.
Layer 3 Routing Support
The GS-5220 PoE++ Series enables the administrator to conveniently boost network efficiency by configuring Layer 3 IPv4/IPv6 VLAN static routing manually, and the OSPFv2 (Open Shortest Path First) settings automatically. The OSPF is an interior dynamic routing protocol for autonomous system based on link state. The protocol creates a database for link state by exchanging link states among Layer 3 switches, and then uses the Shortest Path First algorithm to generate a route table based on that database.
Cost-effective 10Gbps Uplink Capacity
10G Ethernet is a big leap in the evolution of Ethernet. The four 10G SFP+ slots of the GS-5220 PoE++ Series support dual-speed 10GBASE-SR/LR or 1000BASE-SX/LX, meaning the administrator now can flexibly choose the suitable SFP/SFP+ transceiver according to the transmission distance or the transmission speed required to extend the network efficiently. They greatly support SMB network to achieve the maximum performance of 10Gbps in a cost-effective way.
Redundant AC/DC Power Supply to Ensure Continuous Operation
The GS-5220-24UP(L)4XR are particularly equipped with one 100~240V AC power supply unit and one 36~60V DC power supply unit to provide an enhanced reliable and scalable redundant power supply. The continuous power system is specifically designed to fulfill the demands of high-tech facilities requiring the highest power integrity. With the 36~60V DC power supply, the GS-5220-24UP(L)4XR are able to act as a telecom-level device that can be located in the electronic room.
Environment-friendly, Smart Fan Design for Silent Operation
The GS-5220 PoE++ Series features a 19-inch metal housing, a low noise design and an effective ventilation system. They support the smart fan technology that automatically controls the speed of the built-in fan to reduce noise and maintain the temperature of the PoE switch for optimal power output capability. The GS-5220 PoE++ Series is able to operate reliably, stably and quietly in any environment without affecting its performance.
Solution for IPv6 Networking
By supporting IPv6/IPv4 dual stack and plenty of management functions with easy and friendly user interfaces, the GS-5220 PoE++ Series is the best choice for IP surveillance, VoIP and wireless service providers to deploy the IPv6 network. They also help the SMBs to step in the IPv6 era with the lowest investment and without having to replace the network facilities while the ISPs construct the IPv6 FTTx edge network.
Robust Layer 2 Features
The GS-5220 PoE++ Series can be programmed for advanced switch management functions, such as dynamic port link aggregation, Q-in-Q VLAN, Multiple Spanning Tree Protocol (MSTP), Layer 2/4 QoS, bandwidth control and IGMP/MLD snooping. The GS-5220 PoE++ Series allows the operation of a high-speed trunk combining with multiple ports.
Powerful Security
The GS-5220 PoE++ Series offers a comprehensive Layer 2 to Layer 4 access control list (ACL) for enforcing security to the edge. It can be used to restrict to network access by denying packets based on source and destination IP address, TCP/UDP port number or defined typical network applications. Its protection mechanism also comprises 802.1x Port-based and MAC-based user and device authentication. With the private VLAN function, communication between edge ports can be prevented to ensure user privacy.
Enhanced Security and Traffic Control
The GS-5220 PoE++ Series also provides DHCP Snooping, IP Source Guard and Dynamic ARP Inspection functions to prevent IP snooping from attack and discard ARP packets with invalid MAC address. The network administrator can now construct highly-secure corporate networks with considerably less time and effort than before.
User-friendly Secure Management
For efficient management, the GS-5220 PoE++ Series is equipped with console, web and SNMP management interfaces. With the built-in web-based management interface, it offers an easy-to-use, platform independent management and configuration facility. The GS-5220 PoE++ Series supports SNMP and it can be managed via any management software based on the standard SNMP v1 or v2 Protocol. For reducing product learning time, the GS-5220 PoE++ Series offers Cisco-like command via Telnet or console port and customer doesn't need to learn new command from these switches. Moreover, the GS-5220 PoE++ Series offers the remotely secure management by supporting SSH, SSL and SNMP v3 connection where the packet content can be encrypted at each session.
Flexible and Extendable Solution
The 4 mini-GBIC SFP slots built in the GS-5220 PoE++ Series support dual speed as it features 100BASE-FX and 1000BASE-SX/LX SFP (Small Form-factor Pluggable) fiber-optic modules. Now the administrator can flexibly choose the suitable SFP transceiver according to not only the transmission distance, but also the transmission speed required. The distance can be extended from 550 m to 2 km (multi-mode fiber) and to 10/20/40/60/80/120 km (single-mode fiber or WDM fiber). They are well suited for applications within the enterprise data centers and distributions.
Intelligent SFP/SFP+ Diagnosis Mechanism
The GS-5220 PoE++ Series supports SFP-DDM (Digital Diagnostic Monitor) function that greatly helps network administrator to easily monitor real-time parameters of the SFP and SFP+ transceivers, such as optical output power, optical input power, temperature, laser bias current, and transceiver supply voltage.