8-Port Ethernet Switch
Energy-saving and Gigabit High-performance Networking Solution
The GSD-805 8-Port 10/100/1000BASE-T Gigabit Ethernet Switch is an energy-saving networking solution with Gigabit wire-speed performance. Deployment of Gigabit networks is easy for homes, SOHOs and SMBs that are limited on space. The switch has no fans which makes the operating unit noiseless. Its internal power supply can be directly plugged into an electrical outlet without having to use a power adapter.
VLAN Isolation
The GSD-805 is equipped with the VLAN Isolation feature. When switching the DIP to the "enable" position, ports 1 to 7 are not able to communicate with one another. This helps to prevent IP camera's multicast or broadcast storm from influencing one another.
Saving Power by 40%
The GSD-805 incorporates two advanced Green Networking technologies and is able to save power by up to 40% while maintaining high performance.
Hibernation Link Down Power Saving

The Hibernation Link Down Power Saving goes beyond IEEE specifications to automatically lower the power supply for a given port when it is not linked. With the Hibernation Link Down Power Saving technology, the GSD-805 will automatically adjust power usage of the ports that are shut down or not connected to a network device.

Intelligent Scales Power

Intelligent Scales Power is an intelligent algorithm that actively determines the appropriate power level based on cable length. When the GSD-805 is connected with an Ethernet cable shorter than 20m, a device can obtain maximum power saving. The GSD-805 would automatically detect the Ethernet cable length and diminish power usage. The connected device can substantially reduce the overall power consumption, which makes a significant contribution to energy saving.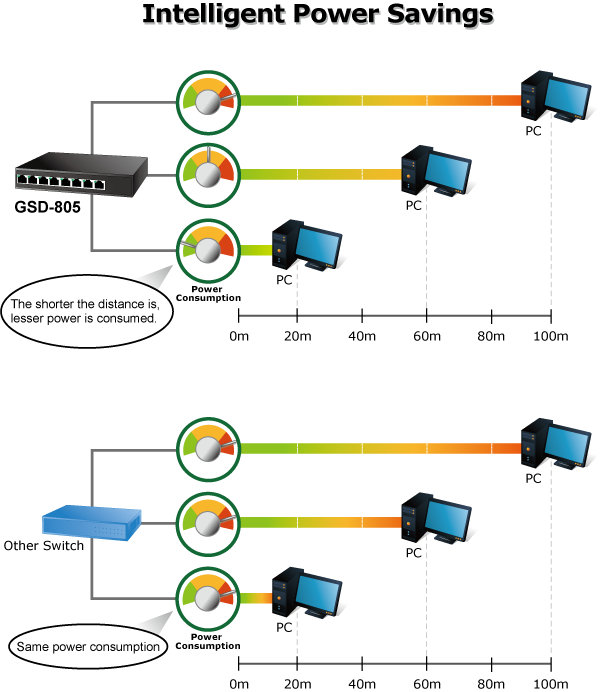 Robust Protection
The GSD-805 protects against the ESD 4KV surge to improve product stability and also protects users' networks from devastating ESD attacks, making sure the flow of operation does not fluctuate.
Leading Home, SOHO and Workgroup Users to High-speed Networking Generation
Providing 16Gbps internal switching fabric, the GSD-805 can handle an extremely large amount of data in a secure topology linking to a backbone or high capacity server. The GSD-805 provides 8K MAC address table, and wire-speed packet transfer performance without risk of packet loss. The high data throughput of the device makes it ideal for Gigabit environments, especially for the network upgraded to a Gigabit environment.
Plug & Play
All RJ45 copper interfaces of the GSD-805 support 10/100/1000Mbps auto-negotiation for optimal speed detection through RJ45 Category 5, 5e or 6 cables. They support standard auto-MDI/MDI-X feature which can detect the type of connection to any Ethernet device without requiring special straight-through or crossover cables.