Industrial Cellular Gateway
Making Network Connection Easy with 4G LTE Cellular Gateway
The ICG-2510WG-LTE is a reliable, secure and high-bandwidth communications industrial-grade cellular gateway for demanding mobile applications, M2M (machine-to-machine) and IoT deployments. It features 4G LTE (Long Term Evolution), 2.4G/5G Wi-Fi, five Ethernet ports (4 LAN and 1 WAN), serial console port, DI and DO interfaces, and VPN technology bundled in a compact yet rugged metal case. It establishes a fast cellular connection between Ethernet and serial port equipped devices.
High-performance 4G LTE
The ICG-2510WG-LTE supports LTE 2×1 DL MIMO technology which can reach a download (DL) speed of up to 150Mbps and an upload (UL) speed of 50Mbps. The Cellular Gateway also supports multi-band connectivity including LTE FDD/TDD, WCDMA and GSM for a wide range of applications.
Dual SIM Design
To enhance reliability, the ICG-2510WG-LTE is equipped with dual SIM slots that support failover and roaming over to ensure uninterrupted connectivity for mission-critical cellular communications. Besides, the ICG-2510WG-LTE supports load balance function to improve network efficiency. It provides a more flexible and easier way for users to create an instant network sharing service via 4G LTE whenever in public places like transportation, outdoor event, etc.
GPS Included
The ICG-2510WG-LTE is equipped with one convenient feature and that is GPS (global positioning system). It is a positioning system based on a network of satellites that continuously transmits necessary data. More signals transmitted from more satellites can triangulate its location on the ground, meaning any location can be easily tracked.
Dual-band WLAN Solution
PLANET ICG-2510WG-LTE, adopting the IEEE 802.11b/g/n/ac standard, provides a high-speed transmission of power and data, meaning two remote nodes in the 5GHz frequency band can be bridged. The 2.4GHz wireless connection can also be used simultaneously. The Wireless Protected Access (WPA/WPA2 with TKIP/AES) and Wireless Encryption Protocol (WEP) features enhance the level of transmission security and access control over wireless LAN.
Cost-effective VPN Solution
The ICG-2510WG-LTE provides a complete data security and privacy feature for access and exchange of sensitive data. The full VPN capability of the ICG-2510WG-LTE including built-in PPTP, L2TP, OpenVPN, GRE and IPSec VPN functions with DES/3DES/AES encryption and MD5/SHA-1/SHA-2 authentication makes the shared connection more secure and flexible. The IPSec VPN also makes the private tunnel over Internet more secure for enterprises doing business transactions.
Remote Manageable Solution for Ethernet to RS232/RS485 Application
PLANET ICG-2510WG-LTE's serial RS232/RS485 communication interface can be converted over the Fast Ethernet networking. It can operate as a virtual server or client where IP-based serial equipment can be managed. The ICG-2510WG-LTE helps save the network administrator's valuable time in detecting and locating network problems, rather than visual inspection of cabling and equipment.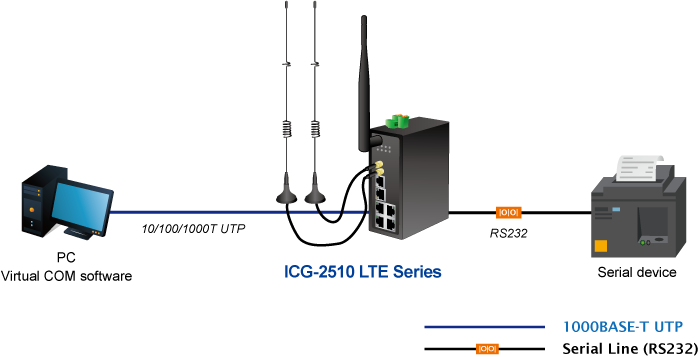 Superior Management Functions
For networking management features, the ICG-2510WG-LTE provides such functions as DHCP server, DMZ and port forwarding, as well as full secure functions including  Network Address Translation (NAT), WAN access policy, URL/Packet/MAC filtering. The ICG-2510WG-LTE has 4G and WAN connection failover characteristics, which can automatically switch over to the redundant, stable WAN connection to keep users always online without missing any fascinating moments.
User-friendly and Secure Management
For efficient management, the ICG-2510WG-LTE is equipped with console, web, SNMP and CMS (Central Management System) management interfaces. With the built-in web-based management interface, the ICG-2510WG-LTE offers an easy-to-use, platform-independent management and configuration facility. The ICG-2510WG-LTE supports SNMP and it can be managed via any management software based on the standard SNMP v1 or v2 Protocol. Moreover, the ICG-2510WG-LTE offers the remotely secure management by supporting SSH connection where the packet content can be encrypted at each session. The CMS is able to manage multiple devices and achieve instant status.