Industrial Serial Device Server
Cost-effective Solution for RS232/422/485 Serial-to-Industrial Ethernet Application
PLANET ICS-2105AT Serial Device Server is specially designed to convert RS232, RS422 or RS485 serial communication to Industrial Fast Ethernet networking so as to extend the network distance efficiently and inexpensively. There is one 100BASE-FX single-mode/multi-mode media available in the ICS-2105AT and its operating temperature ranges from -40 to 75°C for your network needs. The ICS-2105AT is a time-saving and cost-effective solution for users and system integrators to quickly transform their serial devices into the Ethernet network with no need of replacing the existing serial devices and software system.

Efficiently Extend Network Distance
The ICS-2105AT especially equips one SFP fiber slot (mini-GBIC 100Base-FX SFP or small-form factor pluggable) and is able to extend the distance of deploying serial equipment and hosts. Users are able to select fiber-optic cables (based on distance) provided for distance extension from 550 meters (via multi-mode fiber) to 120 kilometers (via single-mode fiber) or longer.
Remote Management
As the ICS-2105AT provides easy serial-to-Ethernet connectivity and connection to a TCP/IP network, the remote network system can thus be managed efficiently via its Web, telnet, and VCOM management interfaces. It supports both application and serial operation modes for alarm or IP address connection, which saves the network administrator's time in detecting and locating network problems without visual inspection of the cabling and devices. Multiple connection options are available for a large networking environment as well.

Stable Performance under Difficult Environments
The ICS-2105AT provides a high level of immunity against electromagnetic interference and heavy electrical surges which are usually found on plant floors or in curbside traffic control cabinets. Its operating temperature ranging from -40 to 75°C allows the ICS-2105AT to be placed in almost any difficult environment.
The ICS-2105AT with compact IP30 standard metal case allows either DIN-rail or wall mounting for efficient use of cabinet space. The ICS-2105AT also provides an integrated power supply source with a wide range of voltages (9 to 48V DC / 24V AC) ideally suitable for worldwide operation with high availability applications requiring dual or backup power inputs.
Dual Power Input for High Availability Network System
The ICS-2105AT features a strong dual power input system with wide-ranging voltages (9V~48V DC / 24V AC) incorporated into customer's automation network to enhance system reliability and uptime. In the example below, when Power Supply 1 fails to work, the hardware failover function will be activated automatically to keep powering the ICS-2105AT via Power Supply 2 without any break of operation.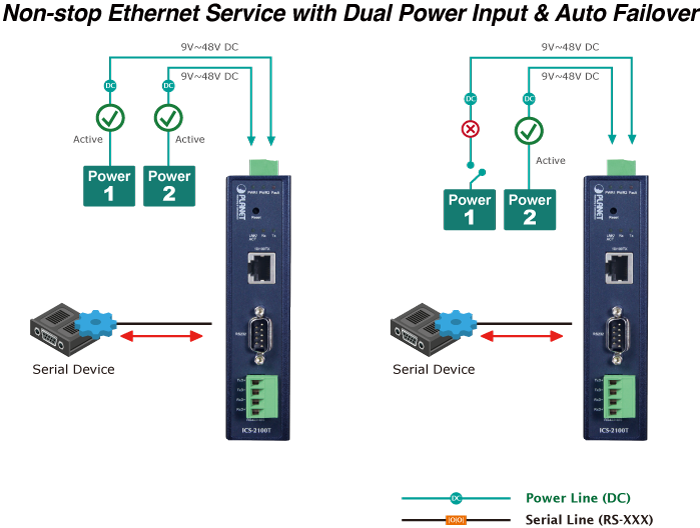 Effective Alarm Alert for Better Protection
The ICS-2105AT comes with a Fault Alarm feature which can alert the users when there is something wrong with the Serial Device Server. With this ideal feature, the users would not have to waste time finding where the problem is. It will help to save time and human resource. The ICS-2105AT provides event alert function to help to diagnose the abnormal device owing to whether or not there is a break of the network connection, or the rebooting response.