8-Port PoE Switch
Efficient Full PoE+ Power and Gigabit Extension Solution Ideal for Hardened Environment
With the Plug and Play configuration, PLANET IFGS-1022HPT Industrial-grade, DIN-rail type Unmanaged Fast Ethernet PoE+ Switch featuring 8 10/100BASE-TX 802.3at PoE+ ports and 2 additional Gigabit copper/SFP combo interfaces for Gigabit Ethernet extension and video uplink is ideal for easily setting up a heavy industrial infrastructure.
The IFGS-1022HPT is designed with redundant power system and thus, it is able to operate reliably, stably and quietly in any hardened environment without affecting its performance. It comes with a total power budget of up to 240 watts for different kinds of PoE applications and operating temperature ranging from -40 to 75°C in a rugged IP30 metal housing.
802.3at PoE+ Power and Ethernet Data Transmit Distance Extension
The IFGS-1022HPT has a built-in solid DIP switch providing "Standard" and "Extend" operation modes. The IFGS-1022HPT operates as a normal IEEE 802.3af/at PoE+ Switch in the "Standard" operation mode. In the "Extend" operation mode, the IFGS-1022HPT operates on a per-port basis at 10Mbps full duplex operation and can support 30-watt PoE power output over a distance of up to 250 meters, overcoming the 100-meter limit on Ethernet UTP cable.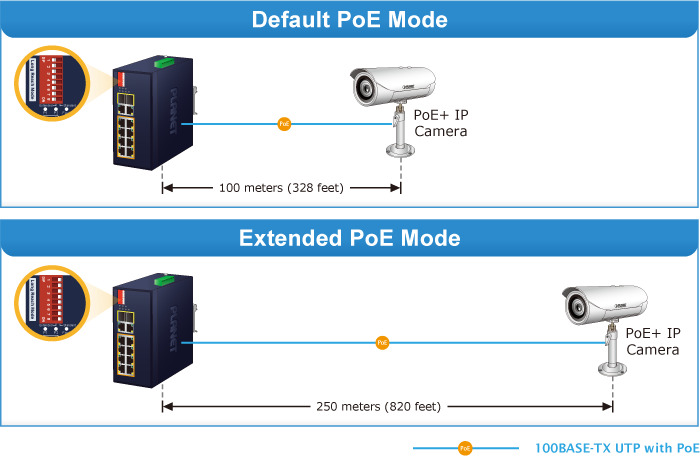 Two Gigabit Uplink Ports
The IFGS-1022HPT provides 2 extra Gigabit TP/SFP combo interfaces that enable network administrators to increase their network bandwidth to relieve traffic congestion when the 2 uplink ports are used to connect PoE-capable devices, such as NVR, video streaming server, NAS and more.  With the combo design, administrators can easily connect and supply power to PoE-capable devices no matter how large the network expansion is.
Flexibility and Long-distance Extension Solution
Through the two shared Gigabit-speed fiber SFP slots, it can also connect with the 1000BASE-SX/LX SFP (small form-factor pluggable) fiber transceiver to uplink to backbone switch and monitoring center in long distance. The distance can be extended from 550 meters (multi-mode fiber) to 10/20/30/40/50/60/70/120 kilometers (single-mode fiber or WDM fiber). They are well suited for applications within the industrial data centers and distributions.
Environmentally Hardened Design
With the IP30 metal industrial case, the IFGS-1022HPT provides a high level of immunity against electromagnetic interference and heavy electrical surges which are usually found on plant floors or in curb-side traffic control cabinets without air conditioning. Being able to operate under the temperature range from -40 to 75 degrees C, the IFGS-1022HPT can be placed in almost any difficult environment.
Robust Protection
The IFGS-1022HPT provides contact discharge of ±6KV DC and air discharge of ±6KV DC for Ethernet ESD protection. It also supports ±6KV surge immunity to improve product stability and protects users' networks from devastating ESD attacks, making sure the flow of operation does not fluctuate.
Safe and Easy PoE Network Deployment
Carrying both Ethernet data and power simultaneously, the IFGS-1022HPT reduces cabling requirements and eliminates the need for dedicated electrical outlets on the wall, ceiling or any unreachable place. It helps users to utilize just one Ethernet cable to install and deploy IP camera, wireless AP or VoIP phone more efficiently and cost-effectively.