Industrial Switch with SFP
The IGS-10020MT is a fully-managed Gigabit fiber switch usually designed for the industrial network. It features 8 10/100/1000BASE-T copper ports, 2 100/1000/2500BASE-X SFP ports and redundant power system in an IP30 rugged but compact-sized case that can be installed in any difficult environment without space limitation. Within such favorable enclosure, it provides user-friendly yet advanced IPv6/IPv4 management interfaces, abundant L2/L4 switching functions and Layer 3 static routing capability. The IGS-10020MT can operate stably under the temperature range from -40 to 75°C and allows either DIN-rail or wall mounting for efficient use of cabinet space. With 2 100/1000/2500BASE-X SFP fiber slots, it can be flexibly applied to extend the connection distance.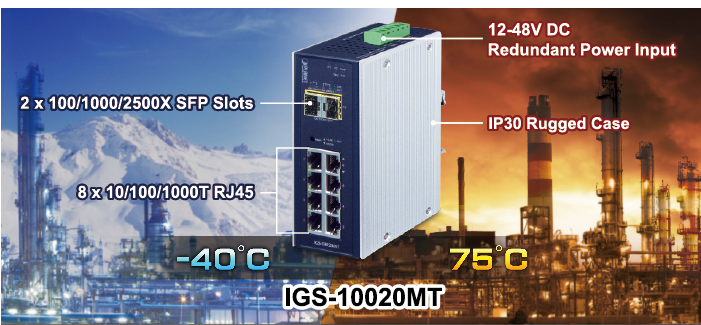 PLANET Network Management System (NMS) Solution
The IGS-10020MT supports PLANET's NMS via CloudViewer App which is an Intelligent App to monitor your network from the cloud. With a cloud network, it makes data and services available from anywhere with an Internet connection. With PLANET CloudViewer, your network status can be monitored in real time anytime, anywhere via your mobile phone or tablet. User can easily check network status, device information, and port and PoE statuses from the cloud to reduce management costs.
Cloudviewer App: Download here for ANDROID or IOS.
Cybersecurity Network Solution to Minimize Security Risks
The cybersecurity feature that virtually needs no effort and cost to have includes the protection of the switch management and the enhanced security of the mission-critical network. Both SSH and TLS protocols are utilized to provide strong protection against advanced threats. It includes a range of cybersecurity features such as DHCP Snooping, IP Source Guard, ARP Inspection Protection, 802.1x port-based and MAC-based network access control, RADIUS and TACACS+ user accounts management, SNMPv3 authentication, and so on to complement it as an all-security solution. The network administrator can now construct highly-secure corporate networks with considerably less time and effort than before.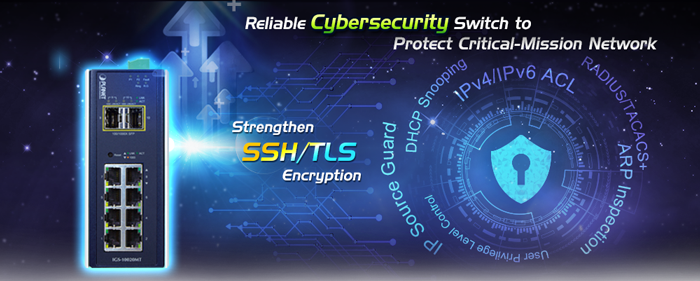 Redundant Ring, Fast Recovery for Surveillance System
The IGS-10020MT supports redundant ring technology and features strong rapid self-recovery capability to prevent interruptions and external intrusions. It incorporates advanced ITU-T G.8032 ERPS (Ethernet Ring Protection Switching) technology, Spanning Tree Protocol (802.1s MSTP), and redundant power input system into customer's industrial automation network to enhance system reliability and uptime in harsh factory environments. In certain simple Ring network, the recovery time of data link can be as fast as 10ms.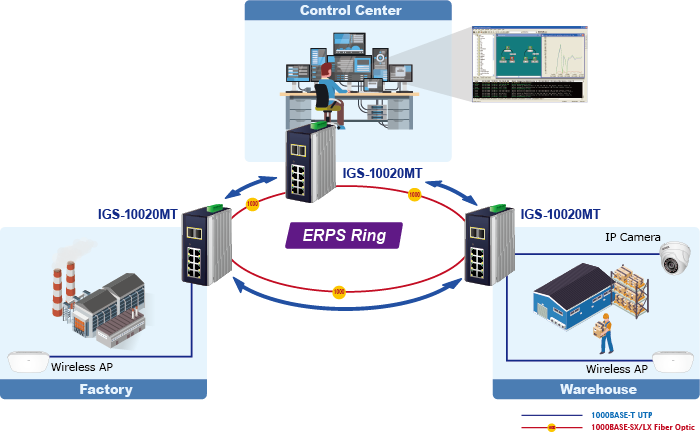 SMTP/SNMP Trap Event Alert
The IGS-10020MT provides event alert function to help to diagnose the abnormal device owing to whether or not there is a break of the network connection, or the rebooting response.
Layer 3 IPv4 and IPv6 Software VLAN Routing for Secure and Flexible Management
To help customers stay on top of their businesses, the IGS-10020MT not only provides high transmission performance and excellent Layer 2 technologies, but also IPv4/IPv6 software VLAN routing feature which allows to cross over different VLANs and different IP addresses for the purpose of having a highly-secure, flexible management and simpler networking application.
Robust Layer 2 Features
The IGS-10020MT can be programmed for advanced switch management functions such as dynamic port link aggregation, Q-in-Q VLAN, private VLAN, Rapid Spanning Tree Protocol, Layer 2 to Layer 4 QoS, bandwidth control and IGMP snooping. The IGS-10020MT provides 802.1Q tagged VLAN, and the VLAN groups allowed will be maximally up to 255. Via aggregation of supporting ports, the IGS-10020MT allows the operation of a high-speed trunk combining multiple ports. It enables a maximum of up to 10 trunk groups with 8 ports per trunk group, and supports fail-over as well.
Efficient Management
For efficient management, the IGS-10020MT is equipped with console, Web and SNMP management interfaces. With the built-in Web-based management interface, the IGS-10020MT offers an easy-to-use, platform-independent management and configuration facility. For text-based management, the IGS-10020MT can be accessed via Telnet and the console port. Moreover, it also offers secure remote management via any standard-based management software by supporting SNMPv3 connection which encrypts the packet content at each session.
Powerful Security from Layer 2 to Layer 4
The IGS-10020MT offers comprehensive Layer 2 to Layer 4 Access Control List (ACL) for enforcing security to the edge. It can be used to restrict network access by denying packets based on source and destination IP address, TCP/UDP ports or defined typical network applications. With the private VLAN function, communication between edge ports can be prevented to ensure user privacy.
Flexibility and Extension Solution
The additional two mini-GBIC slots built in the IGS-10020MT support triple-speed 100/1000/2500BASE-X SFP (small form-factor pluggable) fiber-optic modules, meaning the administrator now can flexibly choose the suitable SFP transceiver according to not only the transmission distance but also the transmission speed required. The distance can be extended from 550 meters (multi-mode fiber) to 10/40/80/120 kilometers (single-mode fiber or WDM fiber). They are well suited for applications within the enterprise data centers and distributions.
Intelligent SFP Diagnosis Mechanism
The IGS-10020MT supports SFP-DDM (Digital Diagnostic Monitor) function that greatly helps network administrator to easily monitor real-time parameters of the SFP, such as optical output power, optical input power, temperature, laser bias current, and transceiver supply voltage.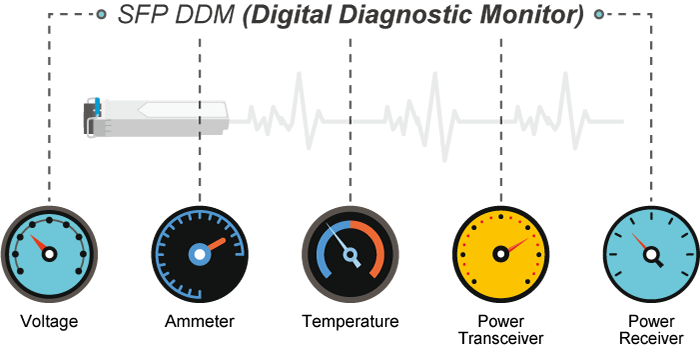 1588 Time Protocol for Industrial Computing Networks
The IGS-10020MT is ideal for telecom and Carrier Ethernet applications, supporting MEF service delivery and timing over packet solutions for IEEE 1588 and synchronous Ethernet.
Modbus TCP Provides Flexible Network Connectivity for Factory Automation
With the supported Modbus TCP/IP protocol, the IGS10020MT can easily integrate with SCADA systems, HMI systems and other data acquisition systems in factory floors. It enables administrators to remotely monitor the statuses of the industrial Ethernet switch, ports  and communication, thus easily achieving enhanced monitoring and maintenance of the entire factory.
Environmentally Hardened Design
With IP30 aluminum industrial case protection, the IGS-10020MT provides a high level of immunity against electromagnetic interference and heavy electrical surges which are usually found on plant floors or in curb-side traffic control cabinets. It also possesses an integrated power supply source with a wide range of voltages (12 to 48V DC or 24V AC) for worldwide high availability applications requiring dual or backup power inputs. Being able to operate under the temperature range from -40 to 75ºC, the IGS-10020MT can be placed in almost any difficult environment.