5-Port Ethernet Switch
Compact Size for More Practicability and Convenience
PLANET IGS-500T Compact Industrial 5-Port 10/100/1000T Gigabit Ethernet Switch, suitable for industrial use, features 5 1000Mbps auto-negotiation ports, IP30-rated rugged but compact case and a wide-ranging redundant power system (9~48V DC or 24V AC). The IGS-500T is able to operate in any harsh environment with operating temperature ranging from -40 to 75°C.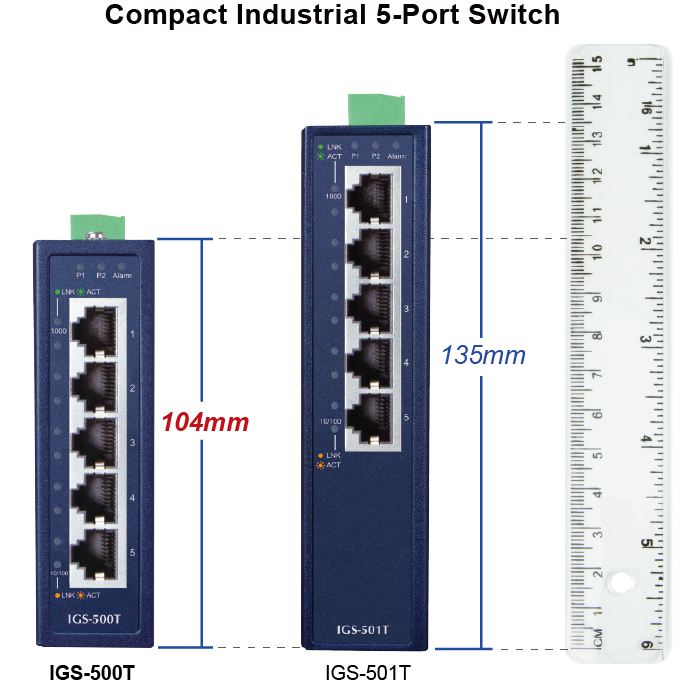 As the trend for an IIoT (Industrial Internet of Things) infrastructure is gradually in demand, the IGS-500T is especially designed to make the deployment of an industrial network easy as it comes with a Plug and Play feature. Besides, it is stable and reliable when it comes to fast data and power transmission.
Low Power Consumption for Green Networking
The IGS-500T, adopting the advanced green networking technology, provides the link-on cable length power saving and link-down power saving methods. These features make the IGS-500T consume very low power in full load operation mode, which helps conserve energy effectively but maintains high performance efficiently.
With the Auto Power Saving and IEEE 802.3az Energy Efficient Ethernet (EEE) Protocol, the IGS-500T can automatically detect cable link status and network traffic, and thus is able to adjust power consumption accordingly. It enables the switch to consume less power when it is less active.
Dual Power Input for High Availability Network System
The IGS-500T features a strong dual power input system with wide-ranging voltages (9V~48V DC or 24V AC) incorporated into customer's automation network to enhance system reliability and uptime. In the example below, when power supply 1 fails to work, the hardware failover function will be activated automatically to keep powering the IGS-500T via power supply 2 alternatively without any loss of operation.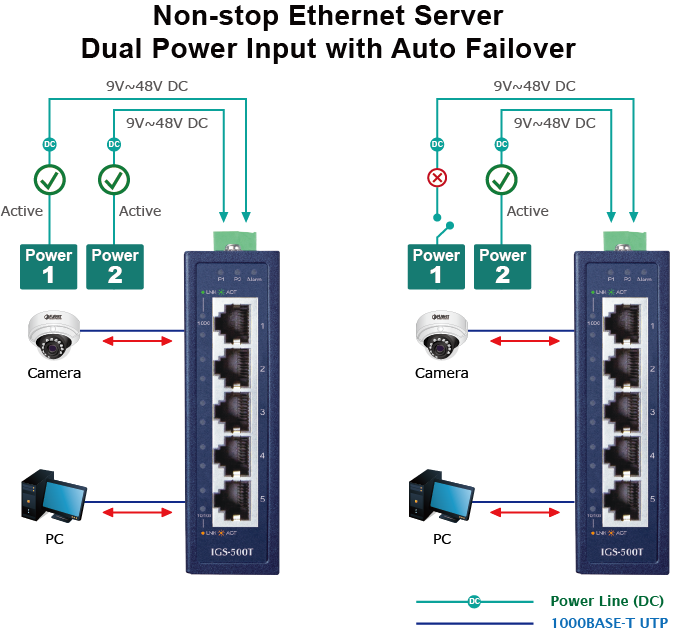 High Switch Performance
The IGS-500T offers high-performance switch architecture. With the 5 10/100/1000Mbps Gigabit Ethernet ports providing non-blocking switch fabric and wire-speed throughput as high as 10Gbps and the 2K MAC address table, the IGS-500T can perform wire-speed packet transfer without the risk of packet loss. The flow control function enables the IGS-500T to provide fast and reliable data transfer.
Plug and Play
All of the RJ45 copper interfaces in the IGS-500T support 10/100/1000Mbps auto negotiation for optimal speed detection through RJ45 Category 6, 5 or 5e cables. The standard auto-MDI/MDI-X support can detect the type of connection to any Ethernet device without requiring special straight-through or crossover cables.
Flexible and Easy Installation with Limited Space
The compact sized IGS-500T is specially designed to be installed in a narrow environment, such as wall enclosure. It can be installed by fixed wall mounting or DIN rail, thereby making its usability more flexible and easier in any space-limited location.