Industrial 4-Port PoE Switch
Outstanding 802.3bt PoE++ Solution for Hardened Environment
Complying with the IEEE 802.3bt Power over Ethernet Plus Plus technology, the latest version of PLANET IGS-5225-4UP1T2S L2+ Industrial Managed PoE++ Switch features four 10/100/1000BASE-T 802.3bt PoE++ ports with each port powering up to 95 watts, one extra 10/100/1000BASE-T copper port and two 100/1000BASE-X SFP interfaces in a rugged IP30 metal case for stable operation in heavy industrial demanding environments. It supports rich PoE operation modes including 90-watt 802.3bt type-4 PoE++ ports, 95-watt PoH (Power over HD-BASE-T) mode and 4-pair force mode to solve the incompatibility of non-standard 4-pair PoE PDs in the field.
Being able to operate under wide temperature range from -40 to 75 degrees C, the IGS-5225-4UP1T2S can be placed in almost any difficult environment. The IGS-5225-4UP1T2S also allows either DIN rail or wall mounting for efficient use of cabinet space.
802.3bt PoE++ – 90~95-watt Power over 4-pair UTP Solution
As the IGS-5225-4UP1T2S adopts the IEEE 802.bt PoE++ standard and PoH technology, it is capable to source up to 95 watts of power by using all the four pairs of standard Cat5e/6 Ethernet cabling to deliver power and full-speed data to each remote PoE compliant powered device (PD). It possesses triple amount of power capability than the conventional 802.3at PoE+ and is an ideal solution to satisfy the growing demand for higher power consuming network PDs, such as:
PoE PTZ speed dome cameras
Network devices
Thin clients
AIO (all-in-one) touch PCs, point of sale (POS) and information kiosks
Remote digital signage displays
PoE lightings
Advanced PoE Power Output Mode Management
To meet the demand of various powered devices consuming stable PoE power, the IGS-5225-4UP1T2S provides five different PoE power output modes for selection.
90W 802.3bt PoE++ Power Output Mode(Pins 1, 2, 3, 6 + Pins 4, 5, 7, 8)
95W UPOE/PoH Power Output Mode(Pins 1, 2, 3, 6 + Pins 4, 5, 7, 8)
30W End-span PoE Power Output Mode(Pins 1, 2, 3, 6)
30W Mid-span PoE Power Output Mode(Pins 4, 5, 7, 8)
60W Force Power Output Mode
Intelligent Alive Check for Powered Device
The IGS-5225-4UP1T2S PoE Switch can be configured to monitor connected PD's status in real time via ping action. Once the PD stops working and responding, the IGS-5225-4UP1T2S will recycle the PoE port power and bring the PD back to work. It also greatly enhances the reliability in that the PoE port will reset the PD power, thus reducing administrator's management burden.
PoE Schedule for Energy Saving
Under the trend of energy saving worldwide and contributing to environmental protection on the Earth, the IGS-5225-4UP1T2S can effectively control the power supply besides its capability of giving high watts power. The built-in "PoE schedule" function helps you to enable or disable PoE power feeding for each PoE port during specified time intervals and it is a powerful function to help SMBs or enterprises save power and money.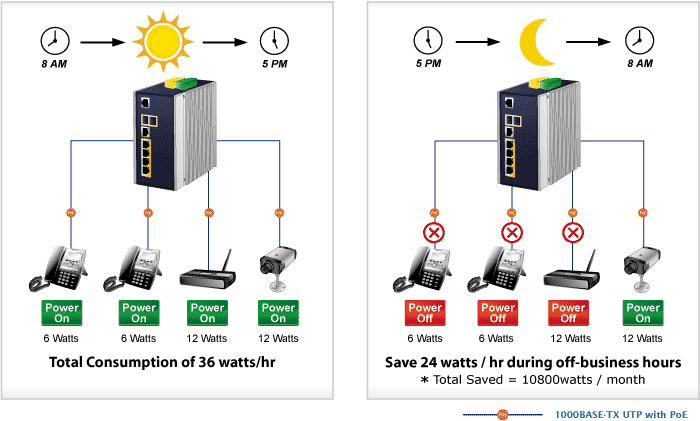 Scheduled Power Recycling
The IGS-5225-4UP1T2S allows each of the connected PoE IP cameras or PoE wireless access points to reboot at a specific time each week. Therefore, it will reduce the chance of IP camera or AP crash resulting from buffer overflow.
Redundant Ring, Fast Recovery for Critical Network Applications
The IGS-5225-4UP1T2S supports redundant ring technology and features strong, rapid self-recovery capability to prevent interruptions and external intrusions. It incorporates advanced ITU-T G.8032 ERPS (Ethernet Ring Protection Switching) technology, Spanning Tree Protocol (802.1s MSTP), and redundant power input system into customer's industrial automation network to enhance system reliability and uptime in harsh factory environments. In a certain simple Ring network, the recovery time of data link can be as fast as 10ms.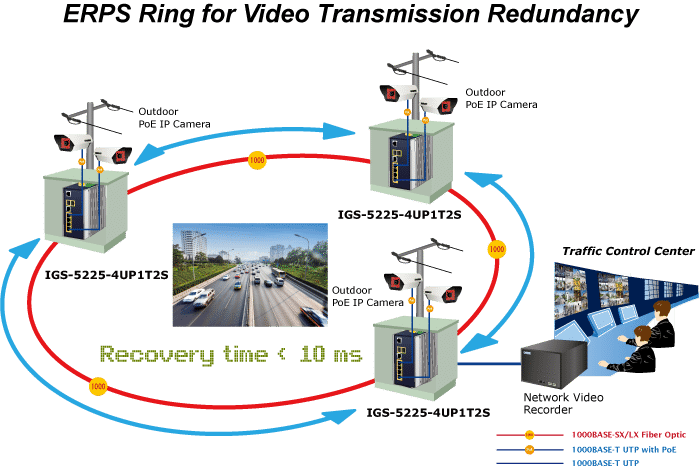 Network with Cybersecurity Helps Minimize Security Risks
The IGS-5225-4UP1T2S comes with enhanced cybersecurity to fend off cyberthreats and cyberattacks. Served as a key point to transmit data and offering over 95-watt PoE output to customer's critical equipment in a business network, the cybersecurity feature of the IGS-5225-4UP1T2S protects the switch management and enhances the security of the mission-critical network without any extra deployment cost and effort.
Convenient and Smart ONVIF Devices with Detection Feature
PLANET has newly developed an awesome feature — ONVIF Support — which is specifically designed for co-operating with video IP surveillances. From the IGS-5225-4UP1T2S GUI, clients just need one click to search and show all of the ONVIF devices via network application. In addition, clients can upload floor images to the switch, allowing to locate surveillance devices for easier inspection and planning. Moreover, clients can get real-time surveillance's information and online/offline status, and also allows PoE reboot control from GUI.
SMTP/SNMP Trap Event Alert
The IGS-5225-4UP1T2S provides event alert function to help to diagnose the abnormal device owing to whether or not there is a break of the network connection, or the rebooting response.
Effective Alarm Alert for Better Protection
The IGS-5225 series supports a Fault Alarm feature which can alert the users when there is something wrong with the switches. With this ideal feature, the users would not have to waste time finding where the problem is. It will help to save time and human resource.
Digital Input and Digital Output for External Alarm
The IGS-5225-4UP1T2S supports Digital Input and Digital Output on its front panel. This external alarm enables users to use Digital Input to detect and log external device status (such as door intrusion detector), and send event alarm to the administrators. The Digital Output could be used to alarm the administrators if the IGS-5225-4UP1T2S port shows link down, link up or power failure.
Layer 3 IPv4 and IPv6 Software VLAN Routing for Secure and Flexible Management
To help customers stay on top of their businesses, the IGS-5225 series not only provides ultra high transmission performance and excellent Layer 2 technologies, but also IPv4/IPv6 software VLAN routing feature which allows to cross over different VLANs and different IP addresses for the purpose of having a highly-secure, flexible management and simpler networking application.
Robust Layer 2 Features
The IGS-5225 series can be programmed for advanced switch management functions such as dynamic port link aggregation, Q-in-Q VLAN, private VLAN, Rapid Spanning Tree Protocol, Layer 2 to Layer 4 QoS, bandwidth control and IGMP snooping. The IGS-5225 series provides 802.1Q tagged VLAN, and the VLAN groups that can be maximized  to 255. Via the aggregation of supporting ports, the IGS-5225-4UP1T2S allows the operation of a high-speed trunk group that comes with multiple ports. For example, it enables a maximum of up to 3 trunk groups with 3 ports per trunk group, and supports fail-over as well.
Efficient Management
For efficient management, the IGS-5225 Managed Ethernet Switch series is equipped with console, Web and SNMP management interfaces. With the built-in Web-based management interface, the IGS-5225 series offers an easy-to-use, platform-independent management and configuration facility. For text-based management, the IGS-5225 series can be accessed via Telnet and the console port. Moreover, it also offers secure remote management via any standard-based management software by supporting SNMPv3 connection which encrypts the packet content at each session.
Powerful Security
The IGS-5225 series offers comprehensive Layer 2 to Layer 4 Access Control List (ACL) for enforcing security to the edge. It can be used to restrict network access by denying packets based on source and destination IP address, TCP/UDP ports or defined typical network applications. Its protection mechanism also comprises 802.1X Port-based and MAC-based user and device authentication. With the private VLAN function, communication between edge ports can be prevented to ensure user privacy. The network administrators can now construct highly-secure corporate networks with considerably less time and effort than before.
Flexibility and Extension Solution
The additional two mini-GBIC slots built in the IGS-5225-4UP1T2S support dual speed, 100BASE-FX and 1000BASE-SX/LX SFP (small form-factor pluggable) fiber-optic modules, meaning the administrator now can flexibly choose the suitable SFP transceiver according to not only the transmission distance but also the transmission speed required. The distance can be extended from 550 meters (multi-mode fiber) to 10/50/70/120 kilometers (single-mode fiber or WDM fiber). They are well suited for applications within the enterprise data centers and distributions.
Intelligent SFP Diagnosis Mechanism
The IGS-5225 series supports SFP-DDM (digital diagnostic monitor) function that greatly helps network administrator to easily monitor real-time parameters of the SFP, such as optical output power, optical input power, temperature, laser bias current, and transceiver supply voltage.
1588 Time Protocol for Industrial Computing Networks
The IGS-5225 series is ideal for telecom and Carrier Ethernet applications, supporting MEF service delivery and timing over packet solutions for IEEE 1588 and synchronous Ethernet.
Modbus TCP Provides Flexible Network Connectivity for Factory Automation
With the supported Modbus TCP/IP protocol, the IGS-5225-4UP1T2S can easily integrate with SCADA systems, HMI systems and other data acquisition systems in factory floors. It enables administrators to remotely monitor the industrial Ethernet switch's operating information, port information and communication status, thus easily achieving enhanced monitoring and maintenance of the entire factory.