Industrial Managed PoE Switch
Advanced Layer 3 Manageable PoE++ Solution for Harsh Environments
PLANET IGS-6325-24UP4X L3 Industrial Managed PoE++ Switch is a high-performance networking solution that provides 24 10/100/1000BASE-T 802.3bt PoE++ ports. Each port can deliver up to 95 watts of power. In addition, the switch has 4 10G SFP+ ports, all housed in a 19-inch  1U rack-mount case. With its 10Gbps uplink, this switch can handle extremely large amounts of data in a secure topology, linking to an industrial backbone or high-capacity servers.
The IGS-6325-24UP4X also has user-friendly yet advanced IPv6/IPv4 management interfaces, abundant L2/L4 switching functions, Layer 3 OSPFv2, v3 & RIPv2 dynamic routing capability, and advanced ITU-G.8032 ERPS Ring technology to improve the rapid self-recovery capability. Furthermore, PLANET intelligent PoE functions enable controlling the PoE IP surveillance and wireless network applications. The switch is designed to operate reliably, stably, and quietly within a temperature range of -40 to 75 degrees Celsius.
High Power and Full-speed Data Delivered over 4-pair UTP Cabling
The IGS-6325-24UP4X meets the standards of IEEE 802.bt PoE++ technology and has a total power capacity of 1440 watts. This allows it to supply up to 95 watts of power to each remote PoE-compliant powered device (PD) using all four pairs of standard Cat5e/6 Ethernet cabling, ensuring high power and full-speed data delivery. Compared to the conventional 802.3at PoE+, it offers triple power capacity, making it the perfect solution for higher power consuming PDs, including:
PoE PTZ speed dome cameras
Network devices
Thin clients
AIO (all-in-one) touch PCs, point of sale (POS) and information kiosks
Remote digital signage displays
PoE lightings
802.3bt PoE++ and Advanced PoE Power Output Mode Management
To meet the demand for supplying stable PoE power to various powered devices, the IGS-6325-24UP4X switch offers five different PoE power output modes for selection.
90W 802.3bt PoE++ Power Output Mode
95W UPOE Power Output Mode
95W Force Power Output Mode
36W End-span PoE Power Output Mode
36W Mid-span PoE Power Output Mode
ONVIF Support Allows Effective and Centralized Control Over IP-based Security Products
The IGS-6325-24UP4X switch offers ONVIF support as part of its versatile feature set for seamless integration with IP surveillance cameras. Through the switch's web GUI, users can easily search for and display all ONVIF-compliant devices on their LAN.
Users can also upload floor plans to the switch and place IP surveillance cameras on the plan for more intuitive planning and faster inspection in the future. Additionally, the web GUI provides real-time surveillance information, online/offline status, and the ability to remotely reboot cameras.
Intelligent Alive Check for Powered Devices
The IGS-6325-24UP4X can be configured to monitor the status of connected powered devices (PDs) in real time through ping action. If a PD stops working and responding, the IGS-6325-24UP4X will recycle the PoE port power and bring the PD back to working condition. This greatly enhances reliability, as the assigned PoE port automatically reboots the PD, reducing the administrator's management burden.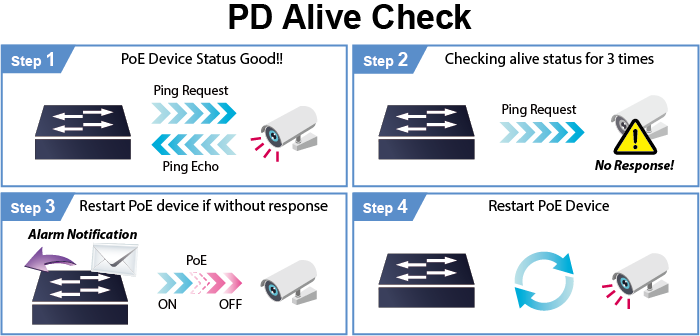 PoE Scheduling to Save Energy
By implementing the "PoE schedule" function, businesses can reduce their energy consumption during non-business hours or periods of low network usage. This not only helps to reduce energy costs but also minimizes the overall carbon footprint of the organization.
Furthermore, the IGS-6325-24UP4X's PoE scheduling feature provides a convenient and easy-to-use interface for managing power usage. The user can easily set the time intervals for each PoE port, allowing for more efficient power management.

Scheduled Power Recycling
The IGS-6325-24UP4X enables connected PoE IP cameras or PoE wireless access points to reboot at a specific time each week. This will reduce the chance of IP camera or AP crashes resulting from buffer overflow.
Layer 3 Routing Support
The IGS-6325-24UP4X allows administrators to boost network efficiency by configuring Layer 3 IPv4/IPv6 VLAN static routing manually or automatically through the Routing Information Protocol (RIP) or Open Shortest Path First (OSPF) settings.
The RIP uses hop count as a routing metric and prevents routing loops by setting a limit on the number of hops allowed in a path from source to destination.
The OSPF is an interior dynamic routing protocol for autonomous systems based on link state. The protocol creates a database of link states by exchanging link states among Layer 3 switches and then uses the Shortest Path First algorithm to generate a route table based on that database.
Reliable 10Gb Ethernet Solution
The emergence of 10G Ethernet marks a significant advancement in Ethernet technology. The IGS-6325-24UP4X is a powerful networking device that offers four 10G SFP+ slots capable of supporting three different speeds. These slots can operate at 10GBASE-SR/LR or 1G/2.5GBASE-SX/LX backwards, providing administrators with flexibility in choosing the most suitable SFP/SFP+ transceiver based on the required transmission distance and speed. With ample bandwidth and robust processing capacity, the IGS-6325-24UP4X provides an efficient solution for administrators seeking to enhance their network infrastructure.
Cybersecurity Network Solution to Minimize Security Risks
The IGS-6325-24UP4X supports SSHv2 and TLSv1.2 protocols to provide strong protection against advanced threats. It includes a range of cybersecurity features such as DHCP Snooping, IP Source Guard, ARP Inspection Protection, 802.1x port-based, and MAC-based network access control, RADIUS and TACACS+ user accounts management, SNMPv3 authentication, and more to provide a comprehensive security solution.
Redundant Ring, Fast Recovery for Critical Network Applications
The IGS-6325-24UP4X Series supports redundant ring technology and features strong, rapid self-recovery capability to prevent interruptions and external intrusions. It incorporates advanced ITU-T G.8032 ERPS (Ethernet Ring Protection Switching) technology, Spanning Tree Protocol (802.1s MSTP), and dual power input system into customer's industrial automation network to enhance system reliability and uptime in harsh factory environments. In a simple Ring network, the recovery time of data link can be as fast as 10ms.
Effective Alarm Alert for Better Protection
The IGS-6325-24UP4X supports a Fault Alarm feature that can alert users when there is an issue with the switches. This feature saves time and resources by quickly identifying the problem, eliminating the need for laborious troubleshooting efforts.
Digital Input and Digital Output for External Alarm
The IGS-6325-24UP4X supports digital input and output on its front panel. These features allow users to detect and log the status of external devices, such as door intrusion detectors, using digital input. It also enables the sending of an event alarm to administrators. Digital output can be used to alert administrators when the IGS-6325-24UP4X experiences a link down, link up, or power failure.
Robust Layer 2 Features
The IGS-6325-24UP4X is capable of advanced Layer 2 switch management functions, including dynamic port link aggregation, 802.1Q tagged VLAN, Q-in-Q VLAN, private VLAN, Multiple Spanning Tree Protocol (MSTP), Layer 2 to Layer 4 QoS, bandwidth control, IGMP snooping, and MLD snooping. By aggregating supporting ports, the IGS-6325-24UP4X can operate up to 14 high-speed trunk groups with up to 16 ports, with fail-over support.
Modbus TCP Provides Flexible Network Connectivity for Factory Automation
With the supported Modbus TCP/IP protocol, the IGS-6325-24UP4X can easily integrate with SCADA systems, HMI systems and other data acquisition systems in factory floors. It enables administrators to remotely monitor the industrial Ethernet switch's operating information, port information and communication status, thus easily achieving enhanced monitoring and maintenance of the entire factory.
1588 Time Protocol for Industrial Computing Networks
The IGS-6325-24UP4X is ideal for implementing Precision Time Protocol (PTP) applications as a transparent clock. It can play an important role in an IEEE 1588 and Synchronous Ethernet network by supporting MEF service delivery and timing over packet solutions.