Industrial SFP Media Converter
Supreme Managed Media Converter for Robust Environment
PLANET IGT-900-1T1S, a fully-managed Gigabit Media Converter for harsh environments, features one 10/100/1000Mbps copper port, one 100/1000/2500X SFP port and redundant power system in an IP30 rugged but compact-sized case. The IGT-900-1T1S can be installed in any difficult environment as it can operate stably under the temperature range from -40 to 75°C. With such a slim enclosure, it does not need a big space to install. The switch features user-friendly yet advanced IPv6/IPv4 management interfaces, abundant L2/L4 switching functions and Layer 3 static routing capability. It allows either DIN-rail or wall mounting for efficient use of cabinet space. With SFP fiber slot, it can be flexibly applied to extend the connection distance.
Enhanced Smart Management Features
The IGT-900-1T1S provides auto MDI/MDI-X on its TP port and built-in Link Fault Pass-through function (LFP). The LFP function includes Link Loss Carry Forward (LLCF) and Link Loss Return (LLR), both of which can immediately alarm administrators the problem of the link media and provide efficient solution to monitoring the net.
LLCF means when a device connected to the converter and the TP line loses the link, the converter's fiber port will disconnect the link of transmission.
LLR means when a device connected to the converter and the fiber line loses the link, the converter's fiber port will disconnect the link of transmission.
Therefore, the IGT-900-1T1S greatly supports the administrators to manage the network efficiently.
PLANET Network Management System (NMS) Solution
The IGT-900-1T1S supports PLANET's NMS via CloudViewer App which is an Intelligent App to monitor your network from the cloud. With a cloud network, it makes data and services available from anywhere with an Internet connection. With PLANET CloudViewer, your network status can be monitored in real time anytime, anywhere via your mobile phone or tablet. User can easily check network status, device information, and port and PoE statuses from the cloud to reduce management costs.
Cloudviewer App: Download here for ANDROID or IOS.
Network with Cybersecurity Helps Minimize Security Risks
The IGT-900-Series comes with enhanced cybersecurity to fend off cyberthreats and cyberattacks. It supports SSHv2, TLSv1.2 and SNMPv3 protocols to provide strong protection against advanced threats. Served as a key point to transmit data to customer's critical equipment in a business network, the cybersecurity feature of the IGT-900-Series protects the management and enhances the security of the mission-critical network without any extra deployment cost and effort.
Redundant Ring, Fast Recovery for Critical Network Applications
The IGT-900-Series supports redundant ring technology and features strong, rapid self-recovery capability to prevent interruptions and external intrusions. It incorporates advanced ITU-T G.8032 ERPS (Ethernet Ring Protection Switching) technology, Spanning Tree Protocol (802.1s MSTP), and redundant power input system into customer's industrial automation network to enhance system reliability and uptime in harsh factory environments. In a certain simple Ring network, the recovery time of data link can be as fast as 10ms.
SMTP/SNMP Trap Event Alert
The IGT-900-Series provides event alert function to help to diagnose the abnormal device owing to whether or not there is a break of the network connection, or the rebooting response.
Effective Alarm Alert for Better Protection
The IGT-900-Series supports a Fault Alarm feature which can alert the users when there is something wrong with the switches. With this ideal feature, the users would not have to waste time finding where the problem is. It will help to save time and human resource.
Robust Layer 2 Features
The IGT-900-Series can be programmed for advanced Layer 2 switch management functions such as dynamic port link aggregation, 802.1Q tagged VLAN, Q-in-Q VLAN, private VLAN, Multiple Spanning Tree Protocol (MSTP), Layer 2 to Layer 4 QoS, bandwidth control, IGMP snooping and MLD snooping. Via the aggregation of supporting ports, the IGT-900-Series allows the operation of a high-speed trunk group that comes with multiple ports and supports fail-over as well.
Efficient Management
For efficient management, the IGT-900-Series is equipped with CLI, Web GUI and SNMP management interfaces.
With the built-in Web-based management interface, it offers an easy-to-use, platform-independent management and configuration facility.
For text-based management, it can be accessed via Telnet/SSH.
For standard-based monitor and management software, it offers SNMPv3 connection which encrypts the packet content at each session for secure remote management.
Powerful Network Security
The IGT-900-Series offers comprehensive Layer 2 to Layer 4 Access Control List (ACL) for enforcing security to the edge. It can be used to restrict network access by denying packets based on source and destination IP address, TCP/UDP ports or defined typical network applications. Its protection mechanism also comprises 802.1X Port-based and MAC-based user and device authentication. With the private VLAN function, communication between edge ports can be prevented to ensure user privacy.
Advanced IP Network Protection
The IGT-900-Series also provides DHCP Snooping, IP Source Guard and Dynamic ARP Inspection functions to prevent IP snooping from attack and discard ARP packets with invalid MAC address. The network administrators can now construct highly-secure corporate networks with considerably less time and effort than before.
Intelligent SFP Diagnosis Mechanism
The IGT-900-Series supports SFP-DDM (digital diagnostic monitor) function that greatly helps network administrator to easily monitor real-time parameters of the SFP transceivers, such as optical output power, optical input power, temperature, laser bias current, and transceiver supply voltage.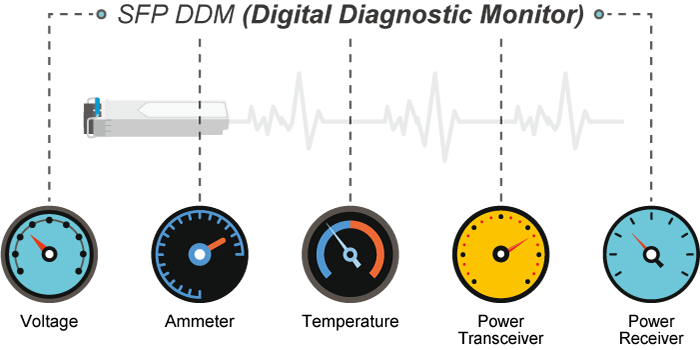 1588 Time Protocol for Industrial Computing Networks
The IGT-900-Series is ideal for telecom and Carrier Ethernet applications, supporting MEF service delivery and timing over packet solutions for IEEE 1588 and synchronous Ethernet.
Modbus TCP Provides Flexible Network Connectivity for Factory Automation
With the supported Modbus TCP/IP Protocol, the IGT-900-Series can easily integrate with SCADA systems, HMI systems and other data acquisition systems in factory floors. It enables administrators to remotely monitor the industrial Ethernet switch's operating information, port information and communication status, thus easily achieving enhanced monitoring and maintenance of the entire factory.