Industrial PoE Injector Hub
Compact and Robust Industrial 802.3bt PoE++ Network Solution
PLANET IPOE-270 2-port industrial IEEE 802.3bt PoE++ injector hub series features two 10/100/1G/2.5G/5GBASE-T 95-watt 802.3bt type-4 PoE++ injector ports. With a total PoE budget of 180 watts, it delivers 802.3bt PoE++ power over Ethernet UTP cables which allow data and power to transmit simultaneously to a remote 802.3bt/at powered device (PD).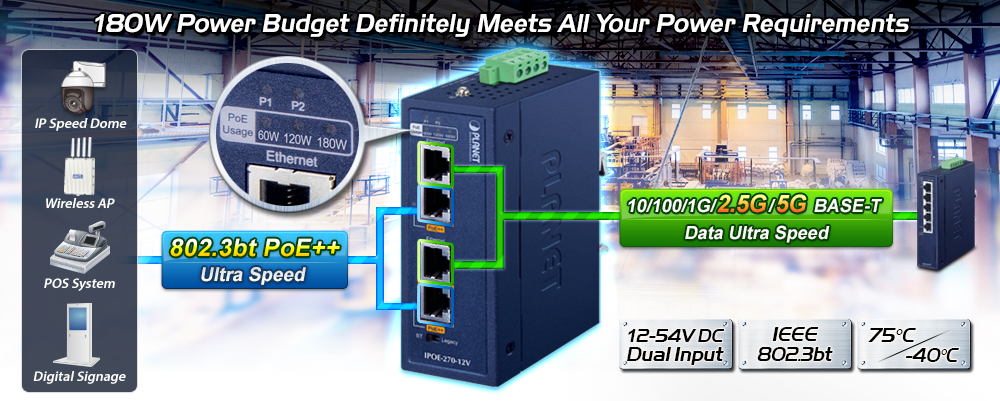 The IPOE-270 series provides a quick, safe and cost-effective 802.3bt PoE++ network solution for small businesses and enterprises. It is designed to perfectly upgrade an existing network infrastructure to 802.3bt PoE++ network system without replacing the existing Ethernet switches and also enables centralization of the power supply.
The IPOE-270 series includes two models: IPOE-270 and IPOE-270-12V.

802.3bt PoE++ Meets High Power Demands of Powered Devices
As the IPOE-270 series adopts the IEEE 802.bt PoE++ standard, it is capable to source up to 95 watts of power by using all the four pairs of standard Cat5e/6 Ethernet cabling to deliver power and full-speed data to each remote PoE compliant PD. It possesses triple amount of power capability than the conventional 802.3at PoE+ and is an ideal solution to satisfy the growing demand for higher power consuming network PDs, such as:
PoE PTZ speed dome cameras
Network devices
Thin clients
AIO (all-in-one) touch PCs, point of sale (POS) and information kiosks
Remote digital signage displays
PoE lightings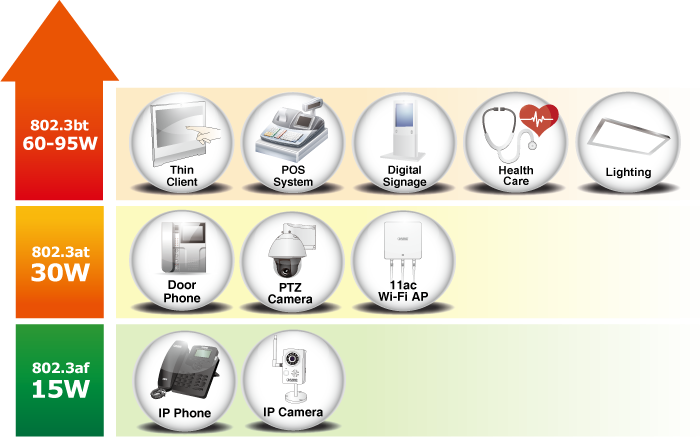 DIP Switch for PoE BT and Legacy mode Option
The IPOE-270 series provides power to those powered devices which do not fully follow the IEEE 802.3af/at/bt standard. The BT and Legacy mode provide the PD with 95 watts of power output voltage.
BT mode: Powered devices that fully support IEEE 802.3 bt standards with per port output budget of 95W.
Legacy Mode: PD devices that support capacitive or resistance electronic tag with per port output budget of 95W.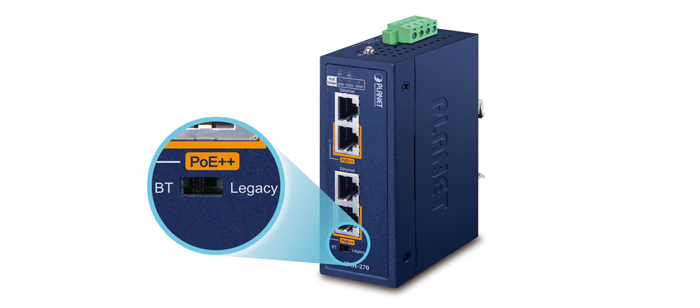 Quick and Easy 802.3bt/at PoE Network Deployment
The IPOE-270 series is installed between a regular Ethernet Switch and the PDs. Two ports are network (Ethernet) ports for data input while the other two ports are PoE++ ports for data and power output. Both power and data are transferred simultaneously over the UTP cables to various 802.3bt/at PDs without affecting the existing network performance and functions.
With data and Power over Ethernet from one unit, the IPOE-270 series can reduce power cable deployment and eliminate the need for dedicated electrical outlets on the wall, ceiling or any unreachable place.
Intelligent LED Indicator for Power Input and Real-time PoE Usage
The IPOE-270 series helps users to monitor the current status of power input and PoE power usage easily and efficiently via its advanced LED indication. The "Power Input" allows user to know the status of dual DC power input. The "PoE Usage" displayed on the panel of the IPOE-270 series has three amber LED indicators of different power usages indicating 60W, 120W and 180W. Via the power usage LED, the IPOE-270 series enables the administrator to monitor the status of the power usage of the connected PDs in real time.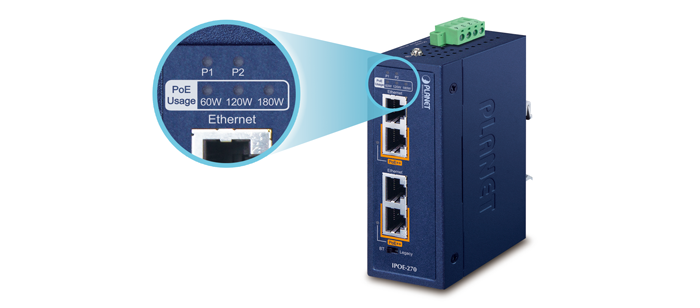 Convenient and Reliable Power System
To facilitate the 802.3bt PoE++ usage with commonly-used 12~54V DC power input for transportation and industrial-level applications, the IPOE-270-12V adopts the 12~54V DC to 54V power boost technology to solve power source issue but does not require special power supplies. Its wide-ranging voltages design is suitable for worldwide operability with high availability applications requiring dual or backup power inputs.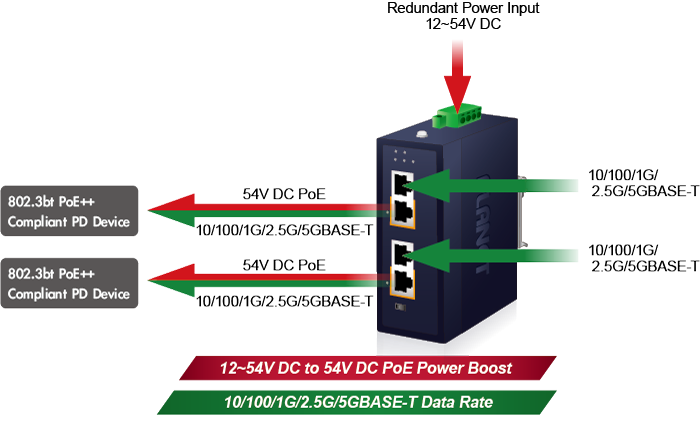 High Power Budget for PoE Extension
With up to 95-watt PoE output capability, the IPOE-270 series can extend much longer distance by using PLANET PoE Extender for powering up the PoE PD which can be installed over more than 100 meters away.

Stable Operating Performance under Difficult Environments
Today, the PoE demand expands from commercial applications to many critical networks in the harsh environment. The IPOE-270 series provides a high level of immunity against electromagnetic interference and heavy electrical surges typical of environments found on plant floors or in curb-side traffic control cabinets.
The IPOE-270 series can be easily installed by way of Plug and Play and operates stably under temperature range from -40 to 75 degrees C which enables the users to conveniently apply the device in almost any location of the network.
The IPOE-270 series is also equipped with a compact IP30 standard metal case that allows either DIN-rail or wall mounting for space-limited environment