IP67 8-Port Industrial PoE Switch
Reliable Data and Power over Ethernet
PLANET ISW-808PT-M12 is an industrial-grade robust and vibration-proof PoE+ switch for a wide range of applications in factories or moving trains as it guarantees a reliable performance under vibration and shock. It features eight 10/100BASE-TX auto-negotiation waterproof/dustproof M12 connectors with IEEE 802.3at PoE+ injector function; each PoE+ port provides 36 watts of PoE output. The M12 connector provides tight and strong connection, and ensures stable Ethernet operating performance withstanding humidity, dirt, dust, shock, vibrations, heat and cold. The compact, IP67-rated aluminum case of the ISW-808PT-M12 allows either DIN-rail or wall mounting for efficient use of cabinet space.
Environmentally-hardened Design
Being able to operate under the temperature range from -40 to 7°C, the ISW-808PT-M12, equipped with a tough IP67-rated industrial aluminum case, provides a high level of immunity against electromagnetic interference and heavy electrical surges which are usually found on plant floors or in curb-side traffic control cabinets. It ensures the highest level of reliability for mission-critical applications in any difficult environment.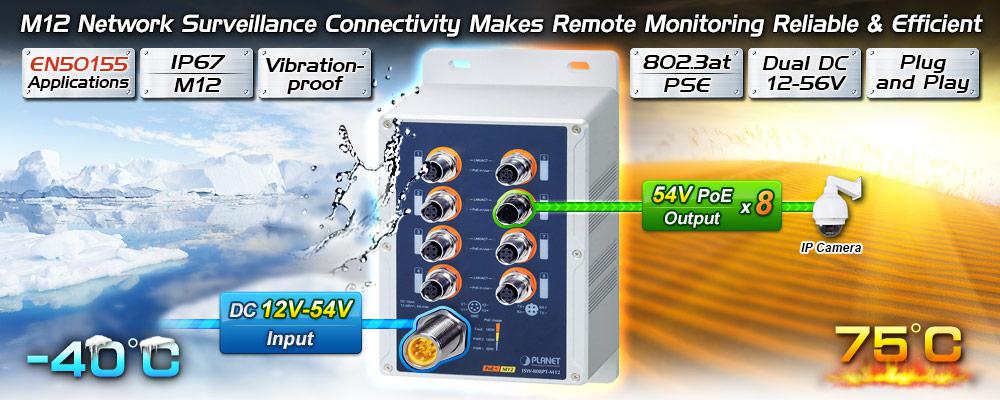 Convenient and Reliable Power System
To facilitate the 802.3at PoE usage with commonly-used 12~54V DC power input for transportation and industrial-level applications, the ISW-808PT-M12 adopts the 12~54V DC to 54V power boost technology to solve power source issue but does not require special power supplies. Its wide-ranging voltages design is suitable for worldwide operability with high availability applications requiring dual or backup power inputs.
Intelligent LED Indicator for Real-time PoE Usage
The ISW-808PT-M12 helps users to monitor current status of PoE power usage easily and efficiently by its advanced LED indication. Called "PoE Power Usage", the front panel of the ISW-808PT-M12 has three orange LEDs indicating 60W,120W and 180W of PoE power usage.
High Performance
The ISW-808PT-M12 has 2K MAC address table and offers wire-speed packets transfer performance without the risk of packet loss. The high data throughput of the device makes it ideal for most Gigabit environments. With a 1.6Gbps internal switching fabric and featuring auto negotiation support in each Fast Ethernet port, the ISW-808PT-M12 can handle large amounts of data in a secure topology linking to a backbone or high capacity servers.
Easy Installation
The flow control function enables the ISW-808PT-M12 to provide fast and reliable data transfer. All of the M12 RJ45 copper interfaces in the ISW-808PT-M12 support 10/100Mbps auto-negotiation for optimal speed detection through RJ45 Category 3, 4, 5, 5e, 6 cables. The standard auto-MDI/MDI-X support can detect the type of connection to any Ethernet device without requiring special straight-through or crossover cables.