LRP Ethernet Extender
High Performance Long Reach Ethernet Solution
To fulfill the needs of long distance Ethernet over UTP, phone wire or coaxial cable applications, PLANET Technology offers a new-generation Ethernet over UTP/Coaxial Extender, LRE-104. It features 4 10/100 BASE-TX RJ45 port and 1 UTP RJ45/BNC combo connector with a metal housing, making the placement of the unit convenient. The LRE-104 provides a total duplex data rate of 100Mbps which can extend a maximum distance of up to 1.2km over phone wire and up to 2km over coaxial cable. It is ideal for extending the distance and signal conversion by transmitting the Ethernet data from the existing UTP cable, Phone wire or coaxial cable to another 100-meter UTP cable for any type of IP network device such as HD IP camera, wireless access point, NVR and digital signage.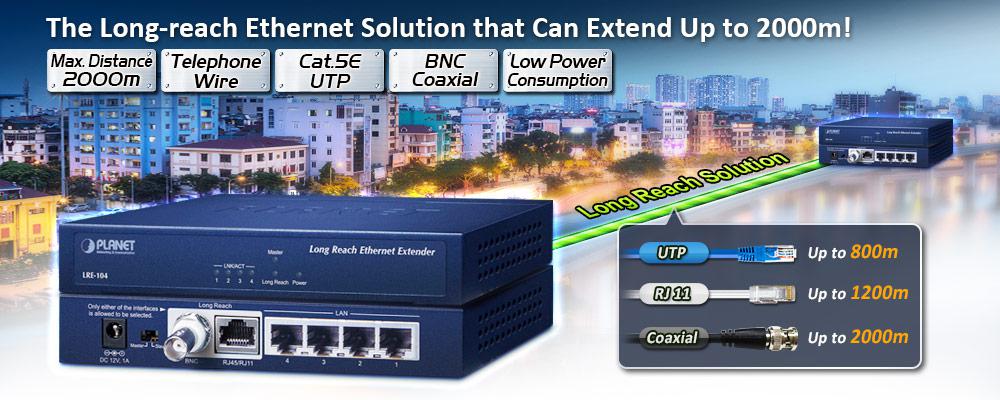 IP Ethernet over Long Distance Existing UTP or Coaxial Cables
PLANET LRE-104 is also a Long Reach Ethernet (LRE) solution which provides a quick replacement and smooth migration solution from existing analog system to full digital system. A normal UTP cable can only be extended up to 100 meters, but with the LRE-104, the distance for Ethernet networking can be not only extended up to 700 meters (Cat.5E UTP) and 1200 meters (Phone wire) but also 2000 meters (BNC cable), which are ideal for the following network applications:
Long-distance IP network devices
IP digital signage
Cable TV to IPTV
Distance video education
Electronic billboards
Other applications
If you have Cat.5E UTP cable or Phone wire in your existing environment, you can install a pair of the LRE-104 very simply without the need to build additional network wires, thus saving costs for network construction.
*Only can choose one type of cable to do long reach extension function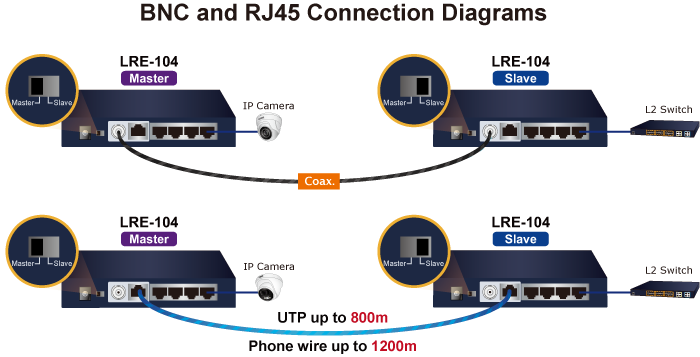 Easy and Flexible Installation
The LRE-104 offers two operation modes, the client-side "Slave"and central-side "Master", making any network applications easy and flexible. The "Slave" or "Master" mode can be adjusted by using the built-in DIP switch. For point-to-point connection, one LRE-104 in "Slave" mode and the other one in "Master" mode must be set up as a pair of converters to perform the connection.
This enables the administrator to efficiently manage the network over UTP cable, making long-distance transmission better.
Daisy-chaining Multiple Nodes
PLANET LRE-104 will give users the flexibility to expand a small area network with BNC T-connector for sharing four nodes per port when needed.