16-Port PoE Injector Hub
Ready to Deploy Next Generation IEEE 802.3bt PoE++ Standard
PLANET's newly-improved UPOE-1600G, a high-density, rack-mountable managed 802.3bt PoE++ Managed Injector Hub, features eight 10/100/1000BASE-T 90-watt 802.3bt type-4 PoE++ injector ports and eight 10/100/1000BASE-T 60-watt 802.3bt type-3 PoE++ injector ports with PLANET intelligent PoE functions through web user interface for remote management. With a total PoE budget of 600 watts, it delivers ultra PoE power over Ethernet UTP cables which allow data and power to transmit simultaneously to a remote 802.3bt/at powered device (PD).
The UPOE-1600G provides a quick, safe and cost-effective 802.3bt PoE++ network solution for small businesses and enterprises. It is designed to perfectly upgrade an existing network infrastructure to 802.3bt PoE++ network system without replacing the existing Ethernet switches. It also enables centralization of the power supply and optimizes the installation and power management of remote network devices.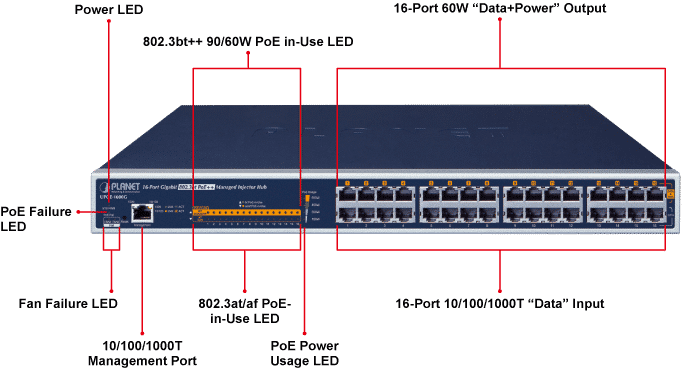 802.3bt PoE++ – 60~95-watt Power over 4-pair UTP Solution
As the UPOE-1600G adopts the IEEE 802.bt PoE++ standard and PoH technology, it is capable to source up to 95 watts of power by using all the four pairs of standard Cat5e/6 Ethernet cabling to deliver power and full-speed data to each remote PoE compliant powered device (PD). It possesses triple amount of power capability than the conventional 802.3at PoE+ and is an ideal solution to satisfy the growing demand for higher power consuming network PDs, such as:
PoE PTZ speed dome cameras
Network devices
Thin clients
AIO (all-in-one) touch PCs, point of sale (POS) and information kiosks
Remote digital signage displays
PoE lightings
Advanced PoE Power Output Mode Management
To meet the demand of various powered devices consuming stable PoE power, the UPOE-1600G supports rich PoE operation modes including 90-watt 802.3bt type-4 PoE++ mode, 95-watt PoH (Power over HD-BASE-T) mode and 4-pair force mode to solve the incompatibility of non-standard 4-pair PoE PDs in the field.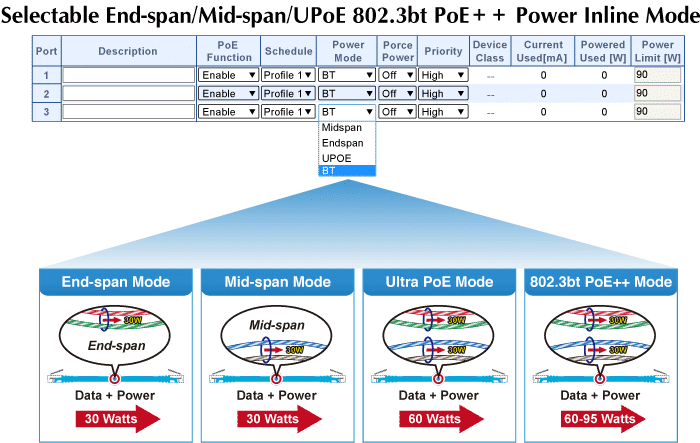 Quick and Easy 802.3bt/at PoE Network Deployment
The UPOE-1600G is installed between a regular Ethernet Switch and the PDs. There are totally 32 RJ45 STP ports on the front panel of the UPOE-1600G, of which the 16 ports are on the lower stack functioned as "Data input" while the other 16 ports are on the upper stack functioned as "PoE (Data and Power) output". Both power and data are transferred simultaneously over the UTP cables to various 802.3bt/at PDs without affecting the existing network performance and functions.
With data and Power over Ethernet from one unit, the UPOE-1600G can reduce power cable deployment and eliminate the need for dedicated electrical outlets on the wall, ceiling or any unreachable place.
Friendly Web Management Interface
To efficiently manage the powered devices, the UPOE-1600G provides remote Web management interface in which administrators can control the system and PoE functions for powered devices. It can automatically detect the power status of each port and show messages on its Web management interface. These features also provide users with a cost-effective way to manage the device via Internet whenever they are at work or at home.
Built-in Unique PoE Functions for Powered Device Management
As it is the managed PoE++ Injector Hub for VoIP, wireless and surveillance networks, the UPOE-1600G features the following special PoE management functions:
PoE schedule
PD alive check
Scheduled power recycling
BT, UPOE, end-span, mid-span or force mode selectable in PoE Power Output Mode
PoE usage monitoring
Over temperature protection
Intelligent Powered Device Alive Check
PLANET's Managed PoE products adopt not only Power over Ethernet technology, but also automated PD monitoring and real-time PoE status. The UPOE-1600G can be configured to monitor connected PD's status in real time via ping action through the uplinked Ethernet switch. Once the PD stops working and responding, the UPOE-1600G will recycle the PoE port power and bring the PD back to work. It also will greatly enhance the network reliability in that the PoE port will reset the PD power, thus reducing administrator's management burden.

PoE Schedule for Energy Savings
Under the trend of energy saving worldwide and contributing to environmental protection on the Earth, the UPOE-1600G can effectively control the power supply besides its capability of giving high watts power. The built-in "PoE schedule" function helps you to enable or disable PoE power feeding for each PoE port during specified time intervals and it is a powerful function to help SMBs or enterprises save power and money. It also increases security by powering off PDs that should not be in use during non-business hours.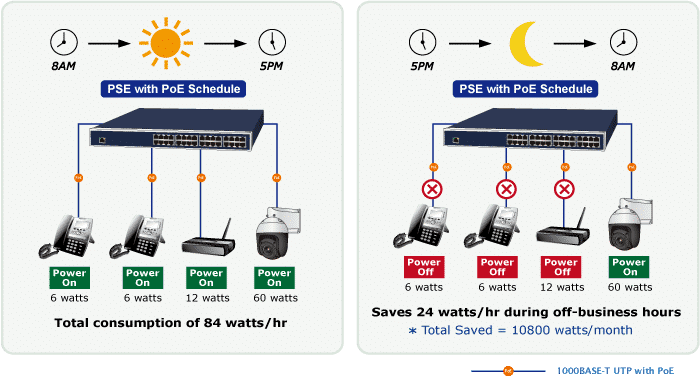 Scheduled Power Recycling
The UPOE-1600G allows each of the connected PoE IP cameras or PoE wireless access points to reboot at a specific time each week. Therefore, it will reduce the chance of IP camera or AP crash resulting from buffer overflow.
Intelligent LED Indicator for Real-time PoE Usage
The UPOE-1600G helps users to monitor the current status of PoE power usage easily and efficiently by its advanced LED indication. Called "PoE Power Usage", the front panel of the UPOE-1600G has four green LEDs indicating 150W, 300W, 450W and 600W of PoE power usage.
PoE Usage Monitoring
Via the power usage chart in the web management interface, the UPOE-1600G enables the administrator to monitor the status of the power usage of the connected PDs in real time.
High Power Budget for PoE Extension
With up to 95-watt PoE output capability, the UPOE-1600G can extend much longer distance by using PLANET PoE Extender for powering up the PoE PD which can be installed over more than 100 meters away. By daisy-chaining multiple PLANET PoE Extenders, it offers the great flexibility of doubling, tripling or quadrupling the distance of PoE network.
Smart Fan Design for Silent Operation
The UPOE-1600G features a low noise design and an effective ventilation system. It supports the smart fan technology that automatically controls the speed of the built-in fan to reduce noise and maintain the temperature of the 802.3bt PoE++ Managed Injector Hub for optimal power output capability. The UPOE-1600G is able to operate reliably, stably and quietly in any environment without affecting its performance.