Industrial Wall-Mount PoE Switch
Easily-deployed and Expanded PoE Network
Designed to be installed in a wall enclosure or simply mounted at any convenient location on a wall, PLANET WGS-814HP is innovative, wall-mounted industrial 8-port Gigabit Ethernet Switches with 4-port 802.3at Power over Ethernet Plus injector. They come in a compact but rugged IP30 metal housing. Featuring a total PoE budget of 60/120 watts, ultra networking speed and operating temperature ranging from -20 to 60°C, the WGS-814HP is ideal solutions to meet the demand for sufficient PoE power for the following network applications.
Building / Home automation network
Internet of things (IoT)
IP surveillance and wireless
The WGS-814HP is able to operate reliably, stably and quietly in any environment without affecting its performance, and provides a quick, safe and easy deployment of PoE PDs with power feeding.
Innovative Wall-mount Installation
The WGS-814HP is specially designed to be installed in a narrow environment, such as wall enclosure. The compact, flat and wall-mounted design fits easily in any space-limited location. It adopts "Front Access" design, making the installing, cable wiring, LED monitoring and maintenance of the WGS-818HP placed in an enclosure very easy for technicians to manage. Fixed wall mounting, magnetic wall mounting or DIN rail installation can be had to suit your working environment, thereby making its usability more flexible.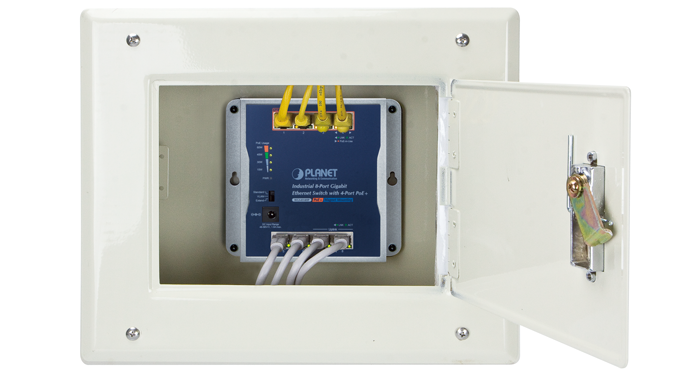 Standard, VLAN and Extend Operation Modes
The WGS-814HP provides Standard, VLAN and Extend operation modes. The WGS-814HP can operate as a normal IEEE 802.3at/ PoE+ switch in the standard operation mode.
The VLAN operation mode features the port-based VLAN function that can help to prevent the IP camera's multicast or broadcast storm from influencing each other. With two uplink ports with 1000Mbps transfer rate, it ensures high-speed data and video transmission, and reliable assurance for connection between the surveillance system and outside network where the four PoE+ ports can be used to their full potential.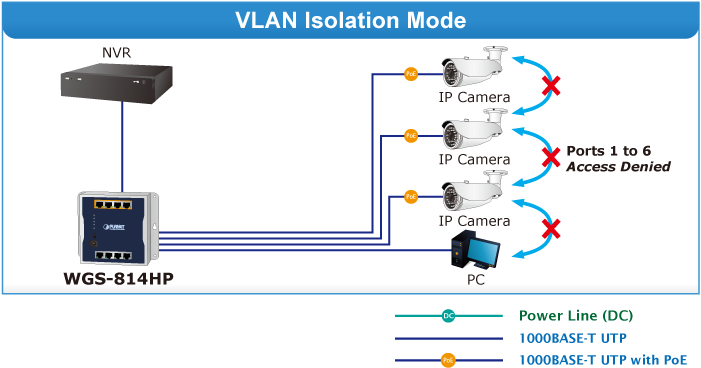 In the Extend operation mode, the WGS-814HP operates on a per-port basis at 10Mbps duplex operation but can support 20-watt PoE power output over a distance of up to 250 meters overcoming the 100m limit on Ethernet UTP cable. With this brand-new feature, the WGS-818HP provides an additional solution for 802.3at PoE distance extension, thus saving the cost of Ethernet cable installation. Its VLAN isolation function isolates ports so as to prevent broadcast storm and defend DHCP spoofing in the extend operation mode.

Centralized Power Distribution for Small Ethernet Networking
The WGS-814HP provides four PoE ports that combine up to 60 watts of power output budget for catering to small-scale PoE network applications. Compliant with both IEEE 802.3at and IEEE 802.3af Power over Ethernet standards, each PoE port supplies up to 30 watts of power output and data transmission in Gigabit speed both delivered over one Cat.5e/6 Ethernet cable, powering remote PoE PD at distance up to 100 meters.
Intelligent LED Indicator for Real-time PoE Usage
To facilitate auto power management, the WGS-814HP implements Power Budget Control function that helps to prevent power budget overloading. Moreover, the WGS-814HP helps users to monitor the current status of PoE power usage easily and efficiently via its advanced LED indication. Called "PoE Power Usage", the front panel of the WGS-814HP has four LEDs indicating 15W, 30W, 45W and 60W of power usage.
Quick, Safe and Easy PoE Network Deployment
Carrying both Ethernet data and power simultaneously, the WGS-814HP reduces cabling requirements and eliminates the need for dedicated electrical outlets on the wall, ceiling or any unreachable place. It helps users to utilize just one Ethernet cable to install and deploy IP camera, wireless AP or VoIP phone more efficiently and cost-effectively.