Smart Media Converter
Flexible and Reliable Network Distance Extension Solution
PLANET XST-705A Smart Media Converter is equipped with one 10G/5G/2.5G/1G/100BASE-T auto-negotiation port and one 10GBASE-X SFP+ slot. It supports 10Gigabit Ethernet media conversion from copper 10GBASE-T to fiber multi-mode or single-mode, utilizing 10GBASE-SR or 10GBASE-LR SFP+ transceiver installed in the SFP+ slot to extend distances to servers, switches and patch panels. The deployment distance can be extended from 300 meters (multi-mode) to up to 60 kilometers (single-mode).They are designed for use in network environments where the ultra-high bandwidth provided by 10Gigabit Ethernet is required, for example, data center cloud computing, enterprise backbones, campus networks, and carrier infrastructure.
Diversified Central Management and Easy Chassis Installation
The XST-705A Smart Media Converter can be used as a stand-alone unit or as a slide-in module to the PLANET 19-inch Managed Media Converter Chassis series (MC-1610MR / MC-1610MR48). When working with Managed media converter chassis, the chassis can assist in providing DC power to the XST-705A and can be managed. Its port status such as link on/off can be monitored through the local RS232 console or remote web interface. Installing multiple XST-705A's in the MC-1610MR is ideal for telecom and corporate applications where a number of 10Gbps fiber links need to be managed and controlled from a central location.

High Performance 10Gbps Ethernet Capacity
The XST-705A offers wire-speed packets transfer performance without the risk of packet loss. The high data throughput of the device makes it ideal for most Gigabit environments. With a 20Gbps internal fabric and featuring auto negotiation support in its 10 Gigabit port, the XST-705A Smart Media Converter can handle large amounts of data in a secure topology linking to a backbone or high capacity servers.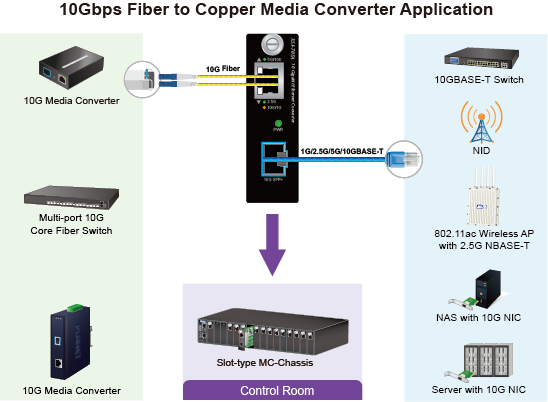 Fiber-optic Linking Capability Enables Extension of Network Deployment
The SFP+ slot of the XST-705AT is compatible with 10GBASE-SR or 10GBASE-LR (Small Form Factor Pluggable) fiber-optic transceivers. The fiber optic uplink capability guarantees the throughput to all nodes hooked into the network and the 10 Gigabit Ethernet distance can be extended from 300 meters (multi-mode fiber cable) to 10/40/60 kilometers (single-mode fiber cable). It is ideal for applications within the data centers and distributions.
Low Power Consumption
The XST-705A adopting the advanced chip technology has the power-saving feature like a low power consumption of only 3.8watts when in full operation.