There is a lot of excitement, understandably, over continuing changes in network infrastructure due to 5G wireless and the future it promises to support–AI, autonomous cars, smarter buildings, cities, and more. And as exciting as the mobility and speeds that 5G provides are, wireless will continue to rely on Fiber and last-mile Power over Ethernet (PoE) to flesh out the infrastructure needed to support it. Optical and electrical networks close the gaps for 5G and facilitate the new 5G inspired applications set to unveil over the next five years. In this blog, PLANET will discuss a device that plays an influential role in filling that gap, namely the Small Form Factor (SFP) Module. Selecting the correct SFP module is every bit as important as choosing the appropriate switch.
This is often overlooked when the engineer specks out the switch, and then it becomes a fire drill to get them the correct fiber module. To understand the context, let's talk first about fiber and Ethernet and why they continue to be reliable parts of an optimized network.
What Fiber Does and Why We Use It
Fiber acts as a guide for light waves. Fiber is low-cost and flexible, and so much of it is already in place. It can carry up to 20 Tbps over thousands of kilometers/miles without boosting signals and without interference. It is a long-haul data highway that gets information from A to B, undersea, across continents, and these days, it's even available to have a private fiber network. Despite the excitement over wireless, wired is not going anywhere soon. It's just too valuable and there is already so much of it in place.
What PoE Does and Why We Use It
Power over Ethernet (POE) sends 10/100/1000 Mbps of data and up to 90W of power to devices over Cat5e, Cat6 and Cat6A Ethernet cables for a maximum distance of 100m, and beyond. PoE delivers power and data to low power networked devices, simplifying implementation, and by eliminating the need for an electric plug and power converter. PoE makes it unnecessary to have separate AC electrical wiring and sockets installed near each device.
PoE technology resulted from the need to re-use existing cabling infrastructure and has developed into an integral part of what is now the IoT and Smart Building/Smart City ecosystem.
PoE reduces deployment costs up to $1,000 per device, eliminates the need for AC power adaptors, offers centralized power backup and management, repurposes copper from legacy phone networks, and saves energy. It is essentially a plug-and-play technology that is allowing powered devices (PD) to become more sophisticated.
The SFP Module Joins Optical and Electrical Networks
The point of intersection between fiber and PoE is the SFP Module. It allows administrators to combine optical and electrical network components into a single, well-functioning network. It is a low-cost solution that borrows its plug-and-play convenience from the PoE portfolio.
The SFP Module Defined
A Small Form Factor (SFP) Module is a hot, pluggable transceiver, converting optical and electrical signals to extend the original link distance. An SFP module is becoming an increasingly popular network component for customers looking for managed switches with integrated SFP ports.
Our PLANET TAA Compliant Managed Switch, the XGS3-24242 Layer 3 has 24 100/1000Mbps SFP slots, 16 shared 10/100/1000Mbps Ethernet ports, and 4 extra 1/10G SFP+ uplink slots and 2 20G QSFP+ slots.
The XGS3-24242 supports IP Stacking technology that helps to manage and configure up to 24 units via one single IP address. The IP Stacking technology is positioned as the distribution or aggregation layer switch for large networks. It is suitable for campus networks, metropolitan IP networks, and other large infrastructures as it offers intelligent security features, high performance, and flexibility. The XGS3-24242 can also be an excellent choice as a core layer switch for enterprises, data centers, or small and medium-sized networks.
How An SFP Module Works
An SFP module works over short and long distances, depending on the IEEE standard that is being supported. It interconnects devices facilitating bi-directional transmissions over various distances using different wavelengths over a variety of forms of physical media. It does this by converting optical signals into electrical and vice versa.
PLANET Technology SFP Modules
PLANET offers a comprehensive collection of hardware components helping network admins take greater control of their networking hardware, budgets and resources. These high-performing and reliable components provide access to advanced features that maximize the performance and efficiency of host operating systems.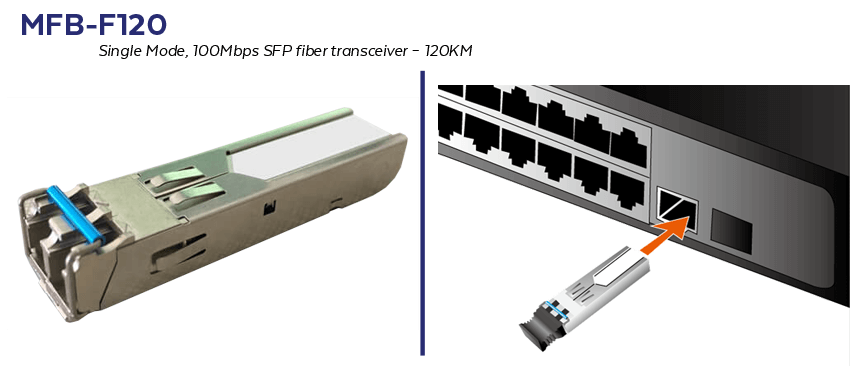 Single-Mode and Multi-Mode Fiber Transceivers
PLANET offers SFP Modules in speeds of 100FX and 1000FX supporting varying distances of 2KM, 20KM, 40KM, and up to 60KM, which are ideal for connecting together far-flung network components.
10G SFP+ and 40G QSFP+ with Direct-attached Copper Cable
These components are designed to provide high-performance 10G or 40G Ethernet connectivity within racks and across adjacent racks over short distances. They come in 0.5M and 2M lengths.
Industrial Grade SFP Modules
These durable inserts operate in temperatures ranging from -40 to 75℃ [-40 to 167℉]. The Planet Technology extended temperature 1000Mbps Gigabit SFP Fiber Transceivers (-40 to 75°C) are the ideal Industrial Ethernet fiber solution that can reliably operate in harsh environments.
The hot pluggable feature enables network administrators to easily install SFP MSA compliant ports without interrupting the host equipment in operation.
Conclusion
Combining the high speed, distance and low latency features of fiber with the last mile cost efficiency and sustainability of Ethernet is a winning combination. It's the perfect solution to support the upcoming 5G ecosystem. It's already in place and functioning well.
The SFP transceiver simplifies integrating fiber-optic speeds and efficiency with the low power and data delivery flexibility of the Ethernet PD. It can interchange easily, upgrading and integrating existing network managed switches.
The SFP module has become increasingly standardized and a go-to PoE component for busy Network administrators.
If you have questions about choosing the ideal SFP module solution, and how it can help you integrate your network more efficiently, please feel free to contact us.