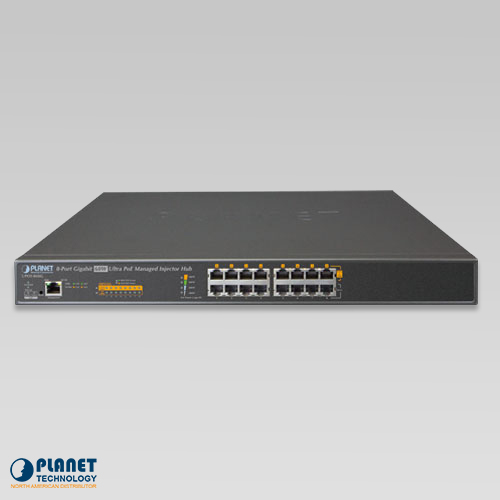 UPOE-800G 8-Port Gigabit 60W Ultra PoE Managed Injector Hub (400W)
$745.80
The UPOE-800G is an 8-Port 10/100/1000BASE-T Ultra PoE Managed Injector Hub which features a total PoE budget of 400 watts and can provide up to 60 watts per port.
Ports: 8 10/100/1000 ports
Standards: 802.3bt (Type 3)
PoE Power Budget: 400 Watts/1364BTU
Operating Temp: 0 to 50°C
Description
Specs
Downloads
Reviews (0)
Warranty
Description
Next Generation Power over Ethernet Deployment
The UPOE-800G is a high-density, rack-mountable managed Ultra PoE injector hub that can be remotely managed via its web interface. The unit provides 8 10/100/1000BASE-T Ethernet ports that support the Ultra PoE injector function and features a total PoE budget of 400 watts. Each PoE port can deliver up to 60-watts of power over standard networking cables (Cat.5/5e/6 Ethernet UTP cables) and simultaneously transmits power and data to connected powered devices (PDs). The UPOE-800G provides a simple and cost-effective Power over Ethernet (PoE) network solution ideal for small businesses and enterprises. Planet's new Ultra PoE Managed Injector Hub series is a cost-effective Ultra PoE solution that helps existing network infrastructures upgrade to an Ultra Power over Ethernet network system without having to replace their existing Ethernet Switch.
Simple Ultra PoE Network Deployment
The UPOE-800G can be deployed between an Ethernet Switch and a Powered Device. There are a total of 16 RJ45 STP ports on the front panel of the UPOE-800G. The bottom 8 ports are "Data input" interfaces and the upper 8 ports are "PoE (Data and Power) output" interfaces.
The unit's PoE functionality simultaneously transmits power and data via the UTP links to the connected PDs. With Data and Power delivered via the Ethernet cable, the UPOE-800G eliminates the need to install additional electrical conduits in location sites without power circuitry.
802.3bt Ready — 60 Watts of Power over 4-Pair UTP System
The UPOE-800G Ultra PoE solution relies on IEEE's 802.3at/af PoE standard. Instead of delivering power over 2-pair twisted UTP – be it end-span (Pin 1, 2, 3 and 6) or mid-span (Pin 4, 5, 7 and 8), the unit can supply up to 60 watts of power by using all the four pairs of standard Cat.5e/6 Ethernet cabling. The UPOE-800G can deliver up to 60 watts per port to connected PoE powered devices. The unit can yield double the amount of power than the conventional 802.3at PoE standard and is satisfies the growing demand for higher-power consuming network PDs, such as:
PoE PTZ speed dome
Thin-client
Remote digital signage display
AIO (all-in-one) touch PC, point of sale (POS) and information kiosks
Any network device that needs higher PoE power to work normally
User-Friendly Web Management Interface
The UPOE-800G provides a simple Web management interface to allow administrators to remotely control the unit and PoE functions. The unit can automatically detect the power status of each port and display messages on its Web management interface. This allows for a simple and cost-effective management system.
The Ultra PoE Injector Hub features advanced, energy-saving PoE management features:
PoE schedule
PD alive check
Scheduled power recycling
UPOE, end-span or mid-span selectable in PoE Power Output Mode
PoE usage monitoring
Over temperature protection
Intelligent PD Alive Check
PLANET's Managed PoE product not only support Power over Ethernet technology, but also monitors the PoE status of connected PDs. The UPOE-800G can be configured to monitor connected PD's status in real time via ping requests via the uplinked Ethernet switch. If the PD stops working, the UPOE-800G will reactivate the PoE port power and reactivate the PD. The unit will greatly facilitate PoE management.
Energy-Efficient PoE Scheduling Features
The UPOE-800G features energy-saving PoE management features. The unit's "PoE schedule" function helps users enable or disable PoE power feeding for each PoE port during specified time intervals helping SMBs or enterprises save power and money. The unit also increases security by powering off PDs during non-business hours.
Advanced PoE Power Output Mode Management
The UPOE-800G gives three different PoE power output mode options:
60W UPOE PoE Power Output Mode (Pin 1, 2, 3, 6 + Pin 4, 5, 7, 8)
30W End-span PoE Power Output Mode (Pin 1, 2, 3, 6)
30W Mid-span PoE Power Output Mode (Pin 4, 5, 7, 8)
Intelligent LED Indicator for Real-time PoE Usage
The UPOE-800G helps users to monitor the current status of PoE power usage easily and efficiently by its advanced LED indication. Called "PoE Power Usage", the front panel of the UPOE-800G has four green LEDs indicating 100W, 200W, 300W and 400W of PoE power usage.
Simple PoE Usage Monitoring
Via the power usage chart in the web management interface, the UPOE-800G enables system administrators to monitor the status of the power usage of connected PDs in real time.
Advanced PoE Power Management
To facilitate power management, the UPOE-800G comes with powerful PoE management features such as over-temperature protection, usage threshold alert and auto power allocation to prevent power budget overloading. The PoE power budget can be allocated by priorities or classification and will send alert event logs when power usage reaches a defined threshold. 
High Power Budget for 802.3at PoE Extension
The UPOE-800G can extend to much longer distances with PLANET's PoE Extender. By daisy-chaining multiple PLANET PoE Extenders, network links can be doubled, tripled or quadrupled in distances.
Silent Operation
The UPOE-800G features an efficient ventilation system that provides for a silent operation. It's smart fan technology automatically controls the speed of the built-in fan to reduce noise and maintain the temperature of the Ultra PoE Managed Injector Hub for optimal power output capability. The UPOE-800G offers a high-performing and quiet operation.
Hardware
Interface
■ "Data" Input Ports: 8 x RJ45
■ "Data + Power" Output Ports: 8 x RJ45
■ Management Port: 1 x RJ45; 10/100/1000BASE-T, auto-negotiation,
auto-MDI/MDIX
Data Rate
10/100/1000Mbps
LED
System:
SYS PWR x 1 (Green)
PoE Failure x 1 ( Red )
Fan Failure x 2 ( Red )
Management port x 2:
1000 (Green), 10/100(Orange)
Per PoE Port:
Ultra 60W PoE-in-use x 1 (Green)
802.3at/af PoE-in-use x1 (Orange)
PoE Power Usage LED x4 (Green)
Power Requirements
100-240V AC, 50/60 Hz, 6.5A
Power Consumption
520 watts (max.)/1774BTU
Ventilation
Fan x 3
Dimensions (W x D x H)
440 x 300 x 44.5 mm, 1U height
Enclosure
Metal
Weight
4.2kg
Power over Ethernet
PoE Standard
IEEE 802.3af Power over Ethernet
IEEE 802.3at Power over Ethernet Plus
4-pair Ultra PoE
PoE Power Supply Type
End-span/Mid-span/UPoE(Ultra PoE)
Power Pin Assignment
Pair 1 end-span: 1/2(-), 3/6(+)
Pair 2 mid-span: 4/5(+), 7/8(-)
UPoE: 1/2(-), 3/6(+),4/5(+), 7/8(-)
PoE Power Output
DC 54V/60-watt PoE via 4-pair
DC 54V/30-watt PoE via 2-pair
PoE Power Budget
400 watts/1364BTU
Number of 60W PDs can be powered
6
Number of 802.3af PDs (Class 0, 1, 2, 3) can be powered
8
Number of 802.3at PDs (Class 1, 2, 3) can be powered
8
Number of 802.3at PDs (Class 0, 4) can be powered
8
Management
Management Interface
Web, PLANET Smart Discovery Lite
PoE Management
Power limit by consumption and allocation
PoE admin mode
Per port power schedule
Per port power enable/disable
Power feeding priority
Over temperature protection
Current per port usage and status
Total power consumption
PD alive check
Scheduled power recycling
Management Feature
Setup of system/management functions
Web firmware upgrade
SNMP trap for alarm notification of events
Standards Conformance
Regulatory Compliance
FCC Part 15 Class A, CE
Standards Compliance
IEEE 802.3 10BASE-T Ethernet
IEEE 802.3u 100BASE-TX Fast Ethernet
IEEE 802.3ab 1000BASE-T Gigabit Ethernet
IEEE 802.3at Power over Ethernet Plus
IEEE 802.3af Power over Ethernet
RFC 768: UDP
RFC 791: IP
RFC 2068 HTTP
RFC 1157: SNMP v1
RFC 1902: SNMP v2c
RFC 5424: Syslog
Network Cable
10BASE-T: 4-pair UTP Cat5 up to 100m (328ft)
100BASE-TX: 4-pair UTP Cat5 up to 100m (328ft)
1000BASE-T: 4-pair UTP Cat5e/6 up to 100m (328ft)
EIA/TIA- 568 100-ohm STP (100m)
Environments
Operating
Temperature: 0 ~ 50 degrees C
Relative Humidity: 5 ~ 90% (non-condensing)
Storage
Temperature: -10 ~ 70 degrees C
Relative Humidity: 5 ~ 90% (non-condensing)
Device Downloads (Manuals, Quickstart Guides, Datasheets)
Versa Technology Device Warranty Information
Versa Technology honors its products that Versa and it's partners engineer and manufacture. Our products sold are of the highest standards available. All products come with a TWO year limited warranty on all products sold by directly by Versa Technology, unless specifically stated otherwise on our product documentation. This warranty period of two years applies from the ship date to all our products which are purchased legally and owned by the original customer. If you have purchased the product from a reseller you must contact the reseller directly. Should repairs fail to recover the product Versa Technology will replace the product with a similar product or a suitable replacement. Other information is as follows.
Versa Technology is not responsible for any other cost incurred.

All replacement units inherit the existing warranty.

Expedited return can be fulfilled for a predetermined fee.

An extended warranty may be purchased for eligible equipment.

If a product needs to be returned for RMA you can fill out the form HERE (RMA Page)
*Versa Technology assumes no responsibility for the risk of damage to any external devices (Devices that are not ours). It is the duty of the customer to check and make sure everything is compatible.
The Limited Warranty applies only to products sold directly by Versa Technology that can be identified as a Versa Technology product (by name, logo, purchase documentation). The Limited Warranty does not apply to (a) damage caused by accident, abuse, misuse, misapplication; (b) damage caused by unauthorized service performed by anyone who is not an authorized Versa Technology service specialist (c) a product or a part that has been modified without the written permission of Versa Technology; or (d) if any Versa Technology serial number has been removed or tampered.
Versa Technology warrants its products against defects in material and workmanship, under normal use and service, for the following lengths of time from the date of purchase.
AC/DC Power Adapter, Cooling Fan, and Power Supply carry 1 year warranty.
If a product does not operate as warranted during the applicable warranty period, Versa Technology shall reserve the right, at its expense, to repair or replace the defective product or part and deliver an equivalent product or part to the customer. The repair/replacement unit's warranty continues from the original date of purchase. All products that are replaced become the property of Versa Technology. Replacement products may be new or reconditioned. Versa Technology does not issue refunds or credit. Please contact the point-of-purchase for their return policies.
Versa Technology shall not be responsible for any software, firmware, information, or memory data of customer contained in, stored on, or integrated with any products returned to Versa Technology pursuant to any warranty.
There are no user serviceable parts inside the product. Do not remove or attempt to service the product by any unauthorized service center. This warranty is voided if (i) the product has been modified or repaired by any unauthorized service center, (ii) the product was subject to accident, abuse, or improper use (iii) the product was subject to conditions more severe than those specified in the manual.
Warranty service may be obtained by contacting Versa Technology within the applicable warranty period and providing a copy of the dated proof of the purchase. Upon proper submission of required documentation a Return Material Authorization (RMA) number will be issued. An RMA number is required in order to initiate warranty service support for all Versa Technology products. Products that are sent to Versa Technology for RMA service must have the RMA number marked on the outside of return packages and sent to Versa Technology prepaid, insured and packaged appropriately for safe shipment. Customers shipping from outside of the USA and Canada are responsible for return shipping fees. Customers shipping from outside of the USA are responsible for custom charges, including but not limited to, duty, tax, and other fees.
WARRANTIES EXCLUSIVE: IF THE Versa Technology PRODUCT DOES NOT OPERATE AS WARRANTED ABOVE, THE CUSTOMER'S SOLE REMEDY SHALL BE, AT Versa Technology's OPTION, REPAIR OR REPLACE. THE FOREGOING WARRANTIES AND REMEDIES ARE EXCLUSIVE AND ARE IN LIEU OF ALL OTHER WARRANTIES, EXPRESSED OR IMPLIED, EITHER IN FACT OR BY OPERATION OF LAW, STATUTORY OR OTHERWISE, INCLUDING WARRANTIES OF MERCHANTABILITY AND FITNESS FOR A PARTICULAR PURPOSE. Versa Technology NEITHER ASSUMES NOR AUTHORIZES ANY OTHER PERSON TO ASSUME FOR IT ANY OTHER LIABILITY IN CONNECTION WITH THE SALE, INSTALLATION MAINTENANCE OR USE OF Versa Technology's PRODUCTS.
Versa Technology SHALL NOT BE LIABLE UNDER THIS WARRANTY IF ITS TESTING AND EXAMINATION DISCLOSE THAT THE ALLEGED DEFECT IN THE PRODUCT DOES NOT EXIST OR WAS CAUSED BY CUSTOMER'S OR ANY THIRD PERSON'S MISUSE, NEGLECT, IMPROPER INSTALLATION OR TESTING, UNAUTHORIZED ATTEMPTS TO REPAIR OR MODIFY, OR ANY OTHER CAUSE BEYOND THE RANGE OF THE INTENDED USE, OR BY ACCIDENT, FIRE, LIGHTNING, OR OTHER HAZARD.
LIMITATION OF LIABILITY: TO THE FULL EXTENT ALLOWED BY LAW Versa Technology ALSO EXCLUDES FOR ITSELF AND ITS SUPPLIERS ANY LIABILITY, WHETHER BASED IN CONTRACT OR TORT (INCLUDING NEGLIGENCE), FOR INCIDENTAL, CONSEQUENTIAL, INDIRECT, SPECIAL, OR PUNITIVE DAMAGES OF ANY KIND, OR FOR LOSS OF REVENUE OR PROFITS, LOSS OF BUSINESS, LOSS OF INFORMATION OR DATE, OR OTHER FINANCIAL LOSS ARISING OUT OF OR IN CONNECTION WITH THE SALE, INSTALLATION, MAINTENANCE, USE, PERFORMANCE, FAILURE, OR INTERRUPTION OF THE POSSIBILITY OF SUCH DAMAGES, AND LIMITS ITS LIABILITY TO REPAIR, REPLACEMENT, OR REFUND OF THE PURCHASE PRICE PAID, AT Versa Technology's OPTION. THIS DISCLAIMER OF LIABILITY FOR DAMAGES WILL NOT BE AFFECTED IF ANY REMEDY PROVIDED HEREIN SHALL FAIL OF ITS ESSENTIAL PURPOSE.
Governing Law: This Limited Warranty shall be governed by the laws of the state of California.
Some Versa Technology products include software code written by third party developers. These codes are subject to the GNU General Public License ("GPL") or GNU Lesser General Public License ("LGPL").
THIS WARRANTY AND REMEDIES SET FORTH ABOVE ARE EXCLUSIVE AND IN LIEU OF ALL OTHER WARRANTIES, REMEDIES AND CONDITIONS, WHETHER ORAL OR WRITTEN, EXPRESS OR IMPLIED, Versa Technology SPECIFICALLY DISCLAIMS ANY AND ALL IMPLIED WARRANTIES, INCLUDING, WITHOUT LIMITATION, WARRANTIES OF MERCHANTABILITY AND FITNESS FOR A PARTICULAR PURPOSE. IF Versa Technology CANNOT LAWFULLY DISCLAIM IMPLIED WARRANTIES UNDER THIS LIMITED WARRANTY, ALL SUCH WARRANTIES, INCLUDING WARRANTIES OF MERCHANTABILITY AND FITNESS FOR A PARTICULAR PURPOSE ARE LIMITED IN DURATION TO THE DURATION OF THIS WARRANTY. No Versa Technology reseller, agent, or employee is authorized to make any modification, extension, or addition to this warranty. Versa Technology IS NOT RESPONSIBLE FOR DIRECT, SPECIAL, INCIDENTAL OR CONSEQUENTIAL DAMAGES RESULTING FROM ANY BREACH OF WARRANTY OR CONDITION, OR ANY OTHER LEGAL THEORY, INCLUDING BUT NOT LIMITED TO LOST PROFITS, DOWNTIME, GOODWILL, DAMAGE TO OR REPLACEMENT OF EQUIPMENT AND PROPERTY, ANY COSTS OF RECOVERING, OR REPRODUCING ANY PROGRAM OR DATA STORED IN OR USED WITH Versa Technology PRODUCTS, AND ANY FAILURE TO MAINTAIN THE CONFIDENTIALITY OF DATA STORED ON THE PRODUCT.
Some states and provinces do not allow the exclusion or limitation of incidental or consequential damages or exclusions or limitations on the duration of implied warranties or conditions, so the above limitations or exclusions may not apply to you. This warranty gives you specific legal rights, and you may also have other rights that vary by state or province.
Shipping costs of products being returned are the responsibility of the customer. Cost of shipping products back to the customer will be paid by Versa Technology (Free ground shipping for USA - domestic customers only. International customers are responsible for shipping costs.) This warranty only applies to the customer whom purchased the product directly from Versa Technology.
Out of Warranty Service:
For products which are out of warranty, please call or fax in for a RMA number. Once the products for repair are received a quote will be generated for their repair. Customer approval must be obtained before work is begun in repairing or replacing the products. Once the products are repaired, payments must be made or sent for their repair costs before they are shipped back to customers. Shipping costs both to and from the customer are billed to the Customer for products which are out of warranty.