WDAP-802AC 1200Mbps Dual Band 802.11ac Outdoor Wireless AP (IP68, 802.3at PoE+, 4 x N-Type connector)
$236.00
PLANET's WDAP-802AC 1200Mbps Dual Band 802.11ac Outdoor Wireless AP offers a wide coverage of wireless Internet access and ultimate wireless speed.
Standard: IEEE 802.11ac
Max. Data Rate: 1200Mbps
Antenna: Built-in 4 N-type Connectors
Network Interface: Wireless 802.11ac 2T2R, 1 x 10/100/1000TX, 802.3at PoE In
Max. Client: 64 per radio
Operating Temp: -40° to 70°C
Power System: 48V 0.5A, 802.3at PoE+
Description
Specs
Downloads
Warranty
Description
Ultra High Speed and Wide Coverage
PLANET's WDAP-802AC 1200Mbps Dual Band 802.11ac Outdoor Wireless AP offers a wide coverage of wireless Internet access and ultimate wireless speed. It is housed in an IP68-rated aluminum case which protects from contact with harmful dust and immersion in water. It adopts the latest IEEE 802.11ac 2T2R dual-band technology and provides 2.4GHz and 5GHz dual radios with maximum connectivity and performance for long-range coverage. By connecting high-gain antennas through the flexible N-type connectors, the system integrator can easily assist customers in achieving various outdoor long-distance applications under rough weather in any harsh environment.
Flexible, Durable and Reliable Outdoor Characteristics
To reach maximum reliability in harsh environments, the WDAP-802AC not only comes with IP68-rated aluminum die-cast housing, but also adopts the enterprise-level Qualcomm kernel, capable of withstanding wide temperatures ranging from -40 to 70°C. Designed with the IEEE 802.3at PoE+ (Power over Ethernet) power scheme, the WDAP-802AC can be easily installed in the areas where power outlets are not available. Furthermore, it is also suitable to be integrated with PLANET's Solar Power PoE System to offer wireless service in remote areas.
Central Management Simplifies High-density Deployment
For wireless deployment in high-density environments such as campuses, communities, warehouses, etc., the dual-radio design and coverage threshold make the WDAP-802AC capable of utilizing dual band to relay signal and limit specific clients so as to provide maximum bandwidth to those authenticated users. Moreover, you can simply install our software controller, PLANET SAPC (Smart AP Control), to deliver wireless profiles to multiple APs simultaneously, thus making the central management simple.
Multiple SSIDs with VLAN Tagging
In the aspect of security, the WDAP-802AC supports WPA/ WPA2, and the 802.1X RADIUS authentication to secure the wireless connection. Besides, the supported IEEE 802.1Q VLAN allows multiple VLAN tags to be mapped to multiple SSIDs to distinguish the wireless access. This makes it possible for the WDAP-802AC to work with managed Ethernet switches to have VLANs assigned for a different access level and authority.
More User-friendly, Higher Efficiency and Better Experience
The WDAP-802AC is designed to reduce the difficulty of the outdoor configuration and optimize user experience. With the graphical Web GUI and setup wizard assisting administrator quickly in configuring suitable operation modes for various applications, the built-in Wi-Fi analyzer provides real-time channel utilization to prevent channel occupation among APs. With the automatic transmission power mechanism, distance control and scheduling reboot setting, the WDAP-802AC is easier for administrator to deploy and manage without on-site maintenance.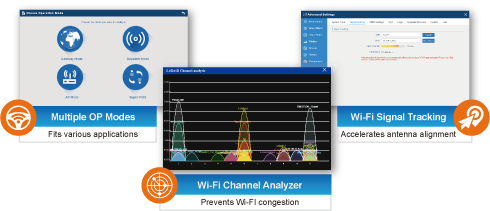 Hardware
Standard Support
IEEE 802.11ac
IEEE 802.11n
IEEE 802.11a
IEEE 802.11b
IEEE 802.11g
IEEE 802.11i
IEEE 802.3 10BASE-T
IEEE 802.3u 100BASE-TX
IEEE 802.3ab 1000BASE-T
IEEE 802.3x flow control
Material
Aluminum
Dimensions (W x D x H)
225 x 23.2 x 225mm
Weight
4kg
Power Requirement
48V 0.5A, IEEE 802.3at PoE+
Power Consumption (max.)
< 25.5W
Mounting Type
Mast mounting
Interface
Wireless IEEE802.11a/b/g/n/ac, 2T2R
PoE LAN: 1 x 10/100/1000BASE-T, auto-MDI/MDIX, 802.3at PoE In
Button
Reset button (Inside enclosure)
Antenna
Built-in four N-type connectors
Data Rate
IEEE 802.11b: up to 11Mbps
IEEE 802.11a/g: up to 54Mbps
IEEE 802.11n (20MHz): up to 150Mbps
IEEE 802.11n (40MHz): up to 300Mbps
802.11ac (VHT20): Up to 173.3Mbps
802.11ac (VHT40): Up to 400Mbps
802.11ac (VHT80): Up to 867Mbps
Media Access Control
CSMA/CA
Modulation
802.11ac: OFDM (BPSK/ QPSK/ 16QAM/ 64QAM/ 256QAM)
802.11a/g/n: OFDM (BPSK/ QPSK/ 16QAM/ 64QAM)
802.11b: DSSS (DBPSK/ DQPSK/ CCK)
Frequency Band
2.4GHz:
FCC: 2.412~2.462GHz
ETSI: 2.412~2.472GHz5GHz:
FCC: 5.180~5.240GHz, 5.745~5.825GHz
ETSI: 5.180~5.700GHz
Operating Channels
2.4GHz:
FCC: 1~11 Channels
ETSI: 1~13 Channels5GHz:
FCC: 36, 40, 44, 48, 149, 153, 157, 161, 165 (9 Channels)
ETSI: 36, 40, 44, 48, 52, 56, 60, 64, 100, 104, 108, 112, 116, 132, 136,
140 (16 Channels)*5GHz channel list may vary in different countries depending on their regulations.
Max. Transmit Power (dBm)
FCC : up to 29 ± 1dBm
ETSI : < 20dBm (EIRP)
Receiver Sensitivity (dBm)
2.4GHz:
802.11b(1Mbps):-99dBm
802.11b(11Mbps):-92dBm
802.11g(6Mbps):-95dBm
802.11g(54Mbps):-82dBm
802.11n HT20(MCS0/MCS8):-95dBm
802.11n HT20(MCS7/MCS15):-77dBm
802.11n HT40(MCS0/MCS8):-93dBm
802.11n HT40(MCS7/MCS15):-75dBm5GHz:
802.11a(6Mbps):-92dBm
802.11a(54Mbps):-75dBm
802.11n HT20(MCS0/MCS8):-91dBm
802.11n HT20(MCS7/MCS15):-72dBm
802.11n HT40(MCS0/MCS8):-88dBm
802.11n HT40(MCS7/MCS15):-70dBm
802.11ac VHT20(MCS0):-92dBm
802.11ac VHT2(MCS8):-70dBm
802.11ac VHT40(MCS0):-89dBm
802.11ac VHT40(MCS9):-65dBm
802.11ac VHT80(MCS0):-87dBm
802.11ac VHT80(MCS9):-61dBm
Environment & Certification
Operating Temperature
-40~70 degrees C
Operating Humidity
10~90% (non-condensing)
IP Level
IP68
ESD Protection
±8kV air gap discharge
±4kV contact discharge
Surge Protection
±4kV
Regulatory
CE, RoHS
Software
LAN
Static IP
Supports IP-MAC binding
WAN Type (GW/WISP mode)
■ Static IP
■ Dynamic IP
■ PPPoE
Wireless Modes
■ Access Point
■ Gateway
■ Repeater
■ WDS (PtP/PtMP)
■ WISP
Channel Width
20MHz, 40MHz, 80MHz
Encryption Type
64-/128-bit WEP, WPA, WPA-PSK, WPA2, WPA2-PSK, 802.1X
Wireless Security
Enable/Disable SSID Broadcast
Wireless MAC address filtering
User Isolation
Max. SSIDs
4
Max. Wireless Clients
64 per radio (50 is suggested, depending on usage)
Max. WDS Peers
4
Wireless QoS
Supports Wi-Fi Multimedia (WMM)
Wireless Advanced
Auto channel selection
5-level transmit power control (100%, 75%, 50%, 25% and 12.5%)
Client limit control, coverage threshold
Distance control (Auto Ack Timeout)
Wi-Fi channel analysis chart
Status Monitoring
Device status, wireless client List
PLANET Smart Discovery
DHCP client table
System Log supports remote syslog server
VLAN
IEEE 802.1Q VLAN (VID: 3~4094)
SSID-to-VLAN mapping up to 4 SSIDs
Self-healing
Supports auto reboot settings per day/hour
Management
Remote management through PLANET DDNS/ Easy DDNS
Configuration backup and restore
Supports UPnP
Supports IGMP Proxy
Supports PPTP/L2TP/IPSec VPN Pass-through
SNMP v1/v2c/v3 support, MIB I/II, Private MIB
Central Management

[1]

Applicable controllers: WAPC-500, WAPC-1000 and Smart AP Control(SAPC)

*Remarks[1]: the feature will be supported through firmware/system upgrade.
Device Downloads (Manuals, Quickstart Guides, Datasheets)
Planet Technology USA Device Warranty Information
Planet Technology USA honors its products that Planet and it's partners engineer and manufacture. Our products sold are of the highest standards available. All products come with a TWO year limited warranty on all products sold by directly by Planet Technology USA, unless specifically stated otherwise on our product documentation. This warranty period of two years applies from the ship date to all our products which are purchased legally and owned by the original customer. If you have purchased the product from a reseller you must contact the reseller directly. Should repairs fail to recover the product Planet Technology USA will replace the product with a similar product or a suitable replacement. Other information is as follows.
Planet Technology USA is not responsible for any other cost incurred.

All replacement units inherit the existing warranty.

Expedited return can be fulfilled for a predetermined fee.

An extended warranty may be purchased for eligible equipment.

If a product needs to be returned for RMA you can fill out the form HERE (RMA Page)
*Planet Technology USA assumes no responsibility for the risk of damage to any external devices (Devices that are not ours). It is the duty of the customer to check and make sure everything is compatible.
The Limited Warranty applies only to products sold directly by Planet Technology USA that can be identified as a Planet Technology USA product (by name, logo, purchase documentation). The Limited Warranty does not apply to (a) damage caused by accident, abuse, misuse, misapplication; (b) damage caused by unauthorized service performed by anyone who is not an authorized Planet Technology USA service specialist (c) a product or a part that has been modified without the written permission of Planet Technology USA; or (d) if any Planet Technology USA serial number has been removed or tampered.
Planet Technology USA warrants its products against defects in material and workmanship, under normal use and service, for the following lengths of time from the date of purchase.
AC/DC Power Adapter, Cooling Fan, and Power Supply carry 1 year warranty.
If a product does not operate as warranted during the applicable warranty period, Planet Technology USA shall reserve the right, at its expense, to repair or replace the defective product or part and deliver an equivalent product or part to the customer. The repair/replacement unit's warranty continues from the original date of purchase. All products that are replaced become the property of Planet Technology USA. Replacement products may be new or reconditioned. Planet Technology USA does not issue refunds or credit. Please contact the point-of-purchase for their return policies.
Planet Technology USA shall not be responsible for any software, firmware, information, or memory data of customer contained in, stored on, or integrated with any products returned to Planet Technology USA pursuant to any warranty.
There are no user serviceable parts inside the product. Do not remove or attempt to service the product by any unauthorized service center. This warranty is voided if (i) the product has been modified or repaired by any unauthorized service center, (ii) the product was subject to accident, abuse, or improper use (iii) the product was subject to conditions more severe than those specified in the manual.
Warranty service may be obtained by contacting Planet Technology USA within the applicable warranty period and providing a copy of the dated proof of the purchase. Upon proper submission of required documentation a Return Material Authorization (RMA) number will be issued. An RMA number is required in order to initiate warranty service support for all Planet Technology USA products. Products that are sent to Planet Technology USA for RMA service must have the RMA number marked on the outside of return packages and sent to Planet Technology USA prepaid, insured and packaged appropriately for safe shipment. Customers shipping from outside of the USA and Canada are responsible for return shipping fees. Customers shipping from outside of the USA are responsible for custom charges, including but not limited to, duty, tax, and other fees.
WARRANTIES EXCLUSIVE: IF THE PLANET TECHNOLOGY USA PRODUCT DOES NOT OPERATE AS WARRANTED ABOVE, THE CUSTOMER'S SOLE REMEDY SHALL BE, AT PLANET TECHNOLOGY USA'S OPTION, REPAIR OR REPLACE. THE FOREGOING WARRANTIES AND REMEDIES ARE EXCLUSIVE AND ARE IN LIEU OF ALL OTHER WARRANTIES, EXPRESSED OR IMPLIED, EITHER IN FACT OR BY OPERATION OF LAW, STATUTORY OR OTHERWISE, INCLUDING WARRANTIES OF MERCHANTABILITY AND FITNESS FOR A PARTICULAR PURPOSE. PLANET TECHNOLOGY USA NEITHER ASSUMES NOR AUTHORIZES ANY OTHER PERSON TO ASSUME FOR IT ANY OTHER LIABILITY IN CONNECTION WITH THE SALE, INSTALLATION MAINTENANCE OR USE OF PLANET TECHNOLOGY USA'S PRODUCTS.
PLANET TECHNOLOGY USA SHALL NOT BE LIABLE UNDER THIS WARRANTY IF ITS TESTING AND EXAMINATION DISCLOSE THAT THE ALLEGED DEFECT IN THE PRODUCT DOES NOT EXIST OR WAS CAUSED BY CUSTOMER'S OR ANY THIRD PERSON'S MISUSE, NEGLECT, IMPROPER INSTALLATION OR TESTING, UNAUTHORIZED ATTEMPTS TO REPAIR OR MODIFY, OR ANY OTHER CAUSE BEYOND THE RANGE OF THE INTENDED USE, OR BY ACCIDENT, FIRE, LIGHTNING, OR OTHER HAZARD.
LIMITATION OF LIABILITY: TO THE FULL EXTENT ALLOWED BY LAW PLANET TECHNOLOGY USA ALSO EXCLUDES FOR ITSELF AND ITS SUPPLIERS ANY LIABILITY, WHETHER BASED IN CONTRACT OR TORT (INCLUDING NEGLIGENCE), FOR INCIDENTAL, CONSEQUENTIAL, INDIRECT, SPECIAL, OR PUNITIVE DAMAGES OF ANY KIND, OR FOR LOSS OF REVENUE OR PROFITS, LOSS OF BUSINESS, LOSS OF INFORMATION OR DATE, OR OTHER FINANCIAL LOSS ARISING OUT OF OR IN CONNECTION WITH THE SALE, INSTALLATION, MAINTENANCE, USE, PERFORMANCE, FAILURE, OR INTERRUPTION OF THE POSSIBILITY OF SUCH DAMAGES, AND LIMITS ITS LIABILITY TO REPAIR, REPLACEMENT, OR REFUND OF THE PURCHASE PRICE PAID, AT PLANET TECHNOLOGY USA'S OPTION. THIS DISCLAIMER OF LIABILITY FOR DAMAGES WILL NOT BE AFFECTED IF ANY REMEDY PROVIDED HEREIN SHALL FAIL OF ITS ESSENTIAL PURPOSE.
Governing Law: This Limited Warranty shall be governed by the laws of the state of California.
Some Planet Technology USA products include software code written by third party developers. These codes are subject to the GNU General Public License ("GPL") or GNU Lesser General Public License ("LGPL").
THIS WARRANTY AND REMEDIES SET FORTH ABOVE ARE EXCLUSIVE AND IN LIEU OF ALL OTHER WARRANTIES, REMEDIES AND CONDITIONS, WHETHER ORAL OR WRITTEN, EXPRESS OR IMPLIED, PLANET TECHNOLOGY USA SPECIFICALLY DISCLAIMS ANY AND ALL IMPLIED WARRANTIES, INCLUDING, WITHOUT LIMITATION, WARRANTIES OF MERCHANTABILITY AND FITNESS FOR A PARTICULAR PURPOSE. IF PLANET TECHNOLOGY USA CANNOT LAWFULLY DISCLAIM IMPLIED WARRANTIES UNDER THIS LIMITED WARRANTY, ALL SUCH WARRANTIES, INCLUDING WARRANTIES OF MERCHANTABILITY AND FITNESS FOR A PARTICULAR PURPOSE ARE LIMITED IN DURATION TO THE DURATION OF THIS WARRANTY. NO PLANET TECHNOLOGY USA RESELLER, AGENT, OR EMPLOYEE IS AUTHORIZED TO MAKE ANY MODIFICATION, EXTENSION, OR ADDITION TO THIS WARRANTY. PLANET TECHNOLOGY USA IS NOT RESPONSIBLE FOR DIRECT, SPECIAL, INCIDENTAL OR CONSEQUENTIAL DAMAGES RESULTING FROM ANY BREACH OF WARRANTY OR CONDITION, OR ANY OTHER LEGAL THEORY, INCLUDING BUT NOT LIMITED TO LOST PROFITS, DOWNTIME, GOODWILL, DAMAGE TO OR REPLACEMENT OF EQUIPMENT AND PROPERTY, ANY COSTS OF RECOVERING, OR REPRODUCING ANY PROGRAM OR DATA STORED IN OR USED WITH PLANET TECHNOLOGY USA PRODUCTS, AND ANY FAILURE TO MAINTAIN THE CONFIDENTIALITY OF DATA STORED ON THE PRODUCT.
Some states and provinces do not allow the exclusion or limitation of incidental or consequential damages or exclusions or limitations on the duration of implied warranties or conditions, so the above limitations or exclusions may not apply to you. This warranty gives you specific legal rights, and you may also have other rights that vary by state or province.
Shipping costs of products being returned are the responsibility of the customer. Cost of shipping products back to the customer will be paid by Planet Technology USA (Free ground shipping for USA - domestic customers only. International customers are responsible for shipping costs.) This warranty only applies to the customer whom purchased the product directly from Planet Technology USA.
Out of Warranty Service:
For products which are out of warranty, please call or fax in for a RMA number. Once the products for repair are received a quote will be generated for their repair. Customer approval must be obtained before work is begun in repairing or replacing the products. Once the products are repaired, payments must be made or sent for their repair costs before they are shipped back to customers. Shipping costs both to and from the customer are billed to the Customer for products which are out of warranty.
You may also like…
ELA-100 Ethernet Lightning Arrest Box

PLANET has released a new Ethernet Lightning Arrest Box, the ELA-100, to prevent Ethernet devices from possible damage caused by surge voltages as a result of lightning strikes.

Interface: 2 Passive 10/100/1000 Ports
Ground: 1 ground position
DC Spark-Over Voltage: 230V, ±20%
Operating Temperature: 0 to 50°C

$

36.00