Managed Multigigabit Switch
Perfect Managed Multigigabit Switch with L3/L2 Switching and Security
PLANET MGS-6320-8T2X is a fully-managed multigigabit switch designed for the demand of high-bandwidth required network equipment, such as Wi-Fi 6 802.11ax wireless AP, NAS, workstation and those with 2.5GBASE-T interfaces. It features 4 10/100/1000BASE-T copper ports, 4 100/1000/2500BASE-T copper ports and 2 1G/2.5G/10GBASE-X SFP+ fiber ports are flexibly designed to extend the connection distance. With such a favorable data link capability, hardware-based Layer 3 routing performance, Layer 2 and Layer 4 switching engine and user-friendly yet advanced IPv6/IPv4 management interfaces, it helps to accelerate the deployment of the next-generation IoT and wireless network for enterprises and smart cities.
2.5Gbps Capability for Diversified Bandwidth Applications
The MGS-6320-8T2X has the capability to reach a high speed of 2.5Gbps over copper interfaces which helps to accelerate the performance of large data transmission. There is no bandwidth limit when using the next-generation wireless AP, NAS or computer with the existing CAT5e Ethernet cables, thus reducing re-wiring costs and hassles. It can definitely give you the speed you demand and its Plug and Play makes installation easy.
Redundant Ring, Fast Recovery for Critical Network Applications
The MGS-6320-8T2X supports redundant ring technology and features strong, rapid self-recovery capability to prevent interruptions and external intrusions. It incorporates advanced ITU-T G.8032 ERPS (Ethernet Ring Protection Switching) technology and Spanning Tree Protocol (802.1w RSTP) into customer's network to enhance system reliability and uptime in harsh environments. In a certain simple Ring network, the recovery time could be less than 10ms to quickly bring the network back to normal operation.
Cybersecurity Network Solution to Minimize Security Risks
The cybersecurity feature included to protect the switch management in a mission-critical network virtually needs no effort and cost to install. Both SSHv2 and TLSv1.2 protocols are utilized to provide strong protection against advanced threats. The network administrator can now construct highly-secure corporate networks with considerably less time and effort than before.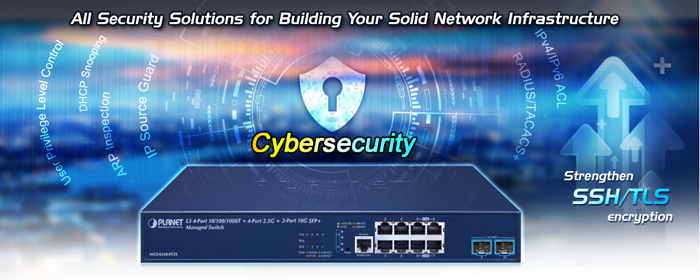 PLANET Network Management System (NMS) Solution
The MGSW-28240F supports PLANET's NMS via CloudViewer App which is an Intelligent App to monitor your network from the cloud. With a cloud network, it makes data and services available from anywhere with an Internet connection. With PLANET CloudViewer, your network status can be monitored in real time anytime, anywhere via your mobile phone or tablet. User can easily check network status, device information, and port and PoE statuses from the cloud to reduce management costs.
Cloudviewer App: Download here for ANDROID or IOS.
Flexible and Extendable 10Gb Ethernet Solution
10G Ethernet is a big leap in the evolution of Ethernet. Each of the 10G SFP+ slots in the MGS-6320-8T2X supports triple speed and 10GBASE-SR/LR or 2500BASE-X and 1000BASE-SX/LX. With its 2-port,10G Ethernet link capability, the administrator now can flexibly choose the suitable SFP/SFP+ transceiver according to the transmission distance or the transmission speed required to extend the network efficiently. TheMGS-6320-8T2X provides broad bandwidth and powerful processing capacity.
SMTP/SNMP Trap Event Alert
Though most NVR or camera management software offers SMTP email alert function, the MGS-6320-8T2X further provides event alert function to help to diagnose the abnormal device owing to whether or not there is a break of the network connection.
Solution for IPv6 Networking
With the support for IPv6/IPv4 protocol, and easy and friendly management interfaces, the MGS-6320-8T2X is the best choice for IP surveillance, VoIP and wireless service providers to connect with the IPv6 network. It also helps SMBs to step in the IPv6 era with the lowest investment and without having to replace the network facilities even though ISPs establish the IPv6 edge network.
Layer 3 Routing Support
The MGS-6320-8T2X enables the administrator to conveniently boost network efficiency by configuring Layer 3 IPv4/IPv6 VLAN static routing manually, the RIP(Routing Information Protocol) or OSPF(Open Shortest Path First) settings automatically.
The RIP can employ the hop count as a routing metric and prevent routing loops by implementing a limit on the number of hops allowed in a path from the source to a destination.
The OSPF is an interior dynamic routing protocol for autonomous system based on link state. The protocol creates a database for link state by exchanging link states among Layer3 switches, and then uses the Shortest Path First algorithm to generate a route table based on that database.
Robust Layer2 Features
The MGS-6320-8T2X can be programmed for advanced switch management function, such as dynamic port link aggregation, Q-in-Q VLAN, Multiple Spanning Tree Protocol (MSTP), Layer2/4 QoS, bandwidth control and IGMP/MLD snooping. The MGS-6320-8T2X allows the operation of a high-speed trunk combining multiple ports. Supporting 4 trunk groups, it enables a maximum of up to 10 ports per trunk and supports connection fail-over as well.
Powerful Network Security
The MGS-6320-8T2X offers comprehensive layer2 to layer4 access control list (ACL) for enforcing security to the edge. It can be used to restrict network access by denying packets based on source and destination IP address, TCP/UDP port number or defined typical network applications. Its protection mechanism also comprises 802.1x Port-based and MAC-based user and device authentication. With the private VLAN function, communication between edge ports can be prevented to ensure user privacy.
Advanced IP Network Protection
The MGS-6320-8T2X also provides DHCP Snooping, IP Source Guard and Dynamic ARP Inspection functions to prevent IP snooping from attack and discard ARP packets with invalid MAC address. The network administrator can now build highly-secure corporate networks with considerably less time and effort than before.
Efficient Management
For efficient management, the MGS-6320-8T2X is equipped with console, Web and SNMP management interfaces.
With the built-in Web-based management interface, it offers an easy-to-use, platform-independent management and configuration facility.
For text-based management, it can be accessed via Telnet and the console port.
For standard-based monitor and management software, it offers SNMPv3 connection which encrypts the packet content at each session for secure remote management.
Intelligent SFP Diagnosis Mechanism
The MGS-6320-8T2X supports SFP-DDM (Digital Diagnostic Monitor) function that greatly helps network administrator to easily monitor real-time parameters of the SFP and SFP+ transceivers, such as optical output power, optical input power, temperature, laser bias current, and transceiver supply voltage.