Introduction
A PoE injector can be an incredible asset to cable implementation, but there are many questions that may arise around the subject. First, what even is a PoE injector, and how can you use it? How can you use a PoE injector to install an IP camera? What is the greatest PoE injector for your needs? All of these questions will be answered, and if you ever need assistance, contact the Planet Technology USA team for any help.

What is a PoE Injector?
Although PoE compatible switches exist, many homes, offices, and businesses have non-PoE switches already installed.
Evidently, replacing the millions of non-PoE compatible switches is not a viable solution, nor is unnecessarily running two cables – one for power and one for data – to a device that could be operated with just one cable.
A PoE injector is a device used to add power to an Ethernet cable for PoE equipment.
Do You Need a PoE Injector?
A PoE injector (or a PoE splitter – more on that later) can be implemented to make a non-PoE compatible switch work with PoE devices, without the headache – or the price tag – of upgrading your switches.
Rather than having to painstakingly run a data cable and a power cable from a network switch to a Powered Device (PD), Power over Ethernet (PoE) saves both time and money by sending data and power over the same cable.
PoE installation is fast and cheap, especially when compared to older, outdated methods that require two separate cables – one for power, and one for data.
A PoE switch can transmit both data and power from each of its ports. However, older switches without PoE capabilities can't be used with PoE devices, as they are only capable of transmitting data, not power.
So, what do you do when you have a few PoE compatible PDs in your home or office – such as an IP camera, a Wireless Access Points (WAP), or an IP phone – but you don't have a PoE switch?
Luckily for you, you won't have to upgrade all of your existing switches to PoE compatible switches just to take advantage of PoE technology.
How Do You Use a PoE Injector?
PoE injectors have three ports:
A power input, a data input, and a power/data output. Simply connect an Ethernet cable from a non-PoE switch to the injector, plug in the power cable, and then run a third PoE cable from the injector to your PoE enabled powered device.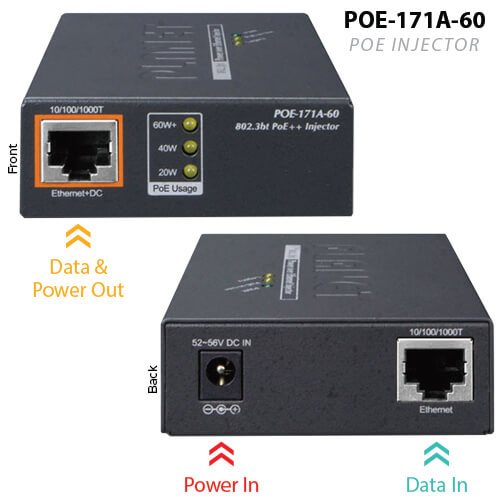 In essence, a PoE injector converts two inputs – a power cable and a data cable – into a single (PoE) output.
Rather than having to replace your existing infrastructure, a PoE injector is a cheap and easy way to use a few PoE devices with a non-PoE switch.
The PLANET POE-171A-60 POE Injector with Advanced Features
PLANET's 802.3bt PoE Injector is one great option to consider. The POE-171A-60 is a single-port 10/100/1000 Mbps Type 3 device providing up to 60Watts of power and data at a distance of up to 100m.
Further, the POE-171A-60 is compatible with legacy devices, which allows greater flexibility when adding to or combining with existing networks. IT administrators won't have to plan a separate solution for connecting legacy equipment to networks. The POE-171A-60 covers all bases.
Why this injector is better
1. The POE-171A-60 offers 802.3bt ultra PoE
The POE-171A-60 meets both power and data demands for professional-grade high-power network equipment:
Pan-tilt-zoom (PTZ) speed dome cameras like those used in stadiums
All-in-One (AIO) touch PCs where all systems of desktop computers are combined into a single device with high-resolution screens sometimes. AIOs are commonly used on pedestals in kiosks in shopping malls or galleries
Remote digital signage displays like billboards found on the tops or sides of skyscrapers in places like Times Square or Tokyo
WiMax CPE outdoor wireless transmission equipment
POS Systems in remote locations like the ones found in theme park cafes and gift shops
2. Intelligent LED Indicator for PoE Mode and Real-time PoE Usage
Not only does this unit get more power, it also provides an LED light display to track consumption.
PoE consumption can be monitored in real-time through the PoE Power Usage Display feature. Indicator lights on the front of the unit show power level in use: 20W to 40W to 60W+.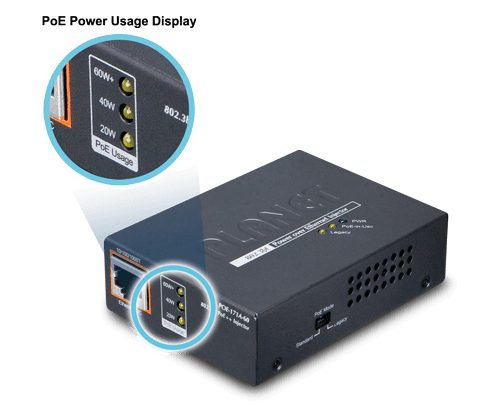 The POE-171A-60 plugs right into a router or switch, without the need to retrain admins or technicians on a new device.
3. 802.3bt type-3 capability
The POE-171A-60 is an 802.3bt standard device and delivers up to 60W of Power over 4-pair UTP Cat5e or better Ethernet. [4-pair is used in GigE for anything Cat5 and up.] That is 2 times the power of the 802.3at, which maxes out at 30W.
In this new 4-pair system, two PSE controllers will be used to power both data pairs and spare pairs.
Type 3 is a more robust, forward-looking solution.
Quick comparison of type 2&3 IEEE 802.3at/bt standards
Type 2 devices [160 series] devices, also referred to as PoE+, PoE Plus, are based on the IEEE 082.3at-2009 standard. They deliver up to 30W of DC power to each PoE port [up to 25.5W of power for each device].
PoE Type 2 devices power complex surveillance cameras, wireless systems six antennas, LCD displays, biometric sensors, and tablets.
Type 3 [170 series] devices, also known as 4-pair PoE, 4P Poe, PoE ++, and UPOE, use all four pairs in a copper cable. They provide 60W of DC power to each PoE port [up to 50W of power for each device].
PoE Type 3 can support devices such as video conferencing and building management components.
Here's a chart further outlining differences between Types 1, 2 and 3: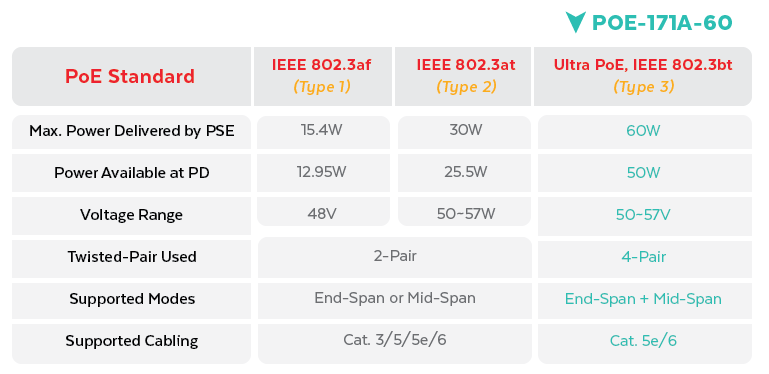 4. All-in-One and Compact Size Design
The POE-171A-60 is easy to install, operate and troubleshoot. Just plug-and-play for high-speed network communication without any software configuration.
PoE Injectors have a small footprint. They convert AC to DC power while also delivering data to remote locations. Because the POE-171A-60 provides 2x the power of injectors in the conventional 802.3at PoE 160 series, its versatility allows greater flexibility to installers and do more in less space.
By reducing cables, the need for electrical outlets, and installation time, and let's face it, Ethernet decreases job-stress.
Final Thoughts About the POE-171A-60 POE Injector with Advanced Features
Ethernet is all about saving money and eliminating waste. Type 3 definitely follows that trend.
Growing power demands for increasingly robust and complex network devices is pushing the need for higher power delivery through networks, hence the move to the 4-pair format. The POE-171A-60 spans the gap into this new tier of products while still including earlier technologies even those that are not PoE compatible. Just add a splitter.
Things to Consider Before You Buy a PoE Injector
Before you buy any PoE injector, you need to make sure it's right for you.
Although they are convenient, they're not always the best solution.
Think about the following three things before you buy:
The number of devices: If you only need to connect one or two PoE devices to your old switch, then a PoE injector is definitely a viable option. Connecting two PoE injectors is relatively painless, inexpensive, and quick. On the other hand, if you have ten, twenty, or more devices to connect, using a PoE injector for each one would quickly turn into a jumble of messy cables everywhere. In this scenario, it's best to use a PoE hub (more on that later).
PoE Standard: There are several different PoE standards, ranging from 15 watts of Power over Ethernet all the way up to today's 100 watt PoE standard. If your injector's PoE standard is not compliant with either your switch or powered device, you'll surely have some issues. Double check to make sure everything is compatible before making a purchase.
Voltage: Make sure your PoE injector's voltage is compliant with your powered devices. For instance, most PoE security cameras either use 12 or 24 Volts. Check the specifications of your powered devices and your injector to make sure they're compatible.
What is a PoE Splitter?
A PoE splitter functions oppositely of a PoE injector. Rather than taking both power input and a data input and turning them into a singular power/data output, a PoE splitter takes a power/data input and turns it into two separate outputs, one for power and one for data.
A PoE splitter can be used to connect a non-PoE compatible device to a PoE switch, hub, or even to a PoE injector.

With a PoE splitter, you can run a PoE cable all the way to the PoE splitter located in close proximity to the powered device.
PoE splitters come in handy with older powered devices that can't be used with PoE switches or hubs.
When is a PoE Injector Practical?
PoE injectors are wonderful when you need to install a low powered device in a hard-to-reach location without a power outlet nearby.
Hiring an electrician to install a power outlet is expensive on its own, not to mention the cost of breaking through walls, installing cables, etc.
PoE installation usually doesn't require a professional, nor will it break the bank.
PoE injectors allow the installation of PDs in remote locations without costing a fortune or taking ages to successfully install.
Unfortunately, PoE injectors aren't always a practical solution.
Take a large office building, for instance. Most offices have dozens of powered devices, such as IP phones, IP cameras, and Wireless Access Points, just to name a few.
If you didn't want to upgrade your non-PoE enabled network switches, you'd have to use a PoE injector for every single device on the network.
Sure, this wouldn't be an issue if you were setting up a home network with only a few devices – on the other hand, as the network scales and more devices must be added, trying to use PoE injectors to solve the problem would quickly turn into a big jumbled mess of wires.
Evidently, a jumbled mess of wires and power cables is the problem that PoE aims to solve in the first place.
Fortunately, there is another solution for large enterprise networks known as a PoE hub.
PoE Hub
You can think of a PoE hub as a large PoE injector.
Instead of hooking up an individual PoE injector to each individual cable and a powered device, a PoE hub makes the process much simpler.

The top row of ports are power/data output ports, and the bottom ports are for data input.
After plugging the hub's power cable into a wall outlet, the hub will transmit power from each of its power/data output ports.
You can connect short Ethernet cables from your non-PoE switch to the data input ports of the hub. Next, connect a PoE cable from a power/data output port, and run that cable to your powered device.
Hubs help to keep cable clutter to a minimum and render the installation process not only cheaper but easier as well.
If you're only going to be connecting a few powered devices to your non-PoE switch, then purchasing a hub would be overkill. You wouldn't use most of the ports, and you'd be wasting money.
On the other hand, if you're connecting a dozen or more PoE devices to your network without a PoE enabled switch, purchasing a hub is definitely the way to go.
How to Use a PoE Injector to Install an IP Camera
Install an IP camera using a Power over Ethernet PoE injector by following these simple steps.
What You Need
Directions
Step One:
Test all equipment on a bench to ensure the IP camera, PoE injector and management of the camera is working. This allows you to default the camera settings if the reset button is located on the IP camera. Make all video and network configurations on the bench before mounting.


Step Two:
Connect the Ethernet cable into the PoE injector's Power+Data port and into IP camera's PoE port.


NOTE: Up to 100m unless using an extender. Use of an Ethernet LAN tester will help verify any contact or wiring issues.
Step Three:
MOUNT IP camera in place. Be sure light is adequate to capture a clear image on the screen. AVOID back-lit images that washout and even conceal facial features.
NOTE: Make sure that the camera is properly angled to capture the faces of subjects of different heights.
FURTHER NOTE: Dome cameras are the least tamperable and therefore best suited to outdoor locations where the possibility of vandalism exists.
Step Four:
A second Ethernet cable will need to connect from the injector's Data port into the switch.
Step Five:
Plug injector power cord into a local AC electrical outlet.
Why is PoE required for IP cameras?
IP cameras are smart technology and therefore require data to operate at optimum capacity. They send data [pixelated images] to centralized monitoring locations, like security offices, either locally or over the Internet.
They may also be accessed and managed remotely.
How do IP cameras connect to networks?
PoE cameras have 2 connections coming off each device:
Ethernet for data
Optional power cord
When you are running through a standard PoE switch, you will not need the power connection. In this case no injector is needed.
If you have a switch that is not PoE capable, you will need to find an alternate way to power the IP camera as non-PoE switches do not deliver power to PoE devices.
What types of cable are needed to connect IP cameras with a PoE injector?
Ethernet cable or twisted pair requirements for an IP camera are the standard Cat5e, Cat6, or Cat6a Ethernet cables.
With PoE injectors, you send power and data through the Ethernet cable between the IP Camera and the injector.
The data travels from the switch into the injector, which feeds it to the IP camera over 2 pairs of wires in the Ethernet cable.
Power will also feed into the PoE injector via a standard power cord that travels from a power outlet. The injector sends the power to the IP camera through the second wire inside the Ethernet cable.
What technology compliance standards are required to fully optimize your IP camera?
As the levels of sophistication of smart technology increase, so do the power requirements. PoE is considered low power. For instance, they may be activated by motion sensors. This saves on power usage but may also demand more power once the camera and the sensor go into operation.
That's why it's important to check how much power your IP camera requires before purchasing your PoE injector.
Injectors can deliver 30W, 60W [Type 3], or 90W [Type 4] of power. These levels correspond with the IEEE 802.3at [Type 2] and IEEE 802.3bt [Types 3 and 4] standards respectively.
This whole process is simple, once you understand the function and requirements for each component in order to install your IP camera.
~~~
If you would require further help with incorporating injectors into your security camera system installation, click here to send a request for a custom quote. Be sure to check if your IP camera is IEEE 802.3af/at/bt compliant before reaching out. If the manufacturer states your device supports PoE, you may want to double check if it is IEEE compliant or if the device requires passive PoE such as a 24VDC input.
All in all, a PoE injector can potentially be a great asset to organize and reduce cabling in any cable setup, and using them to install an IP camera is a great added advantage. However, not every PoE injector is created the same, and it's important to fully understand just what you need before purchasing. The team at Planet Technology USA is happy to assist you with your PoE Injector purchase. Contact us with any questions that you have.