Industrial 2.5G Managed Switch
2.5Gbps Copper Ports and 10Gbps Fiber Ports Deliver Cost Effective High-Speed Networking
The IGS-6325-4T2X is among PLANET's first Industrial-grade, Multi-Gigabit Managed Ethernet Switch that features four 2.5GBASE-T ports, two 10GBASE-X SFP+ ports and Layer 3 IP routing in a rugged IP30 metal case for operating in remote areas stably within the temperature range from -40 to 75 degrees C.
With Multi-Gigabit Ethernet support, the IGS-6325-4T2X allows the use of the existing Cat5e and Cat6 cabling for higher speed connection but does not incur expenses and complexity brought by additional infrastructure. Once needed, the 10GBASE-X SFP+ ports can also offer even higher transmission speed and greater distance networking capability.
2.5GBASE-T and 10GBASE-X SFP Dual Media Interfaces for Diversified Bandwidth Applications
The IGS-6325-4T2X can be operated at the speed of 2.5Gbps over copper or fiber-optic cabling which helps to accelerate the performance of large data transmission. The 2.5GBASE-T copper interfaces support 4-speed (2.5G/1G/100/10) auto-negotiation, and 2.5Gbps data transmission with the existing Cat5e and Cat6 UTP cabling, meaning the speed can be increased without extra costs. It can definitely give you the speed you demand and its Plug and Play makes installation effortless.
The fiber-optic 10GBASE-X SFP+ interfaces support triple speeds, 10GBASE-SR/LR, 2500BASE-X and 1000BASE-SX/LX, meaning the administrator now can flexibly choose the suitable SFP/SFP+ transceiver according to the transmission distance or the transmission speed required to extend the network efficiently. The IGS-6325-4T2X provides broad bandwidth and powerful processing capacity.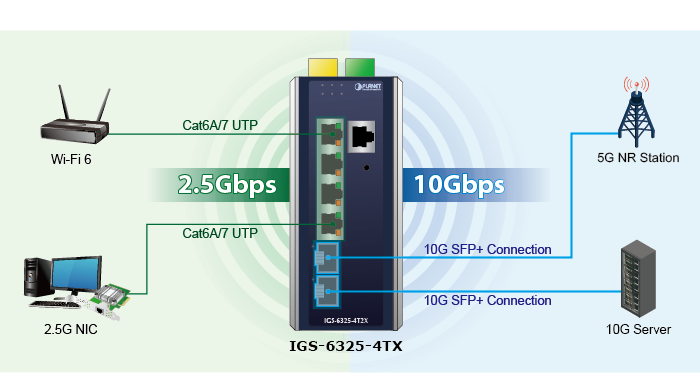 Redundant Ring, Fast Recovery for Critical Network Applications
The IGS-6325-4T2X supports redundant ring technology and features strong, rapid self-recovery capability to prevent interruptions and external intrusions. It incorporates advanced ITU-T G.8032 ERPS (Ethernet Ring Protection Switching) technology, Spanning Tree Protocol (802.1s MSTP), and redundant power input system into customer's industrial automation network to enhance system reliability and uptime in harsh factory environments. In a simple ring network, the recovery time of data link can be as fast as 10ms.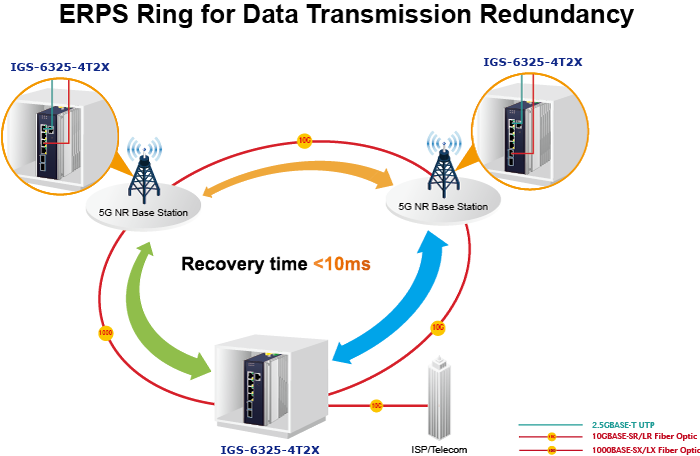 Layer 3 Routing Support
The IGS-6325-4T2X enables the administrator to conveniently boost network efficiency by configuring Layer 3 IPv4/IPv6 VLAN static routing manually, the RIP (Routing Information Protocol) or OSPF (Open Shortest Path First) settings automatically.
The RIP can employ the hop count as a routing metric and prevent routing loops by implementing a limit on the number of hops allowed in a path from the source to a destination.
The OSPF is an interior dynamic routing protocol for autonomous system based on link state. The protocol creates a database for link state by exchanging link states among Layer 3 switches, and then uses the Shortest Path First algorithm to generate a route table based on that database.
Robust Layer 2 Features
The IGS-6325-4T2X can be programmed for advanced Layer 2 switch management functions such as dynamic port link aggregation, 802.1Q tagged VLAN, Q-in-Q VLAN, private VLAN, Multiple Spanning Tree Protocol (MSTP), Layer 2 to Layer 4 QoS, bandwidth control, IGMP snooping and MLD snooping. Via the aggregation of supporting ports, the IGS-6325-4T2X allows the operation of a high-speed trunk group that comes with multiple ports and supports fail-over as well.
Cybersecurity Network Solution to Minimize Security Risks
The IGS-6325-4T2X comes with enhanced cybersecurity to fend off cyberthreats and cyberattacks. It supports SSHv2 and TLSv1.2 protocols to provide strong protection against advanced threats. Served as a key point to transmit data over a long-distance fiber optic cable to customer's critical equipment in a business network, the cybersecurity feature of the IGS-6325-4T2X protects the switch management and enhances the security of the mission-critical network without any extra deployment cost and effort.
Modbus TCP Provides Flexible Network Connectivity for Factory Automation
With the supported Modbus TCP/IP protocol, the IGS-6325-4T2X can easily integrate with SCADA systems, HMI systems and other data acquisition systems in factory floors. It enables administrators to remotely monitor the industrial Ethernet switch's operating information, port information, communication status, and DI and DO status, thus easily achieving enhanced monitoring and maintenance of the entire factory.
1588 Time Protocol for Industrial Computing Networks
The IGS-6325-4T2X is ideal for telecom and carrier Ethernet applications, supporting MEF service delivery and timing over packet solutions for IEEE 1588 and synchronous Ethernet.
SMTP Event Alert
The IGS-6325-4T2X provides SMTP event alert function to help quickly determine whether a device malfunction results from a network disconnection, or a rebooting response.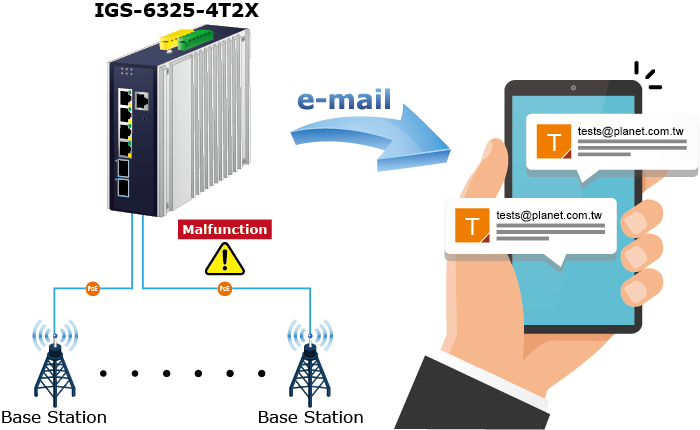 Effective Alarm Alert for Better Protection
The IGS-6325-4T2X supports a Fault Alarm feature which can alert the users when there is something wrong with the switches. With this ideal feature, the users would not have to waste time to find where the problem is. It will help to save time and effort.
Digital Input and Digital Output for External Alarm
The IGS-6325-4T2X supports Digital Input and Digital Output on its front panel. This external alarm enables users to use Digital Input to detect and log external device status (such as door intrusion detector), and send event alarm to the administrators. The Digital Output could be used to inform the administrator the IGS-6325-4T2X's port status including link down, link up or power failure.
IPv6/IPv4 Dual Stack
Supporting both IPv6 and IPv4 protocols, the IGS-6325-4T2X helps data centers, campuses, telecoms, and more to experience the IPv6 era with the lowest investment as its network facilities need not be replaced or overhauled if the IPv6 FTTx edge network is set up.
Efficient Management
For efficient management, the IGS-6325-4T2X is equipped with console, Web and SNMP management interfaces.
With the built-in Web-based management interface, the IGS-6325-4T2X offers an easy-to-use, platform-independent management and configuration facility.
For text-based management, it can be accessed via Telnet and the console port.
For standard-based monitor and management software, it offers SNMPv3 connection which encrypts the packet content at each session for secure remote management.
Powerful Network Security
The IGS-6325-4T2X offers comprehensive Layer 2 to Layer 4 Access Control List (ACL) for enforcing security to the edge. It can be used to restrict network access by denying packets based on source and destination IP address, TCP/UDP ports or defined typical network applications. Its protection mechanism also comprises 802.1X Port-based and MAC-based user and device authentication. With the private VLAN function, communication between edge ports can be prevented to ensure user privacy.
Advanced IP Network Protection
The IGS-6325-4T2X also provides DHCP Snooping, IP Source Guard and Dynamic ARP Inspection functions to prevent IP snooping from attack and discard ARP packets with invalid MAC address. The network administrators can now construct highly-secure corporate networks with considerably less time and effort than before.
Excellent Traffic Control
The IGS-6325-4T2X is loaded with powerful traffic management and QoS features to enhance connection services by telecoms and ISPs. The QoS features include wire-speed Layer 4 traffic classifiers and bandwidth limit that are particularly useful for multi-tenant units, multi-business units, Telco and network service providers' applications. It also empowers the industrial environment to take full advantage of the limited network resources and guarantees the best performance in VoIP and video conferencing transmission.
Intelligent SFP Diagnosis Mechanism
The IGS-6325-4T2X supports SFP-DDM (digital diagnostic monitor) function that greatly helps network administrator to easily monitor real-time parameters of the SFP and SFP+ transceivers, such as optical output power, optical input power, temperature, laser bias current, and transceiver supply voltage.