Stackable Managed Switch
High-density, Resilient Deployment Switch Solution for Gigabit Networks of Enterprises and Campuses
PLANET SGS-5240-24T4X is a Layer 2+ Stackable Managed Gigabit Switch that provides high-density performance, Layer 3 static routing with 10Gbps uplink interfaces delivered in a rugged, strong case.
The administrator can flexibly choose the suitable SFP/SFP+ transceiver according to the transmission distance or the transmission speed required to extend the 10G network efficiently. Besides, with 128 Gbps switching fabric, the SGS-5240-24T4X can handle extremely large amounts of data in a secure topology linking to backbone or high capacity servers for ISP and enterprise VoIP, video streaming, and multicast applications.
High Reliability Hardware Stacking
Two of the 10G SFP+ ports are used to connect several SGS-5240 series, enabling to build a virtually logical facility. The SGS-5240 series gives the enterprises, service providers and telecoms flexible control over port density, uplinks and switch stack performance. The SGS-5240 series can be connected as a ring for redundancy and ensures that data integrity is retained even if one switch in the stack fails. You can even hot-swap switches without disrupting the network, which greatly simplifies the tasks of upgrading the LAN for catering to increasing bandwidth demands.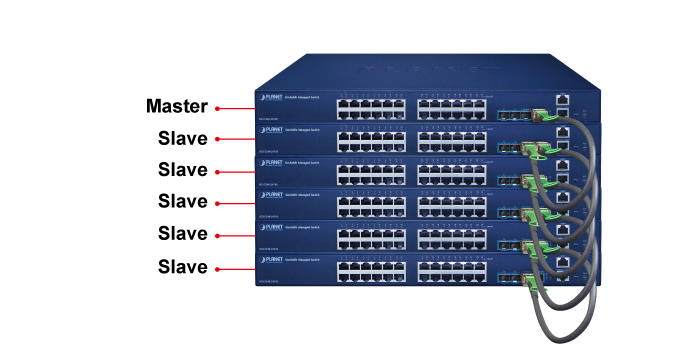 Central IP Stacking Management
Positioned as the distribution or aggregation layer switch for large networks, the SGS-5240 series supports IP stacking function that helps network managers to easily configure up to 24 switches in the same series via one single IP address instead of connecting and setting each unit one by one. The IP Stacking technology groups PLANET SGS-5240 switch series together to enable centralized management through a single unit, regardless of physical location or switch type, as long as they are connected to the same local network.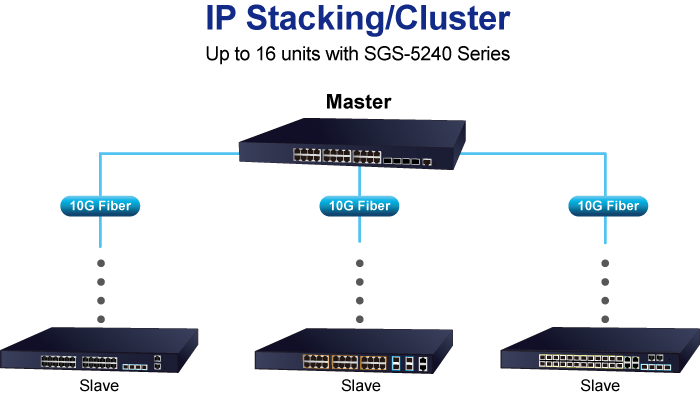 High Performance 10Gbps Ethernet Capacity
The four SFP+ slots built in the SGS-5240 series support dual speed and 10GBASE-SR/LR or 1000BASE-SX/LX. With its 4 ports, 10Gbps and 1Gbps Ethernet link capability, the administrator now can flexibly choose the suitable SFP/SFP+ transceiver according to the transmission distance or the transmission speed required to extend the network efficiently. The IGS-6325 Series provides broad bandwidth and powerful processing capacity.
Redundant Ring, Fast Recovery for Critical Network Applications
The SGS-5240 series supports redundant ring technology and features strong, rapid self-recovery capability to prevent interruptions and external intrusions. It incorporates advanced ITU-T G.8032 ERPS (Ethernet Ring Protection Switching) technology and Spanning Tree Protocol (802.1s MSTP) into customer's network to enhance system reliability and uptime in harsh environments. In a certain simple Ring network, the recovery time could be less than 50ms to quickly bring the network back to normal operation.
Layer 3 IPv4 and IPv6 VLAN Routing for Secure and Flexible Management
The SGS-5240 series supports IPv4/IPv6 VLAN routing feature which allows to cross over different VLANs and different IP addresses for the purpose of having a highly-secure, flexible management and simpler networking application.
Strong Multicast
The SGS-5240 series supports abundant multicast features. In Layer 2, it features IPv4 IGMPv1/v2/v3 snooping and IPv6 MLD v1/v2 snooping. With Multicast VLAN Register (MVR), multicast receiver/sender control and illegal multicast source detection functions, the SGS-5240 series provides great application experience for customers.
Robust Layer 2 Features
The SGS-5240 series can be programmed for basic switch management functions such as port speed configuration, port aggregation, VLAN, Multiple Spanning Tree Protocol and bandwidth control. This switch provides 802.1Q tagged VLAN, Q-in-Q, voice VLAN and GVRP Protocol functions. By supporting port aggregation, the SGS-5240 series allows the operation of a high-speed trunk combined with multiple ports.
Powerful Network Security
The SGS-5240 series offers comprehensive Layer 2 to Layer 4 Access Control List (ACL) for enforcing security to the edge. It can be used to restrict network access by denying packets based on source and destination IP address, TCP/UDP ports or defined typical network applications. Its protection mechanism also comprises 802.1x Port-based, MAC-based and web-based user and device authentications.
Advanced IP Network Protection
The SGS-5240 series also provides DHCP Snooping, IP Source Guard and Dynamic ARP Inspection functions to prevent IP snooping from attack and discard ARP packets with invalid MAC address. The network administrators can now construct highly-secure corporate networks with considerably less time and effort than before.
Efficient and Secure Management
For efficient management, the SGS-5240 series is equipped with console, Web and SNMP management interfaces.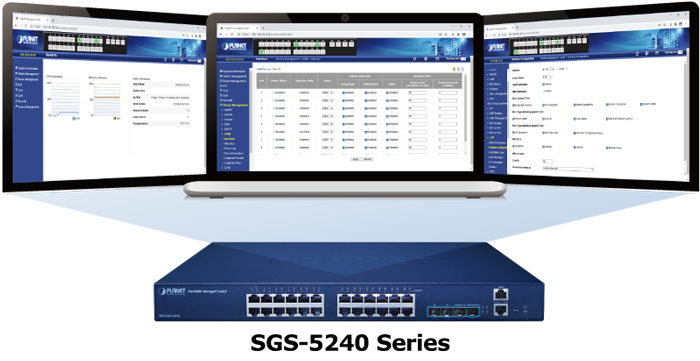 With the built-in Web-based management interface, the SGS-5240 series offers an easy-to-use, platform-independent management and configuration facility.
For text-based management, it can be accessed via Telnet and the console port.
For standard-based monitor and management software, it offers SNMPv3 connection which encrypts the packet content at each session for secure remote management.
Moreover, the SGS-5240 series offers secure remote management by supporting SSHv2 and SSLv3 connection which encrypts the packet content at each session.
Intelligent SFP Diagnosis Mechanism
The SGS-5240 series supports SFP-DDM (Digital Diagnostic Monitor) function that greatly helps network administrator to easily monitor real-time parameters of the SFP and SFP+ transceivers, such as optical output power, optical input power, temperature, laser bias current, and transceiver supply voltage.