Standalone Media Converter
Remotely Managed Gigabit Converter
PLANET GT-915A 10/100/1000BASE-T to 100/1000BASE-X Managed Media Converter is developed to meet the advanced demand of network applications but it comes with the easy Plug and Play feature. The GT-915A provides all kinds of 10/100/1000Mbps Ethernet Media on RJ45 port and offers highly-stable Gigabit SFP fiber performance. It supports conversion between 10/100/1000BASE-T and 100/1000BASE-X Ethernet, which includes SFP slot with single-mode or multi-mode media as required. The Ethernet signal allows three types of segments to connect easily, efficiently and inexpensively.
Enhanced Smart Management Features
The GT-915A provides auto MDI/MDI-X on its TP port and built-in Link Fault Pass-through function (LFP). The LFP function includes Link Loss Carry Forward (LLCF) and Link Loss Return (LLR), both of which can immediately alarm administrators the problem of the link media and provide efficient solution to monitoring the net.
LLCF means when a device connected to the converter and the TP line loses the link, the converter's fiber port will disconnect the link of transmission.
LLR means when a device connected to the converter and the fiber line loses the link, the converter's fiber port will disconnect the link of transmission.
Therefore, the GT-915A greatly supports the administrators to manage the network efficiently.
Network with Cybersecurity Helps Minimize Security Risks
The GT-915A comes with enhanced cybersecurity to fend off cyberthreats and cyberattacks. It supports SSHv2, TLSv1.2 and SNMPv3 protocols to provide strong protection against advanced threats. Served as a key point to transmit data to customer's critical equipment in a business network, the cybersecurity feature of the IGT-900-Series protects the management and enhances the security of the mission-critical network without any extra deployment cost and effort.
User-friendly and Centralized Web Management Interface
For efficient management, the GT-915A is equipped with a remote Web/SNMP interface. With its built-in Web-based management, PLANET GT-915A acts as an easy-to-use, platform-independent management and configuration facility. The GT-915A also supports standard Simple Network Management Protocol (SNMP) and can be managed via any standard-based management software.
OAM Management
TS-1000/802.3ah OAM protocol (operation, administration, and maintenance) supported enables remote OAM compliant device to be managed and monitored by the GT-915A.
Remotely Manage Solution
PLANET's Universal Network Management System (UNI-NMS) and CloudViewer App support IT staff to remotely manage all network devices and monitor the GT-915A operation statuses. Thus, they're designed for both the enterprises and industries where deployments of the GT-915A can be as remote as possible, without having to go to the actual location once a bug or faulty condition is found. With the UNI-NMS or CloudViewer app, all kinds of businesses can now be speedily and efficiently managed from one platform.
Enhanced Traffic Control
The GT-915A can be programmed for advanced management functions such as IP address configuration, DHCP client function, port configuration, converter configuration, 802.1Q tag VLAN, Q-in-Q VLAN, ingress/egress bandwidth control, QoS and Layer protocol filter, and broadcast storm and bandwidth control to enhance bandwidth utilization.
Intelligent SFP Diagnosis Mechanism
The GT-915A supports SFP-DDM (digital diagnostic monitor) function that greatly helps network administrator to easily monitor real-time parameters of the SFP transceivers, such as optical output power, optical input power, temperature, laser bias current, and transceiver supply voltage.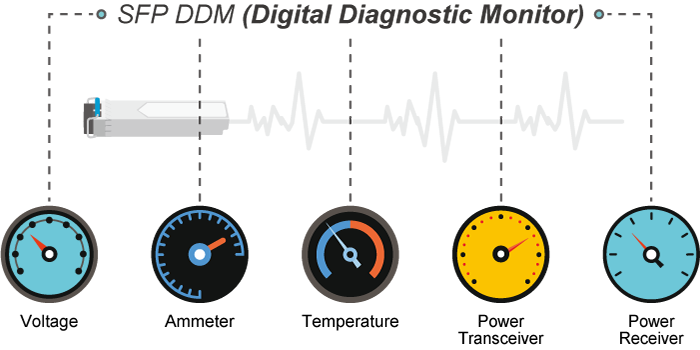 Easy Chassis Installation
The GT-915A Media Converter can be used as a stand-alone unit or as a slide-in module to the PLANET Media Converter Chassis (MC-700, MC-1500 and MC-1500R series). The media chassis can assist in providing DC power to the GT-915A Media Converter to maintain the fiber-optic network at one centralized location. It can be DIN-rail or wall mounted for efficient use of cabinet space.